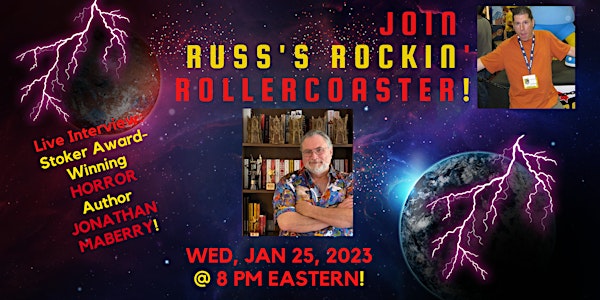 Live interview with NYT Best-Selling Horror Author JONATHAN MABERRY!
Author and Host Russ Colchamiro Interviews Best-Selling, Stoker Award-Winning horror author Jonathan Maberry about his life and career
About this event
JONATHAN MABERRY is a New York Times best-seller, five-time Bram Stoker Award-winner, anthology editor, comic book writer, executive producer, magazine feature writer, playwright, and writing teacher/lecturer. He is the editor of WEIRD TALES Magazine and president of the International Association of Media Tie-in Writers. He is the recipient of the Inkpot Award, three Scribe Awards, and was named one of the Today's Top Ten Horror Writers. His books have been sold to more than thirty countries. He writes in several genres including thriller, horror, science fiction, epic fantasy, and mystery; and he writes for adults, middle grade, and young adult.
RUSS COLCHAMIRO is the author of Crackle and Fire, Fractured Lives, and Hot Ash, the first three novels in his ongoing Sci-Fi noir series featuring hardboiled private eye Angela Hardwicke. He is currently working on the fourth Hardwicke novel.
A member of Crazy 8 Press, Mystery Writers of America, and Private Eye Writers of America, Russ is also the co-author and editor of the noir novella collection Murder in Montague Falls, editor of the Sci-Fi mystery anthology Love, Murder & Mayhem, has contributed short stories to more than fifteen anthologies, including various Hardwicke mysteries, and is the author of the Sci-Fi adventure novels Crossline, Finders Keepers, Genius de Milo, and Astropalooza.
Russ also hosts his popular Russ's Rockin' Rollercoaster podcast, interviewing a who's who of science fiction, crime, mystery, and horror authors.
He lives in Northern New Jersey with his wife, two ninjas, and black lab, Jinx, who may be an alien herself.