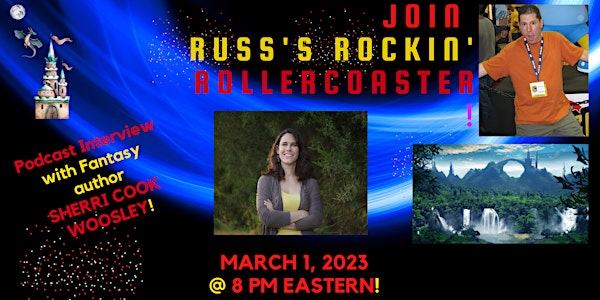 Live interview with Fantasy Author SHERRI COOK WOOSLEY!
Host Russ Colchamiro interviews fantasy author Sherri Cook Woosley about her life and career.
About this event
SHERRI COOK WOOSLEY holds a master's degree in English Literature with a focus on comparative mythology from the University of Maryland. She's a SFWA member, and her short fiction has recently been published in Thrilling Adventure Yarns 2021, Dark Cheer: Cryptids Emerging – Blue Volume, Once Upon a Dystopia, and DreamForge Magazine. Her debut novel, WALKING THROUGH FIRE (Talos Press, 2018), was long-listed for both the Booknest Debut Novel award and nominated for Baltimore's Best 2019 and 2020 in the novel category. Her first children's book is coming from Improbable Press in fall, 2023.
Sherri is independently publishing The Misbegotten Series under the pen name Searby Gray. The most recent novel is ASHES OF REGRET, which follows the clever survivor Tamaki as she navigates shapeshifters, blood magic, and very bad choices in a world where ancient gods carve up the land into dystopian city-states in a struggle for power.
She lives with her family and various rescue animals in Maryland. Find her online at www.tasteofsherri.com or www.SearbyGrayBooks.com and Twitter @SherriWoosley or Instagram @SearbyGray.
RUSS COLCHAMIRO is author of the Sci-Fi mysteries Crackle and Fire, Fractured Lives, and Hot Ash, the ongoing series featuring intergalactic private eye Angela Hardwicke. Russ is also the author of the rollicking time travel/space adventure, Crossline, the SF/F backpacking comedy series Finders Keepers: The Definitive Edition, Genius de Milo, and Astropalooza, is the editor of the Sci-Fi mystery anthology Love, Murder & Mayhem, and co-author and -editor of the noir anthology Murder in Montague Falls.
Russ has also contributed to several other anthologies including PRISM, Tales of the Crimson Keep, Pangaea, Altered States of the Union, Camelot 13, TV Gods 2, They Keep Killing Glenn, Thrilling Adventure Yarns, The Phenomenons, Footprints in the Stars, Devilish and Divine, Badass Moms, and Brave New Girls.
Russ is a member of The Mystery Writers Association, The Private Eye Writers of America, and the author collective Crazy 8 Press. He also hosts and produces his Russ's Rockin' Rollercoaster podcast, where he interviews best-selling and up-and-coming Sci-Fi, fantasy, crime, mystery, and horror authors.
For more on and Russ's books and his podcast, visit russcolchamiro.com, and follow him on Facebook, as well as Twitter and Instagram @AuthorDudeRuss.
He lives in New Jersey with his wife, two ninjas, and black lab, Jinx.