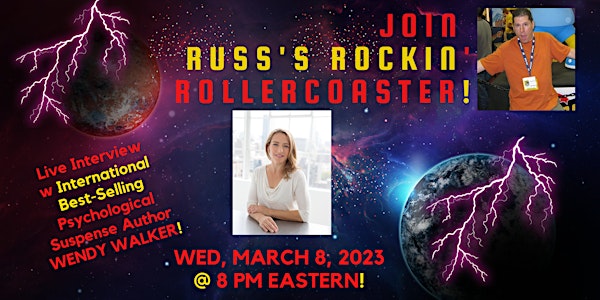 Live Interview w Best-Selling Psychological Suspense Author WENDY WALKER!
Author and Host Russ Colchamiro interviews international best-selling psychological suspense author Wendy Walker about her life and career
About this event
WENDY WALKER is the author of the psychological suspense novels All Is Not Forgotten, Emma in the Night, The Night Before, Don't Look for Me and American Girl. Her novels have been translated into twenty-three foreign languages, topped bestseller lists both nationally and abroad, and have been optioned for both television and film. Wendy holds degrees from Brown University and Georgetown Law School. She is a former family law attorney with training in child advocacy, and has worked in finance and several areas of the law. Her latest novel, What Remains, will be published on June 13, 2023.
RUSS COLCHAMIRO is the author of Crackle and Fire, Fractured Lives, and Hot Ash, the first three novels in his ongoing Sci-Fi noir series featuring hardboiled private eye Angela Hardwicke. He is currently working on the fourth Hardwicke novel.
A member of Crazy 8 Press, Mystery Writers of America, and Private Eye Writers of America, Russ is also the co-author and editor of the noir novella collection Murder in Montague Falls, editor of the Sci-Fi mystery anthology Love, Murder & Mayhem, has contributed short stories to more than fifteen anthologies, including various Hardwicke mysteries, and is the author of the Sci-Fi adventure novels Crossline, Finders Keepers, Genius de Milo, and Astropalooza.
Russ also hosts his popular Russ's Rockin' Rollercoaster podcast, interviewing a who's who of science fiction, crime, mystery, and horror authors.
He lives in Northern New Jersey with his wife, two ninjas, and black lab, Jinx, who may be an alien herself.