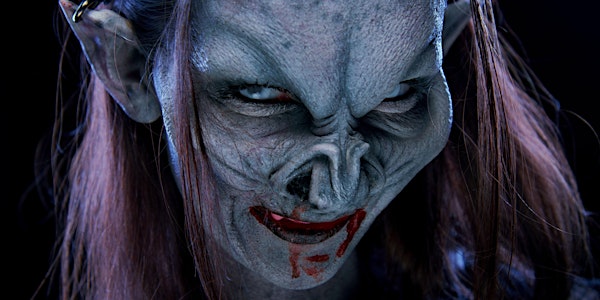 Live In-Store Demo: SFX MakeUp Character Photography with Seth Miranda
Join Seth Miranda in the Adorama store for a live interactive demo shoot on how to light a SFX character
When and where
Location
Adorama 42 West 18th Street New York, NY 10011
About this event
This is an-person event, and it will not be livestreamed. Seating in the store is limited and will be available on a first-come, first-served basis.
It's Halloween! That means it's time to focus on shooting some characters. From sleek sci-fi to grimey horror there's a lot to consider when lighting for this type of shooting. For over 15yrs adorama host Seth Miranda has been photographing special effects makeup for some of the top artists & brands in the industry. Join us at Adorama as we turn our store director into a creature/character and break down several ways to light him as Seth shoots live. This is a great demo not just for photographers but makeup artists, creatives & anyone looking to understand narration through lighting. SFX make up is the next level of character creation so come gain some insight into what it really takes to elevate this genre of photography as we celebrate spooky season!
Check out the recap of our SFX event last year to get a taste of what this demo will be like!
Special Attendee-Only Discount!
All attendees will get $20 off any purchase of $100 or more! Feel free to ask an Adorama store employee for more details if you have any questions.
About the Presenter
Seth Miranda
Seth Miranda's career in photography has been as unique as his images. Having publications under his belt at age 15, he sculpted his lighting technique day and night in the fast-action world of BMX and skateboarding. With experience running the spectrum of all formats of film, experimental/older forgotten processes all the way to today's digital medium, his versatile style has been featured in DigBMX, RideBMX, Juxtapoz, MakeUp Artist magainze and Transworld media publications as well as billboard and print ads for agencies like Deustch. He has assisted legend photographers like Joe McNally on set and also been featured in galleries covering subjects such as punk and alternative lifestyles.
Seth has brought his skill set and experience to the studio to masterfully capture every vision and concept thrown at his lens by the Special Effects MakeUp artists in attendance having worked for MUD MakeUp Designory, MakeUp For Ever, MakeUp Artist Magazine, IMATS, and many more facets of the industry. In his quest for mastery, Seth has also pushed his cinema still style docudrama images outside the realm of photography and into other mediums as stenciling, resin cast, and screen printing. With an endless drive to push, create and collaborate it's safe to say his evolution of work has yet to reach its limit.