Join me LIVE in my kitchen for a festive cooking class. We'll cook, laugh, and learn together with time to ask culinary & nutrition Qs.
About this Event
Run Fast Eat Slow Cooking Class with Elyse Kopecky
Lace up your apron over cozy sweats, grab a glass of wine or tea, and pull up a stool at my kitchen counter. We'll have an hour and half to cook, laugh, and learn together. Space is limited, register today!
Together we will cook a healthy and delicious holiday meal and you will learn essential cooking skills that you'll use well beyond the holidays. This class is live with plenty of time to ask me nutrition and culinary questions. In this class you will learn:
Elyse's simplified Whole Roasted Chicken recipe. Learn short-cut techniques and how to handle a whole chicken, including prepping and carving. This delicious recipe will become your go-to protein to meal prep every week.
Tips and tricks for cooking winter veggies. While we're chopping veggies, you will also pick up on important knife skills.
Together we will cook Mashed Acorn Squash with Miso and Roasted Garlic
Learn how to make homemade biscuits. But not just any biscuit, Sweet Potato Sage Biscuits, a sneak peek recipe from Rise and Run (our breakfast cookbook which launches Fall 2021).
Discover the proper technique for making and rolling out dough from scratch. This will also help improve your piecrust skills.
We'll also discuss meal prep advice, how to get creative with leftovers, and time saving tips.
Menu:
Whole Roasted Chicken
Seasonal Roasted Veggies
Mashed Acorn Squash with Miso and Roasted Garlic
Sweet Potato Sage Biscuits
*Once you register, you will gain access to the Event Page where you can download the recipes. During the class you can follow along and cook with me or sit back and enjoy the show.
To access the Zoom link on the day of the class, sign in to Eventbrite and go to the Event Page.
If you miss the class, we will send you the recorded link afterwards.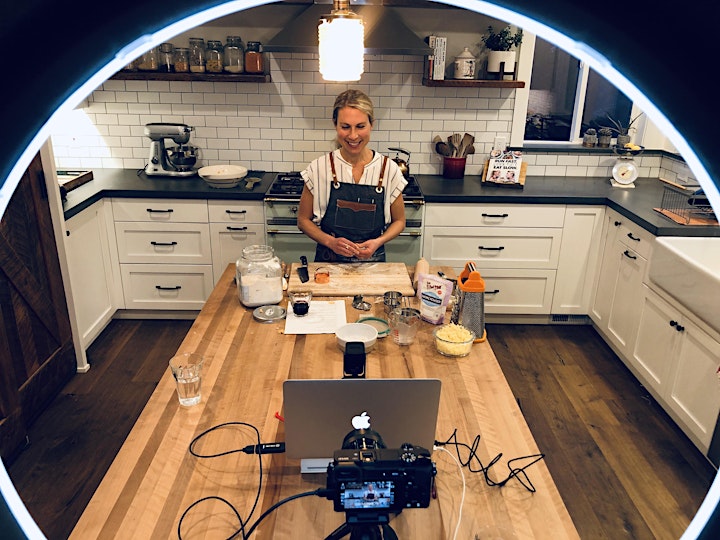 Date and Time
Location
Refund Policy