About this Event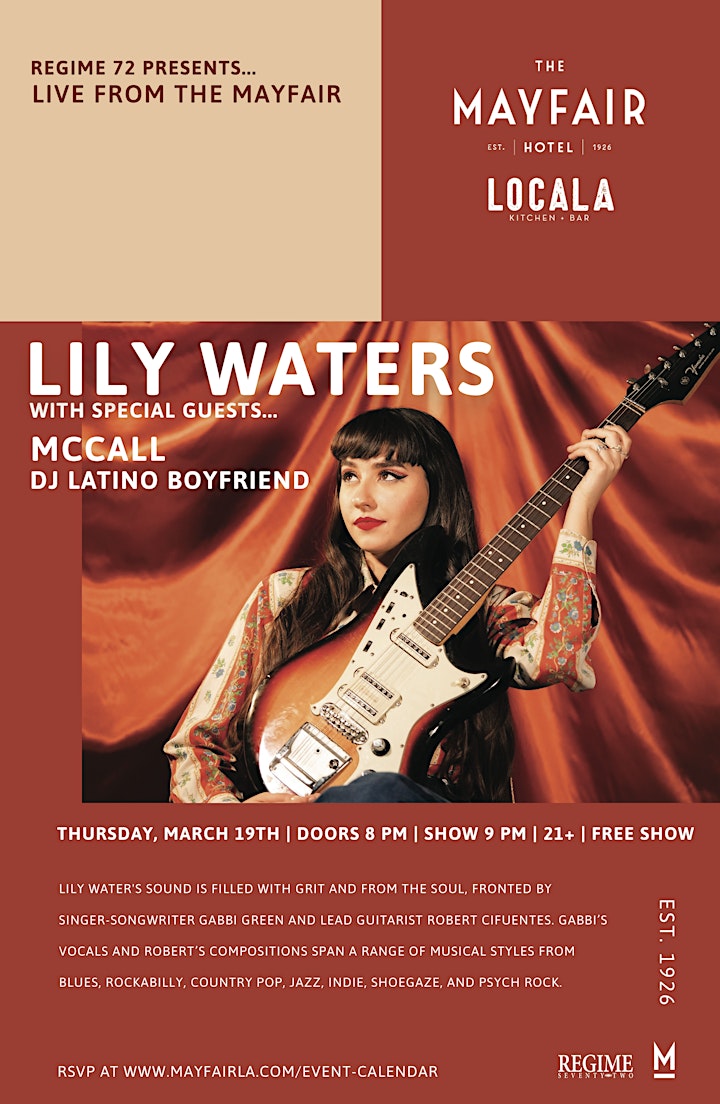 Thursday, March 19th in The Mayfair Hotel Library Bar
Doors 8 PM / Show 9 PM
FREE with Eventbrite RSVP
Lily Water's sound is filled with grit and from the soul, fronted by singer-songwriter Gabbi Green and lead guitarist Robert Cifuentes. Gabbi's vocals and Robert's compositions span a range of musical styles from Blues (Etta James, Muddy Waters, Amy Winehouse), Rockabilly (Wanda Jackson), Country Pop (Patsy Cline), Jazz (Billie Holiday, Nina Simone), Indie (Cat Power, Yeah Yeah Yeahs), Shoegaze (Mazzy Star), and Psych Rock (Jimi Hendrix).
After releasing their self produced single "Breath in the Wind" via Soundcloud, Lily Waters has opened for the likes of Blac Rabbit, Hockey Dad and Broncho.
They are currently working on their debut full-length album with producer Kyle Mullarky (Allah-Las, The Growlers, Tomorrows Tulips) at Lolipop Records.
Twitter: https://twitter.com/LilyWatersMusic
Instagram: https://www.instagram.com/LilyWatersMusic/
Facebook: https://www.facebook.com/LilyWatersMusic/
The Mayfair Hotel
1256 W. 7th Street
Los Angeles, CA 90017
Performers
Date and Time
Location