Live from TED Global 2014

Wednesday, October 8, 2014 from 12:00 PM to 2:00 PM (PDT)
Event Details

Presents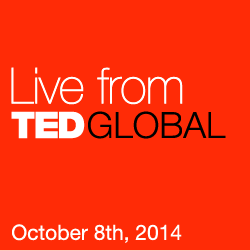 You are invited to attend a special viewing of TED Global 2014. This event is a live simulcast of the event held in Rio de Janeiro, Brazil. 
Bring your lunch with you and join many other curious and hungry minds for an outstanding session from TED Global live. 
Conference Theme: South
The world is changing fast. Fresh thinking can be found in every direction, in emerging geographies as well as in the western hemisphere. Prepare to have your world turned upside down: Join us to explore the realities of tomorrow. We will be showing one session from TED GLobal called Empowering Tech.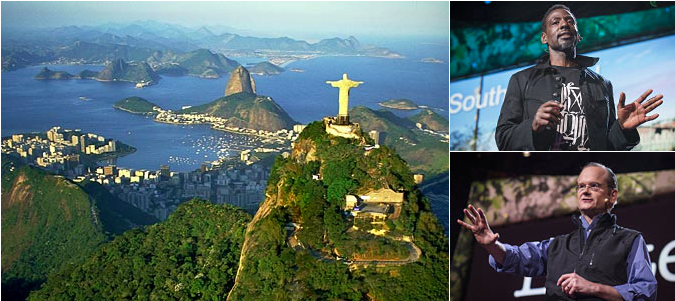 What is TEDx?
In the spirit of ideas worth spreading, TED has created a program called TEDx. TEDx is a program of local, self-organized events that bring people together to share a TED-like experience. TEDxLive is an extension of the TEDx program, launched by TED in 2010. TEDxLive events are TEDx events built around the live webcast of TED Conferences. TEDxLive events enable TED enthusiasts all over the world to experience live sessions of the TED Conference.
About TED 

TED is a nonprofit organization devoted to Ideas Worth Spreading. Started as a four-day conference in California 25 years ago, TED has grown to support those world-changing ideas with multiple initiatives. The annual TED Conference invites the world's leading thinkers and doers to speak for 18 minutes. Their talks are then made available, free, at TED.com. TED speakers have included Bill Gates, Al Gore, Jane Goodall, Elizabeth Gilbert, Sir Richard Branson, Nandan Nilekani, Philippe Starck, Ngozi Okonjo-Iweala, Isabel Allende and UK Prime Minister Gordon Brown. The annual TED Conference takes place in Long Beach, California, with simulcast in Palm Springs; TEDGlobal is held each year in Oxford, UK. TED's media initiatives include TED.com, where new TEDTalks are posted daily, and the Open Translation Project, which provides subtitles and interactive transcripts as well as the ability for any TEDTalk to be translated by volunteers worldwide. TED has established the annual TED Prize, where exceptional individuals with a wish to change the world are given the opportunity to put their wishes into action; TEDx, which offers individuals or groups a way to organize independent, TED-like events around the world; and the TEDFellows program, helping world-changing innovators from around the globe to become part of the TED community and, with its help, amplify the impact of their remarkable projects and activities.

Follow TED on Twitter at twitter.com/TEDTalks, or on Facebook at facebook.com/TED.
When & Where

Real Office Centers
4590 McArthur Blvd
3rd Floor
Newport Beach, CA 92660


Wednesday, October 8, 2014 from 12:00 PM to 2:00 PM (PDT)
Add to my calendar
Organizer
TEDxKish
TEDxKish is a non-profit, independently organized TED event devoted to Ideas Worth Spreading through annual conferences featuring fascinating doers and thinkers who present in 18 minutes or less. Its scope has broadened to include the TEDxKish Prize, which promote Ideas Worth Doing. TEDxKish brings together a like-minded community of curious, highly engaged learners committed to inspiring change through positive actions. Learn more at www.TEDxKish.com.
Live from TED Global 2014