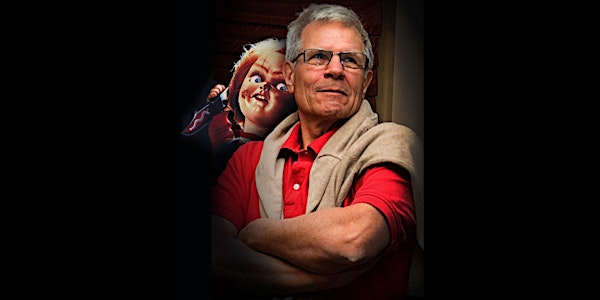 Live From Miskatonic: Tom Holland in Conversation
Join us for an intimate and entertaining evening with horror legend and irrepressible storyteller, Tom Holland. Hosted by Mark Miller.
When and where
Location
Philosophical Research Society 3910 Los Feliz Boulevard Los Angeles, CA 90027
About this event
Join us for an intimate and entertaining evening with horror legend and irrepressible storyteller, Tom Holland. Hosted by Mark Miller.
Tom Holland is an icon of horror whose career has spanned 60 years. 
As a young man watching Peter Cushing and Vincent Price, Holland fell in love with the horror genre, and worked tirelessly to position himself as one of its pioneers. 
Starting his career as an actor and model, Holland soon found he had a gift for storytelling. Through tenacity, hard work, and the spark of genius, he carved a singular path, and paved the way for generations of future storytellers to make their mark, and break free from the labels assigned by others.  
Holland has always been a workhorse. Throughout the '60s and early '70s, Holland appeared in over 200 commercials and television shows (Including the original The Incredible Hulk television series). He was hungry for more, however, and began directing Hasbro commercials. From there, he started writing screenplays. His breakout writing project was Psycho II. He had studied the genre and the craft, and it showed. He soon found, however, that a screenwriter's life is fraught with anxieties. After despising the treatment some of his screenplays had received, eventually, he made the leap to director. 
"I started directing in self-defense. I had a movie called Scream for Help [directed by Michael Winner and released in 1984] that didn't turn out so well. I was so in love with the script for Fright Night, it was the most joyous writing experience I ever had. So, after the experience I had with Scream for Help I didn't trust it in anybody's hands except my own." 
Apparently, the world owes Michael Winner deep gratitude for Fright Night ultimately ending up in Holland's hands. It was a long road from Holland's first photoshoot as a fresh-faced model, to finding himself in the director's seat on the set of Fright Night. In 1985, Holland's professional journey was a road seldom traveled. Today, the multi-hyphenate artist is ubiquitous. As such, Holland's experiences, career advice, and contributions to Hollywood (old and new), are unparalleled.  
Miskatonic Los Angeles is frightfully thrilled to host an evening with an official master of horror; Tom Holland. Chronicling Holland's pivot, a lonely path in the 1970s, we'll take a walk from model to maestro; the duality of the delicate soul of the artist, and the beast yearning to break free.
About the Instructors
Tom Holland is an American director and screenwriter of horror and thriller films. His early writing projects include Class of 1984 (1982) and the Robert Bloch-inspired Psycho II (1983), the latter starring Anthony Perkins as the menacing psychopath, Norman Bates which spawned the Psycho franchise.
Tom gained more notoriety, however, as a director. His directorial debut was the popular 1980s vampire film, Fright Night (1985) which, at the time, was said to have been responsible for redefining the sub-genre, influencing later films like The Lost Boys (1987) and Near Dark (1987). The film was a box office hit and garnered three Saturn Awards and one Dario Argento Award. In 2016 Tom produced a documentary of the film called "You're So Cool Brewster" – The Story of Fright Night.
For his next project, Child's Play (1988), Tom again cast Chris Sarandon. The film was a Number One box-office hit in America and a worldwide success, despite controversy over its thematic content. It, like Fright Night (1985), has since gathered a cult following amongst horror fans and they have made 8 films in total. Tom then went onto direct two films based upon adaptations of Stephen King's novels: The Langoliers (1995) for TV and the feature film Thinner (1996). He also took a cameo role in the Stephen King miniseries The Stand (1994). Tom also wrote the films 'Class of 1984', 'Cloak & Dagger' and 'The Beast Within'.
Tom's other projects have included The Incredible Hulk episode 'Another Path', Steven Spielberg's Amazing Stories (1985), three episodes of Tales from the Crypt (1989), and the prestigious Masters of Horror (2005) anthology. He starred in A Walk in the Spring Rain (1970) with Ingrid Bergman.
In 2009 Tom took a starring role in Hatchet II (2010) alongside Kane Hodder and Tony Todd.
Mark Alan Miller has been working as a writer since 2005 when he started as a columnist for OC Weekly.
From there, he became assistant editor to Clive Barker. Eventually he was promoted to Vice President, and developed and wrote dozens of books, movies, comics, tv shows and more.
Mark's work is not limited to horror, however, and in early 2014 he produced a series of animated shorts with the comedy troupe Superego for Nerdist Channel. He can also be heard on various Nerdist channel podcasts, including The Nerdist, Bizarre States, The Dork Forest, The Nerdist Writers Panel and The Todd Glass Show.
His comic writing can be seen in the bestselling Boom! Studios comic books Hellraiser, Hellraiser: Bestiary and the critically acclaimed Next Testament, as well as The Steam Man of the Prairie and the Dark Rider Get Down released by Dark Horse from a story by Joe R. Lansdale.
Though he often works as a ghost writer, he has also has penned two books that bear his name, Next Testament published by Earthling, and Hellraiser: The Toll, published by subterranean Press, the audiobook for which is narrated by horror icon Tom Holland. Mark is also founder and president of Encyclopocalypse Publications, which has released over a hundred titles, including Fright Night, The Howling, Bubba Ho Tep, Vamp, Titan Find, Scared to Death, Manborg, and Re-Animator.
He keeps a bottle of Miskatonic Eau de Parfum from Black Phoenix Alchemy lab on his desk at all times.
--
Please check with your local health authority on the current requirements for masks and vaccination for attending live events. All sales are final.