Live Demo Day: Women in Voice Seattle [Now Virtual]
About this event
Ready for this stellar demo day!
✅✅✅ Already signed up? Great! You're good to go.
>> Where is my link? A Zoom link will be sent to registered attendees before the event.
Get your ticket soon as we consistently sell out!
--
These are unprecedented times and whether you're an expert or a newbie, we've put together a few tips and tricks to help get the most of your experience at our event.
Feedback on Virtual Events: We'll be sending out a survey after the event to get your feedback – so please let us know how we can improve these events going forward.
Guide to Stellar Group Video Calls
⏰🔇🧠📸🔌💬🌟✨
⏰Punctual: Try to get on the call right when it starts. We leave a few minutes in the beginning to get everyone settled in, but you should buffer in some time in case of technical issues.
🔇 Mute Unless Speaking: Please mute when you're not talking. Background noise can be disruptive to other conversations that are happening, or distract from a presentation. Especially when there are many people on the call! All those dogs, kids, and lawn mowers in the background everyone hears.
🧠 Active and Engaged: If a question pops up, write it down. We'll have Q&A throughout the event, but make a note of it so it doesn't get lost.
📸 Presence: Turn your video camera on. Unless you're in a place where being on video isn't possible, please turn your video camera on! This helps us connect and stay engaged with the people on the call.
🔌 Energy: Keep your computer's charger nearby. Video calls tend to use up a bit of battery.
💬 Chat: Use the chat to send a direct message or to all participants.
🌟Positive Interactions: Same as in person events, we adhere to the Tech Ladies Code of Conduct. We maintain a safe space at our events where community can thrive.
We have a zero-tolerance policy for hateful speech, messages, or actions. Participants who violate these policies will immediately be removed from the event with the potential for a ban for all future Women in Voice events.
Women in Voice leads and event emcees reserve the right to remove anyone from virtual events who violates the code of conduct, or is malicious or disruptive. Seriously, we never want to have to do this, but for expectation setting, we want to say it early and often.
--
Live Demo Day: What will the event look like?
Here's a preview of how the evening will run:
Kick off with introductions. We'll meet our incredible startups and learn more about their work.
Live Demos. After each demo, we'll have time for around 5 minutes of Q&A.
Final Q&A. With the remaining time, we'll open it up to Q&A for the group.
--
Donations: Women in Voice Seattle typically collects $10-$20 donations at the door for events like these, and to help cover administrative costs. We're not in it for the money, but we collect money so our organizers don't have to be in the red.
Eventbrite takes a HUGE cut of donations. In lieu of cash donations, we've shifted exclusively to Venmo – below is our information. You can either search for our Venmo name or scan our QR code.
Thank you in advance for supporting the work we do!
Overview
5:00pm Mingle and Network
5:30pm Live Demos Begin
Symbl.ai (formerly Rammer.ai)
Mingle and Network and Feel Inspired
--
What are these startups about?
A complete conversational intelligence API Platform that can be natively integrated into any platform or business. The first fully programmable interface that analyzes free flowing human to human natural conversations to generate shared knowledge across knowledge workers.
Crunchbase: $1.8M
Investors: Flying Fish, Revel Partners, Techstars
--
Jargon, the CMS for voice. Empowering teams to author and manage voice apps
Crunchbase: $1.8M
Investors: Ubiquity Ventures, Crosslink Capital, iRobot, Curious Capital, Techstars, The Alexa Fund
--
Bring the story to life with voice-driven experiences
Elevate traditional media with immersive layers of interactive magic. Novel Effect's ground-breaking voice applications bring the stories you love to life, from the page to the screen—and beyond.
Crunchbase: $3.1M
Investors: Alpha Edison, Waverley Capital, The Alexa Fund, Lux Capital, Maveron, McCune Capital, TenOneTen Ventures
--
Revolutionize your voice app development Surpass the Market Space with End-to-End Analytics, Insights, Testing, Optimization
Crunchbase: $2.6M
Investors: Madrona Venture Group, Bezos Expiditions, The Alexa Fund, Google Assistant Investments, Techstars
--
We are proud to call Create33 a community partner of Women in Voice. Create33 is growing the Pacific Northwest by providing the access and resources that make technology startups successful. They are located in downtown Seattle in the Wells Fargo Center.
Learn more: https://create33.co/
--
Note: We're asking for a $10-15 donation at the door for attendees to support costs related to putting on local events including hosting the Meetup.com page, organizing the event, nametags, pens, supplies, etc. Cash and Venmo accepted at the door.
Why the donation? Women in Voice does not have the mission of making money, we just don't want our organizers to be in the red while they volunteer!
Location: 33rd Floor of Create33 (999 3rd Avenue)
--
FAQs
Voice: What if I'm not in the voice field? What if I'm not in tech?
Not a problem! We support people learning about our field and would love to have you aboard. We all come from various backgrounds and support those with non-technical and technical backgrounds.
Women and Men: I'm a man, can I come?
Yes, this event is open to women* and allies. Are you an ally? An ally is someone who steps up to listen, celebrate, & support people, especially from minority backgrounds. If you consider yourself an ally, then we're happy to have you join us.
Decorum: Do you have a code of conduct?
Yes, we adhere to the same code of conduct guidelines as Tech Ladies. We reserve the right to moderate and remove users who do not follow these guidelines.
Photos: Do you take photos, videos, etc. at events?
We might take photos, videos, etc. at this event. If you have preferences about images, please email the organizers.
Contact: How can I contact the organizer with questions?
Email: joanpba@gmail.com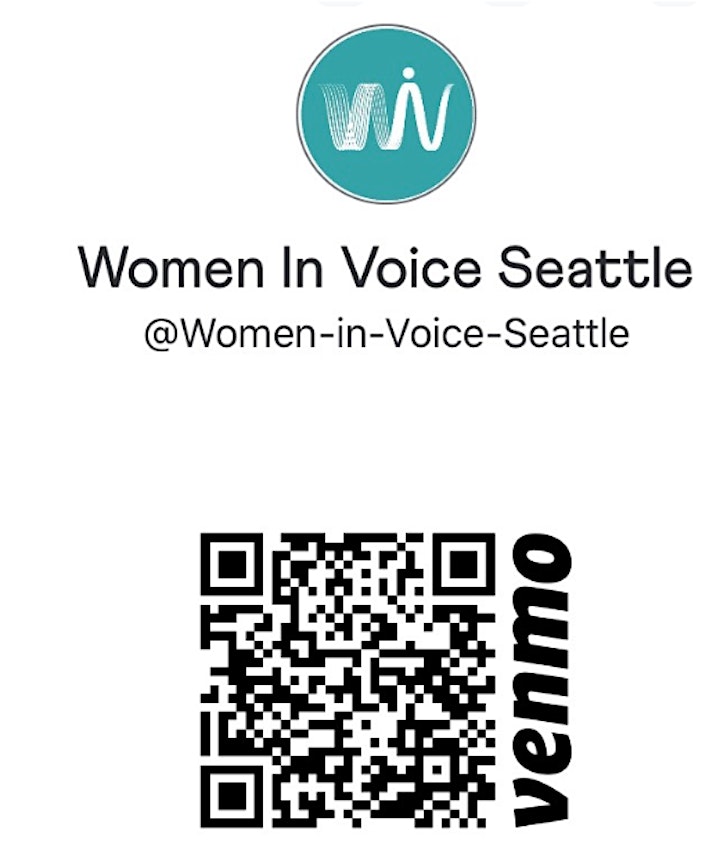 Organizer of Live Demo Day: Women in Voice Seattle [Now Virtual]
This is the Seattle Chapter of the International Empowerment Organization, Women in Voice
Mission Statement
It is the mission of "Women in Voice" 1) to build community for women in this field, 2) to amplify the work and talent of women, 3) to provide professional development and resources to support women, 4) to empower women and diverse people in the voice technology field. This includes but is not restricted to developers, engineers, designers, marketers, user experience researchers, voice actors, linguists, and artificial intelligence specialists.