Performing tributes to Robert Hunter and the Grateful Dead's Woodstock performance. Seating and Premium table options available!
About this event
Live Dead '69
ft. Tom Constanten + members of RatDog & Jefferson Starship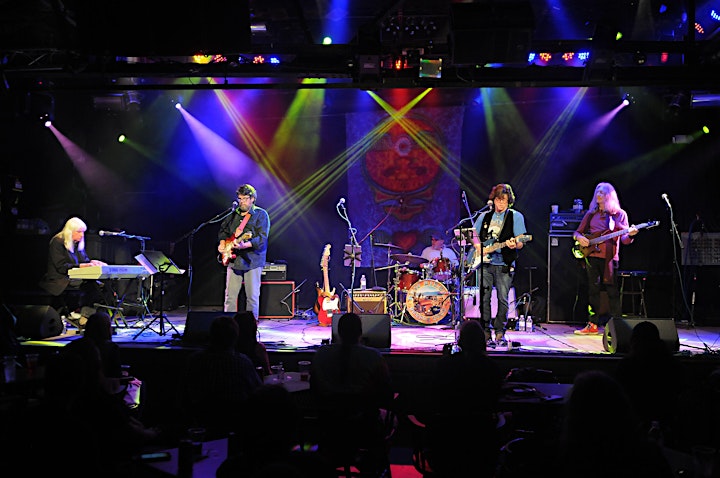 Hollywood, CA (Jan. 17, 2019) — LIVE DEAD '69 has announced special 2019 shows celebrating The 50th Anniversary of the original WOODSTOCK FESTIVAL. The band features original Grateful Dead pianist TOM CONSTANTEN, who was part of the original 95 min. set there, Aug. 16, 1969.
"We went on 10:30P," TOM recalls … "following MOUNTAIN. CREEDENCE (CLEARWATER REVIVAL) followed us. It was incredible."
Comprised of:
Tom Constanten, original Grateful Dead pianist who played all the keyboards on the "Live Dead" recording, inducted into The Rock & Roll Hall of Fame in 1995 and was essential to Grateful Dead's first ambitious/ experimental studio recordings "Anthem of The Sun" and "Aoxomoxoa," and tours.
Mark Karan, lead guitarist with Bob Weir's Rat Dog and The Other Ones.
Slick Aguilar who played lead guitar in Jefferson Starship & KBC for 26 years and with David Crosby Band before that. He is also a charter member of The Airplane Family.
Robin Sylvester, bassist with Bob Weir's Rat Dog.
Joe Chirco drummer with John Kadlecik Band
LIVE DEAD '69 has acquired a stellar, heady reputation, first performing the classic "Live Dead" (recorded in 1969) in its entirety; then, applying Grateful Dead's zeitgeist of extemporization and interpretive improvisation beyond an ever expanding repertoire, much of which is created entirely 'in the moment' – without rehearsal or traditional 'preparation.' They will perform and elaborate upon, Grateful Dead's Woodstock set.
An additional set with will rotate extensive, exquisite selections from Grateful Dead's halcyon repertoires of psychedelic originals, cherished covers and & improvisations.
Organizer of Live Dead '69 ft. Tom Constanten + members of RatDog & Jefferson Starship