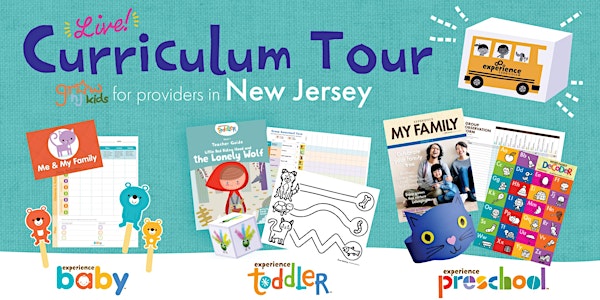 Live Curriculum Tour for New Jersey Providers
Are you a childcare provider in New Jersey? Join us for a live tour of Experience Early Learning next Friday!
About this event
You are invited to this special live personalized tour about Experience Curriculum just for educators in New Jersey! One of our Educator Specialists will walk you through Experience Preschool, Toddler & Baby while highlighting all of the tools and resources provided to you every month to share engaging and exciting experiences with your children.
Check out our themes, planning tools, integrated skills and authentic assessment and learn how they can easily work for you and your program.
Experience Curriculum is approved by Grow NJ Kids, New Jersey's Quality Rating and Improvement System. Check out our alignment with the early learning standards in New Jersey.
Learn more about Experience Early Learning here!