LIVE Coaching Session: How To Start A 5-Figure Social Media Marketing Agenc...
Description
[FREE 1-1 Coaching Session By Leonard Png]
How To Start A 5-Figure Social Media Marketing Agency In The Next 30 Days... Even If You Have Zero Experience Right Now...
IMPORTANT: Please note that this event is NOT on 31 Dec. We are using Eventbrite so we have to select a date to publish the page. The actual date, time & location of the training will be sent to you by Leonard's Team.*
--
A Little More About Leonard Png...
Leonard Png is one of Singapore's youngest digital entrepreneurs who has built multiple internet businesses from the age of 19. He has learned directly from Alaric Ong, founder of the largest Facebook Marketing Community in Singapore and has been featured multiple times on Alaric's website for his impressive, consistent success stories at an incredibly young age.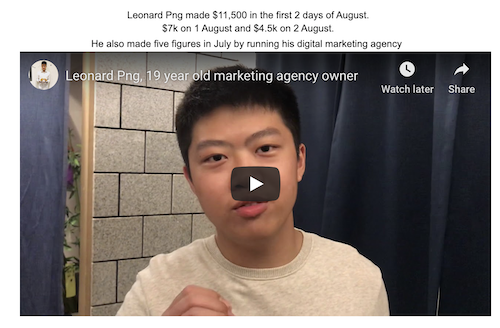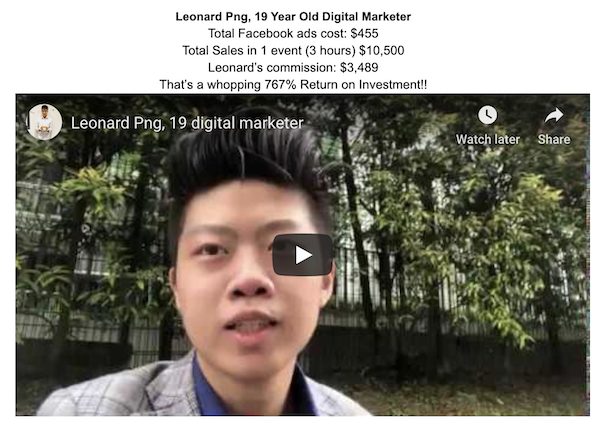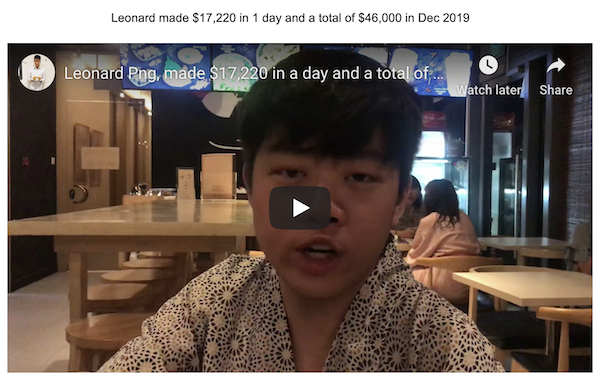 --
In this LIVE coaching session, you'll learn directly from Leonard on...
1) Why a "Social Media Marketing Agency" (SMMA) is one of the MOST lucrative business models in 2020 you can start with NO rental costs, NO labour costs, NO material costs... and rapidly scale your business to 5-figure levels with just ONE person (yourself).
2) How to find Business Owners who are more than happy to pay you, and then how to get results for them through crazy simple Facebook Ads so that they will want to continue paying you forever...!
3) The Step-By-Step Gameplan on how to execute all of the strategies shared in a way where you cannot fail as long as you do the work! This is NOT another "feel-good" training, we want you to succeed fast in real life.
--
[How A Social Media Marketing Agency (SMMA) Model Works...]
1) Find local businesses (spa, salon, gym, dentists, insurance agents, doctors, etc)
2) Help them to run Facebook Advertisements and send more customers their way
3) Charge them anywhere from $1,000-$5,000 per month on a RECURRING basis (meaning, they will continue to pay you month after month, as long as they want more customers)
*The cost of Facebook Advertisement is, by industry practice, always paid by the business owner. So the $1,000-$5,000 you charge is just YOUR FEE for help them run the advertisements.
--
PS: This is NOT another group seminar or session. It is a 1-1, in-depth coaching session with Leonard who will go through with you the essentials of starting an SMMA and scaling it to 5-figure levels in literally weeks.
PPS: This training is suitable for complete beginners, full-time working adults looking to make side-income or anyone else looking to build a 5-figure SMMA in the next 30 days
--
Click on "Register Now" to see if there are any slots left!
--
This site is not part of the Facebook website or Facebook Inc. Additionally, this site is NOT endorsed by Facebook in any way. FACEBOOK is a trademark of FACEBOOK, Inc.