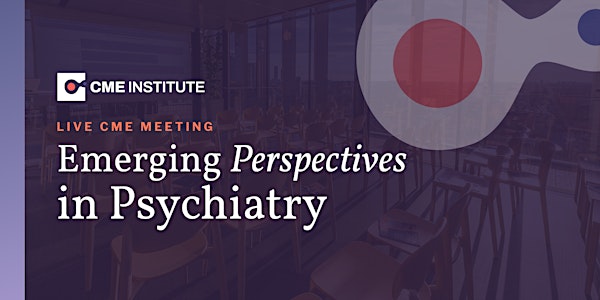 Live CME: Emerging Perspectives in Psychiatry
Psychiatrists will gain timely, clinically relevant, practice-based updates in a panoramic in-person setting, earning up to 5 CME credits.
Date and time
Saturday, June 24 · 8am - 6pm EDT
Location
Glasshouse Chelsea 545 West 25th Street New York, NY 10001
Refund Policy
Contact the organizer to request a refund.
Eventbrite's fee is nonrefundable.
Agenda
8:00 AM - 8:30 AM
Welcome and Registration
8:30 AM - 9:15 AM
Keynote Speaker: Dani Donovan
---
"ADHD Storytelling and the Ripple Effect of Patient Advocacy." Dani Donovan , a purpose-driven creator, author, and ADHD advocate, who shares her patient perspective, which she's renowned for doing t...

9:25 AM - 10:25 AM
Reviewing Non-Dopaminergic Pathways for Schizophrenia Symptom Management
---
Faculty: Leslie Citrome, MD and Jonathan Meyer, MD Learning Objectives › Articulate side effect development and negative symptom control challenges associated with standard of care antipsychotics › R...

10:35 AM - 11:35 AM
Latest Evolving Postpartum Depression Pathophysiology and Treatment Research
---
Faculty: Kristina Deligiannidis, MD and Rubiahna Vaughn, MD Learning Objectives: > Examine the impact of delayed diagnosis on outcomes in PPD and best practices for screening › Explore pathophysiolog...

11:35 AM - 12:30 PM
Break for Lunch
---
Lunch will be provided upstairs on the Glasshouse's 21st floor, where floor to ceiling windows and an open balcony afford spectacular views of the Hudson River, Downtown, and Midtown Manhattan. Pleas...

12:35 PM - 1:35 PM
Addiction Psychiatry
---
Faculty: Ayana Jordan, MD This session title and outline are being finalized. Updates soon.
1:45 PM - 2:45 PM
Expanding the Clinician Toolbox with Novel ADHD Treatment Options
---
This session title and outline are being finalized. Updates soon.
3:00 PM - 4:00 PM
Attaining Recovery in MDD: A Shared Decision Making Discussion
---
Faculty: Michael Thase, MD Learning Objectives: > Prevent inadequate response through selection of appropriate MDD therapies > Review antidepressant efficacy, safety, MOA, and patient preferences dat...

4:00 PM - 6:00 PM
Reception on the 21st Floor
---
Join us for complimentary refreshments on the Glasshouse's panoramic 21st floor.
About this event
This full-day meeting will provide engaging sessions led by reputed psychiatric thought leaders in each of schizophrenia, postpartum depression, major depressive disorder, addiction, and ADHD. A patient perspective will be shared as part of each program to ensure clinicians gain practical, real-world insight. Attendees will earn up to 5.0 AMA PRA Category 1 credits.
Meet the Faculty
Keynote Speaker: Dani Donovan of ADHDD.com
Leslie Citrome, MD, MPH
Michael Thase, MD
Kristina M. Deligiannidis, MD
Ayana Jordan, MD, PhD
Henry A. Nasrallah, MD
Jonathan M. Meyer, MD
Rubiahna L. Vaughn, MD, MPH
Why You Should Attend
Earn up to 5.0 AMA PRA Category 1 credits
Complimentary 1-year online + print subscription for The Journal of Clinical Psychiatry
100% of ticket proceeds benefit NAMI
Each session is paired with a patient perspective interview
Q&A with the faculty
Lunch is provided, and a complimentary reception
About CMEInstitute.com
CME Institute is trusted to deliver best-in-class continuing medical education programs to the clinicians who practice at the frontline of patient care. Through engaging and memorable learning experiences, and by investing in innovative channels and formats, CME Institute has transformed how clinical learners apply new knowledge to practice in an ever-changing medical landscape. ACCME accredited since 1996, these activities make the latest research, novel therapies, and clinical best practices accessible and approachable for physician, NP, PA, and PharmD practitioners, yielding consistent and meaningful outcomes.
CME Institute is committed to creating continuing medical education that reduces the silos of individual practitioner knowledge, experience, and scope of care to create a collective mindfulness among all healthcare professionals.