Event Information
Refund policy
Contact the organizer to request a refund.
Eventbrite's fee is nonrefundable.
Take control of your wardrobe, to take control of your life with a closet clean-out consultation.
About this event
A closet clean-out consultation brings awareness to your need to evaluate your life accordingly. And it allows you to change things about yourself to create the positive life you want.
The Closet Clean-Out Consultation is a live virtual one-on-one consultation in an intimate group setting that is held via Zoom.
Within the 2.5 hours online, you'll learn a transformation method for reflection, letting go, repurposing, and adding a wardrobe with vibrant positivity to your closet. Also, you'll be given a step-by-step guide to properly and thoroughly clean your wardrobe. And you'll have the opportunity to ask me any questions about cleaning your closet.This closet cleanse is the first step towards creating your dream wardrobe so you can manifest the person you want to be and the life you desire.
It is essential to your overall style experience, well-being, and journey. By investing in your style, you are investing in yourself.
Sis, tell me this:
☼ Do the items in your wardrobe make you feel confident or vibrate positivity?
☼ Do you have so many clothes that take up closet space that you don't feel connected to?
☼ Is there clothing in your closet that you know you should let go of, but you find it difficult to?
☼ Do your clothes make you feel flawed and uncomfortable in your skin?
☼ Does your wardrobe weigh you down energetically, emotionally, psychologically and spiritually?
☼ Is your wardrobe stuck in a season of your life you need to let go of?
If you answered yes to any of the questions above, you definitely need a Closet Clean-Out to release clothing that does not serve you.
With this Closet Cleanse Reflection and Release method, you'll learn to:
✓ Release old and negative energy that is holding you back in life.
Storing clothes that bring out negative feelings, bad memories, and make you feel worthless and insecure creates negative energy.
Then negative energy spreads to other aspects of your life….
Stealing your happiness, stopping you from fulfilling your life goals by taking away your positive energy (that you need to transform your life for the better).
In this closet clean-out consultation, I'll show you how to detach yourself from the energy that is not in alignment with your true desires.
✓ Create closet space for clothes that: uplift your spirits, boost your self-esteem & confidence. And help you manifest your life goals!
Some clothes in your wardrobe do not represent your personality and life goals well. And some items in your closet collect dust and take unnecessary space.
Instead of storing such items, I'll show you how to create new closet space for clothes that: positively impact your life, are necessary and you'll surely wear.
With an organized and clean wardrobe, you'll be on your way to improving every area of your life.
✓ Overcome past wounds and trauma to improve yourself in this season and the next.
Getting rid of clothes that remind you of physical and emotional hurt is a great way to start creating space for healing.
This closet clean-out can be at the core of your healing. It supports your need to shed old versions of yourself that were part of your experiences of the past.
✓ Wear clothes that align with where you're going, what you desire in life, and becoming your best self.
Wearing clothing that supports who you are and where you are going empowers you to live in your truth.
Clothing that best describes you, your gifts and your purpose can inspire a mindset change that motivates you to transform your life for the best.
You'll be guided you in determining clothes that do not serve your journey and clean them out of your closet….
So you can make space for clothes that: make you look good and feel confident and embody the very best of yourself at the moment.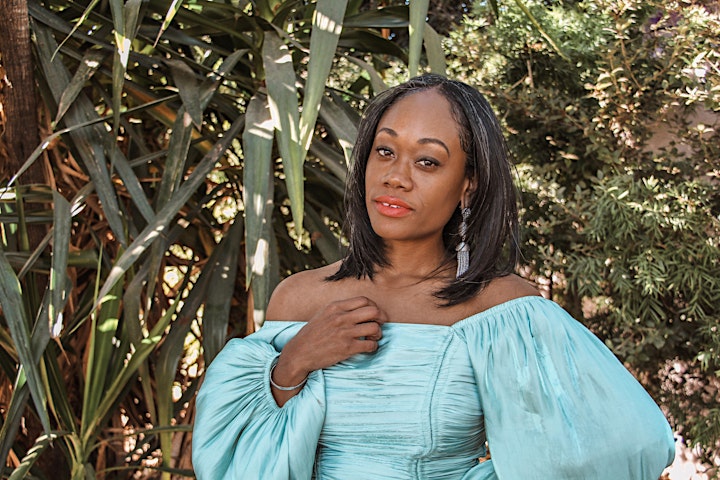 Meet Pentené
Pentené is a Wardrobe Healer who effectively used her style as a form of self-love and a healing tool to transform into the next best version of herself. Also to heal past wounds, while experiencing a turbulent divorce and narcissistic abuse.
She founded her wardrobe healing consultation service, "Journey Your Style", to teach other women how to transform herself through her style by using it as a source of energy for healing, purpose and growth. Plus, overcome adversity using style as an opportunity to heal past wounds and self-improve to create the life you desire.
By the end of the Live Group Consultation, you'll learn:
☼ To trust when you are called to release wardrobe with old energy
☼ When to know your clothing is not in alignment with you
☼ Cleaning out your closet does not need to be just seasonal, but vibrational
☼ When it is the best time(s) to release and clean-out your closet
☼ How to use the clothing you have to change the energy
☼ What to do with the clothing you release and the clothing you keep
☼ Learn how to highlight your transformation and who you are
☼ Ways to harness the power of clothing
☼ How to organize your closet after your closet cleanse
☼ To create an energy of love emotionally, mentally, psychologically and spiritually
Frequently Asked Questions (FAQs):
Where and when will this Closet Clean-Out be held?
It will be held virtually via Zoom at 10:00 AM PST, Saturday, 31st of July.
How long will this consultation take?
The Closet Clean-Out session will take about 2.5 hours. I'll teach you and a group of ladies how to clean your closet and discuss with each other.
Why should I join this consultation when I can clean my closet by myself?
As an experienced stylist, I bring my expertise and knowledge.
Not only will you get a step-by-guide on how to clean your closet, through my Reflection and Release method you'll:
- Know which clothes are essential to your purpose and life journey. And which ones are collecting dust.
- Be equipped with style knowledge that makes you aware of your clothing style and purchase decisions.
- Know different ways to clean your closet
- Know how to change the energy of your clothing to positively benefit you.
In addition to all these benefits, I will show you how to start creating your dream closet based on your desires and life goals.
Will the consultation be recorded and can I have access to the recording?
No, there will not be a recording available since this consultation is an intimate and one-time experience.
Is there a refund policy?
No, once you buy your ticket and/or attend the event you will not get a refund.
Date and time
Location
Refund policy
Contact the organizer to request a refund.
Eventbrite's fee is nonrefundable.