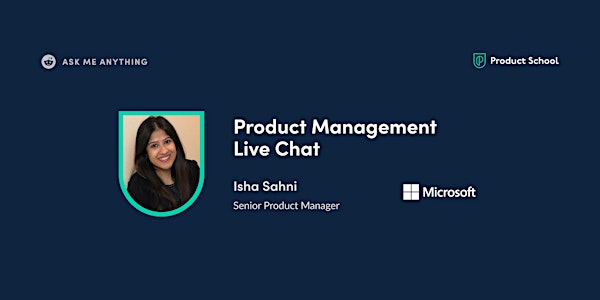 Live Chat with Microsoft Sr PM
DISCLAIMER: Register here to get notified with the instructions to join this ONLINE TEXT CHAT event on Reddit
About this event
Ever wondered what it's like to work as a Product Manager? This is an exclusive Ask Me Anything session to give you a chance to ask every question you've ever had, with Isha Sahni, Sr PM at Microsoft.
He will discuss what it's like to work in this dynamic role and what it takes to get your foot in the door. You'll also get the inside scoop on the day-to-day work as a PM, the challenges of the job and personal insight from Isha's experience of working at different companies.
Come join us on Launch! Product School's exclusive community for Product People to learn, exchange ideas and build better together.
Meet the Speaker: Isha Sahni

Isha is a Senior Product Manager at Microsoft with over a decade of experience leading tech teams. She is also a Mentor for graduate and undergraduate students at Seattle University.
The content of this event is for educational purposes only and does not include any specific facts of the presenter's current or previous company. The opinions expressed in this event are solely those of the presenter based on personal experiences and do not reflect those of the company the presenter works for.
Get the FREE Product Book here and check out our curated list of free Product Management resources here

Product School is the global leader in Product Management training with a community of over one million product professionals. Our certifications are the most industry-recognized credentials by employers hiring product managers. All of our instructors are senior-level Product Managers working at top Silicon Valley companies including Google, Facebook, Netflix, Airbnb, PayPal, Uber, and Amazon.
Disclaimer: by registering for this event I agree to receive email communications from Product School and all sponsor brands.