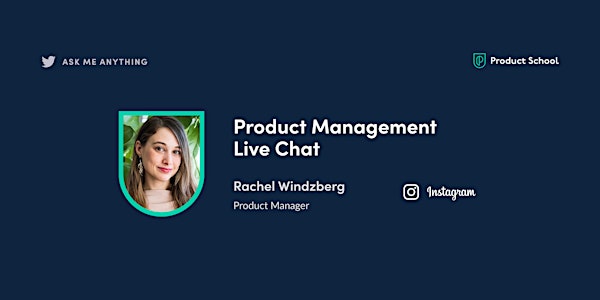 Live Chat with Instagram Product Manager
Disclaimer: Register here to get notified with the instructions to join this ONLINE VOICE CHAT event on Twitter Spaces
About this event
Join in and get all your Product Management questions answered during our online event with Rachel Windzberg, Product Manager at Instagram.
Some questions that will be answered include:
What is the best part of being a Product Manager?
What is the worst part of being a Product Manager?
What do you look for in a Product Management resume and/or candidate?
What was a difficult Product Manager interview question you've had? And how did you answer it?
Have you ever felt like you didn't understand the technology on a product? What did you do to compensate?
Meet the Speaker: Rachel Windzberg

Rachel is a Product Manager at Instagram, where she works alongside a group of engineers, data scientists, UX researchers, and designers to grow their Reels product and improve overall engagement across Facebook and Instagram.
The content of this event is for educational purposes only and does not include any specific facts of the presenter's current or previous company. The opinions expressed in this event are solely those of the presenter based on personal experiences and do not reflect those of the company the presenter works for.
Get the FREE Product Book here and check out our curated list of free Product Management resources here
Product School is the global leader in Product Management training with a community of over one million product professionals. Our certifications are the most industry-recognized credentials by employers hiring product managers. All of our instructors are senior-level Product Managers working at top Silicon Valley companies including Google, Facebook, Netflix, Airbnb, PayPal, Uber, and Amazon.
Disclaimer: by registering for this event I agree to receive email communications from Product School and all sponsor brands.