Please Note – This registration page is for ATTENDEES ONLY, NOT FOR EXHIBITORS (PRIME BUSINESSES OR GOVERNMENT AGENCIES)
About this event
**Please Note – This registration page is for ATTENDEES ONLY. This registration page is NOT FOR PRIME BUSINESSES OR GOVERNMENT AGENCIES interested in participating as an exhibitor. All exhibitor requests should be sent to events@mwmca.org or call 443-759-8580 for more information.**
Event Description:
The Minority Outreach Fair is intended to assist your company in identifying work and/or contractual opportunities with top prime companies and government agencies.
8:00am to 12:00 Noon - Exhibitor Hall featuring over eighty (80) exhibitors including top prime companies and government and local agencies.
There is so much valuable and worthwhile information distributed at this event that arriving when the event begins at 8:00am is a good idea to accomplish your goals and identify business for your company to pursue.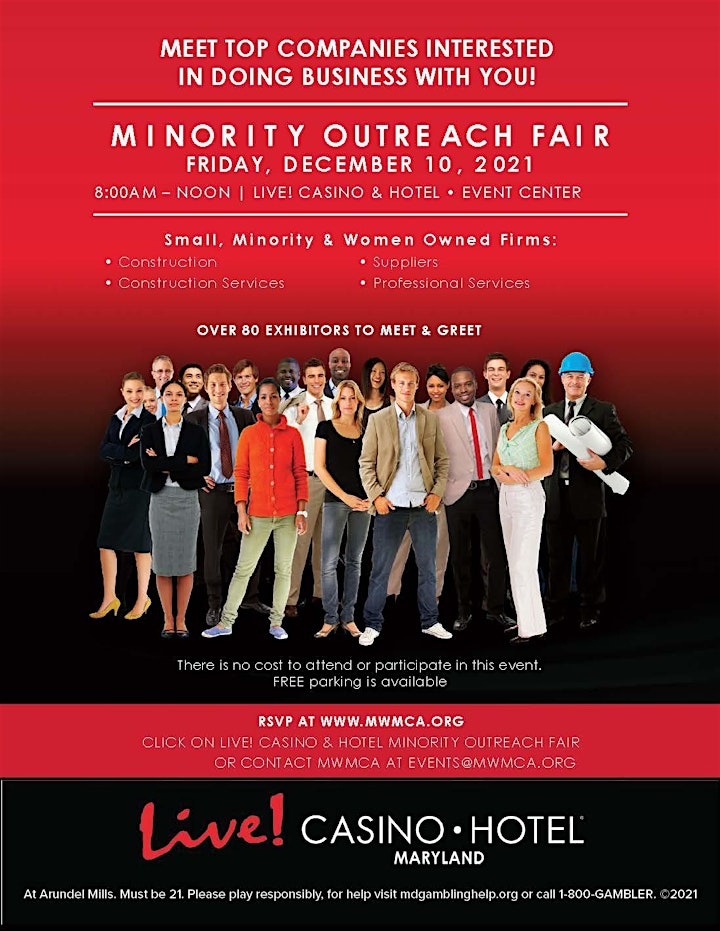 Organizer of Live! Casino & Hotel Minority Outreach Fair