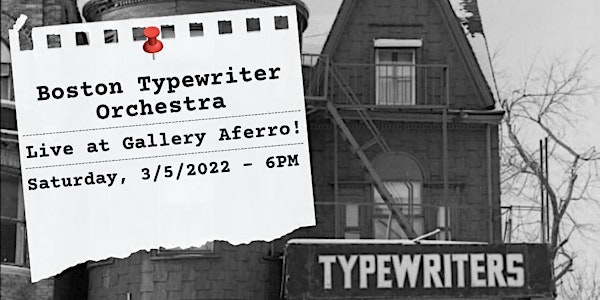 LIVE! Boston Typerwrite Orchestra at Gallery Aferro
BTO is a collective endeavor which engages in rhythmic typewriter manipulation, combined with voice elements: performance, comedy and satire
When and where
Date and time
Saturday, March 5, 2022 · 6 - 7:30pm EST
Location
Gallery Aferro 73 Market Street Newark, NJ 07102
About this event
Gallery Aferro is thrilled to present The Boston Typewriter Orchestra, LIVE! for one night only in Newark, specifically our main gallery. You have never seen anything like this, we promise.
BTO is a collective endeavor which engages in rhythmic typewriter manipulation, combined with voice elements: performance, comedy and satire. They aim to entertain the masses while providing an outlet for the creative urges of its members. The latest rotation of Gallery Aferro's Elevator Music project features an original track composed just for the project by BTO.
BTO has released several singles and five albums, the most recent of which is a collection of remixes entitled Delegation. The ensemble members included/includes: Derrik Albertelli, Jeff Breeze, James Brockman, Alex Holman, Chris Keene, Erik Lindahl, Steve Mazzulli, Jay O'Grady, Brendan Quigley, and Chris Webb. Other collaborators include Brian Dewan and Elizabeth Donovan.
Learn more about BTO at www.bostontyperwriterorchestra.com, then follow them on Facebook, Instagram, YouTube and Twitter, then purchase their work via their Bandcamp page.
About the organizer
The mission of Gallery Aferro is to bring cultural education and aesthetic engagement with contemporary issues to all people equally, and to create an environment where artists can gather and share physical and intellectual resources.

Founded in 2003 by artists, the gallery has received 6 consecutive Citations of Excellence from the NJ State Arts Council for our 12-15 annual exhibitions of local, national and international contemporary artists, with connected performances, poetry readings, panels, hands-on workshops, community conversations and screenings, a year-round artist residency program with fellowships, educational offerings, public art initiatives, a publication line of more than 30 artist books, exhibition catalogs, essays, and sound art CDs, along with legacy and collection work for artists and cultural organizations.