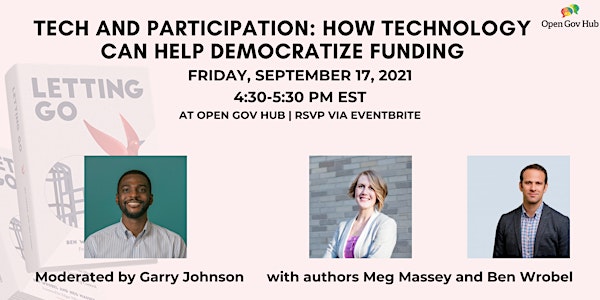 LIVE BOOK EVENT: How Technology Can Help Democratize Funding
Join us on September 17th at Open Gov Hub in downtown D.C. for a conversation with Meg Massey & Ben Wrobel on their new book: "Letting Go".
When and where
Location
OpenGov Hub 1100 13th Street, NW Suite 800 Washington, DC 20005
Refund Policy
Contact the organizer to request a refund.
About this event
Who decides our collective future?
It's an open secret: philanthropy and international aid are top-heavy and insular. A glance at the world's largest foundations and aid organizations reveals that decision-makers tend to be disproportionately white, male, and from backgrounds of privilege. And decisions tend to be made in a closed, opaque way.
In their book Letting Go, Ben Wrobel and Meg Massey tell the story of the funders who have chosen to cede decision-making power to people with lived experience of the problem at hand, from a global foundation run by and for young feminist activists, to participatory budgeting processes around the world.
In this conversation we'll talk about how nonprofits, iNGOs, foundations and governments and others can use technology to gather input from large groups of people and create authentic spaces for deliberation. We'll discuss tech tools as well as strategies for how to use social media to bypass gatekeepers and democratize who is making decisions about our collective future.
AUTHORS:
Meg Massey is a journalist covering social impact and social justice in the world of finance. Her writing has been featured in Time, Fortune, Impact Alpha, and others. She began her social sector career as a policy analyst in the Obama White House, and later led strategic communications for the Global Steering Group for Impact Investment (GSG) and the Urban Institute's Research to Action Lab before founding her strategy firm, Sanspeur, in 2019.
Ben Wrobel is Director of Communications at Village Capital, a pioneer in participatory investing. He started his career as chief speechwriter for the NAACP, and later raised money for voter registration campaigns including Stacey Abrams' New Georgia Project. He has edited two best-selling books: REACH: 40 Black Men on Living, Leading and Succeeding and The Innovation Blind Spot.
MODERATOR:
Garry Johnson is an award winning startup founder and nationally recognized ecosystem builder working to build a more inclusive and equitable innovation economy. He's been recognized as a Delaware Business Times 40 Under 40 honoree, HBCU.vc & Hen Hatch Pitch Competition Winner, StartupAfrica Youth Entrepreneur of the Year, Siegfried Award Recipient, among other accolades. Garry is also the Founder & Executive Director of First Founders Inc., a 501(c)(3) organization on a mission to lower barriers to entry and increase the likelihood of success in the innovation ecosystem. The organization helps early-stage entrepreneurs launch successful startups through our accelerator programs, community support, and access to resources. The First Founders community currently includes more than 200+ entrepreneurs from around the world.
WOULD YOU LIKE TO BUY THE BOOK?
We will have copies for sale at the event! You can also buy it ahead of time HERE and use the code OPENGOV at checkout to get 10% off.
50% of the profits from book sales will be donated to Liberated Capital, a fund leveraging the power of community to give with trust and mutuality.
PLANNING TO ATTEND IN PERSON?
IMPORTANT: Please bring your vaccination card (physical or digital copy) and your face mask with you for admission. Thank you!
This event is free for Open Gov Hub members! (Code in the Weekly Hub Digest - contact izabela@opengovhub.org if you have any questions).