Location
Birmingham 8
211 South Old Woodward Avenue
Birmingham, MI 48009
Imagine going to an event, and learning several new tips, tricks and best practices to live life better? Awesome, right?
About this event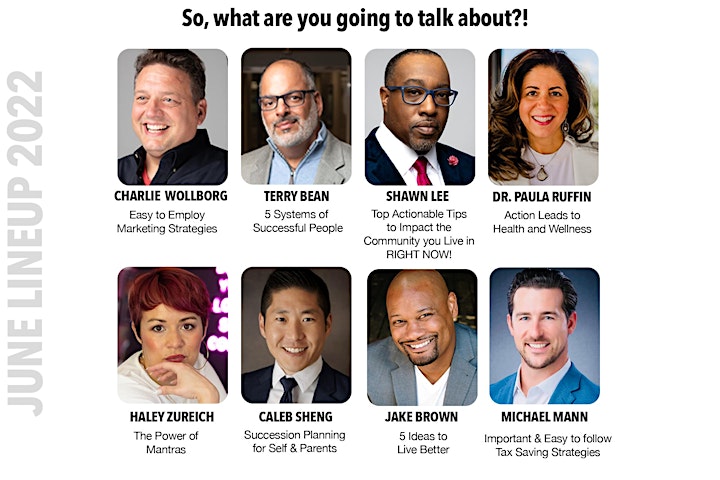 Imagine going to an event, and learning several new tips, tricks and best practices to live life better? Awesome, right?!
We all need fresh inputs.
Sure, to succeed in business, you need to be good at what you do and offer your clients value. But, you also need to surround yourself with fresh ideas and new people.
During the pandemic, many of us retreated to online interactions. It was pretty easy for those retreats to become habits. But here's the thing – face-to-face will always beat pixel-to-pixel. You need to get back out there.
Opportunities favor the people in the room.
This Wednesday, we've got a great opportunity for you to be in the room where it happens. Get in front of fresh ideas and fresh faces in just two hours (your time is valuable). It's called "Life Better - Eight short, action oriented talks to help you do better in business & life." Plus, the most connected man in Metro Detroit – Terry Bean – will be facilitating business networking during the event.
Get back out there. Get in the game. Invest two hours in yourself and your business.
Join us Wednesday, June 29 the Birmingham 8 Theatre from 10am to noon for inspiring ideas and effective networking.
Reserve your seat: https://lnkd.in/eAHvVb9K
In this event you'll learn from:
Dr. Paula Ruffin - She'll share tips on taking action for better health and wellness
The Idea Goddess, Hailey Zureich - Who will share the power of mantras
Jake Brown - Who will bring 5 tips on perception and passion
Michael Mann - Who brings valuable tax savings strategies
Charlie Wollborg - Will share some pro marketing tips
Shawn Lee - Bringing the goodness about community
Caleb Sheng, Esq - Will share some tips on succession planning for you and your parents
Terry Bean - Discusses the 5 Systems of Successful people
Future events (July 27, August 31 and September 28) will have even more great presenters and topics including:
Wellness
Finances
Business
Marketing
Family Matters
Communications
Leadership
Building Community
Mental Health
All types of growth
And so much more!
Do. Live. Be, BETTER!
Each short (under 10 minutes) talk is designed to leave you with actionable ideas you can use right now to improve your life. The best part is you can use these lessons any time you want.
Each show will be different. Save yourself some $$ and get the best value by buying the 4 pack.
We look forward to you joining us!
Get your ticket now!!