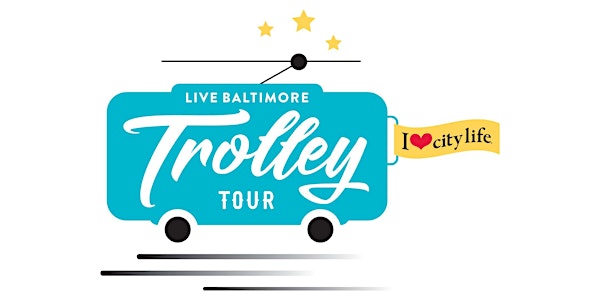 Live Baltimore Trolley Tour: Spring 2023
Join Live Baltimore for a comprehensive introduction to homebuying in Baltimore City!
Date and time
Saturday, May 13 · 8am - 1pm EDT
Location
Morgan State University 1700 East Cold Spring Lane Baltimore, MD 21251
About this event
The Spring 2023 Trolley Tour features neighborhoods in Northeast Baltimore City!
Live Baltimore's Trolley Tour is for buyers at ALL stages of the homebuying process. You do not need to be buying a home soon to benefit from this free, in-person informative event.
At Trolley Tour, you'll:
Explore 10+ neighborhoods in on a narrated bus tour
Connect with real estate professionals and community organizations in the City Living Fair
Attend expert-led workshops on the homebuying process
AND become eligible for $5,000 toward the purchase of a home anywhere in Baltimore City!
Twenty Buying Into Baltimore $5,000 incentive awards are available following this in-person event.
All attendees (children and adults) must have a ticket—even if they do not wish to qualify for the Buying Into Baltimore incentive. Registration on event day is available pending space availability. Space is limited. Sell-out is possible.
Applying for the incentive? Eligible attendees may apply for Baltimore City's $5,000 Buying Into Baltimore incentive after attending this in-person Trolley Tour. You'll have 10 business days following the Trolley Tour to enter the incentive lottery. We advise having mortgage pre-approval and your City agency homeownership counseling finished prior to attending the event.
Please review the Full Incentive Terms and Conditions carefully and make sure you have gathered your documents listed in the Incentive Application Checklist before applying for the Buying Into Baltimore Incentive.
Note: Live Baltimore is not responsible for the distribution of incentive funds. Incentive funds are provided and regulated by Baltimore City's Department of Housing and Community Development. Restrictions apply.
Frequently asked questions
Who should attend this Trolley Tour event?
How can I find out more about the event?
How can I learn more about the $5,000 incentive?
What is the event's COVID policy?
Will there be food or drinks available at the event?
About the organizer
Live Baltimore loves city life! We are an independent, nonprofit organization committed to promoting the benefits of Baltimore City living. Each year, Live Baltimore provides thousands of individuals with information on the city's 278 neighborhoods, rental living options, homebuying incentive programs, historic tax credits, and more. Live Baltimore envisions Baltimore as a growing and vibrant city that attracts and retains a diverse population.