Description
Come On Down and join the live audience for the live talk show, It's Your Voice with Alicia Reygn of Reygn & Soul Band at The Artist Market On Linden, Tuesdays, Doors Open at 7pm. Entry closed at 7:45pm.
Don't Miss The New Hot Topic Each Week, Live Performances by Singers, Musicians, Poets, Rappers, & the Reygn & Soul Band. Different Special Segment: Food, Fashion, Exotic Beverages, Small Business, & New Products/Services.
New Topics Every Week and You should Be There To Give Your Opinion!
Buy Your Tickets Early For the Live Sip & Paint During The Show On, Tuesday, April 30th from 8pm - 10pm
Catch Some Of The Episodes by Live Stream on IG, Facebook, Queens Underground 718 (Youtube Channel). Catch up on the websites: TheArtistMarketOnLinden.com and QueensUnderground718.com
Follow Us On Instagram:
WOULD YOU LIKE TO BE INTERVIEWED OR HOST A SPECIAL SEGMENT (Your Products/Services, Cooking, Baking, Natural Products, Fashion, Mixology, Health and Wellness, Hair/Make-up, Your Performance, a How-To, or another Demonstration?) Email: ItsYourVoiceAlicia@gmail.com for Details.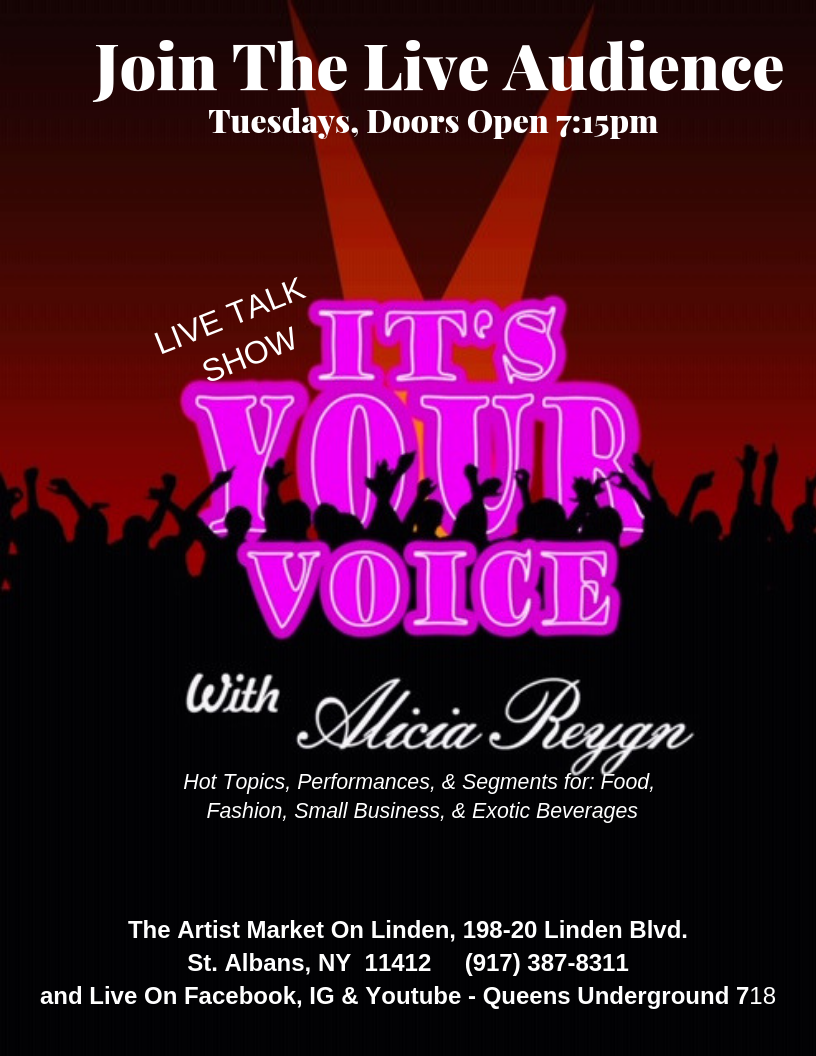 #openmic #music #talkshow #liveshow #musicvideo #singer #underground #poets #rapper #fashion #hair #makeup #exoticbeverages #food #networking #entrepreneur #newbusiness #smallbusiness #newartist #fashiondesigner #journalist #jazz #rnb #soul #gourmetfood #mocktails #infuseddrinks #queensny #youtube #instagram #newproduct #seafood #makeup #artist #caterer #summertime #friday #saturday #newshow #shoes #liveband #issues #mentalhealth #community #news #socialissues #nonprofit #religion #politics #opinion #sipandpaint #spokenword #audience #interviews #howto #demonstration #cooking #baking #mixologist #products #services #designer #clothingdesigner #cbdproducts #performer #weaves #smoothies #bookauthor #musican #band #filmmaker #artist #painter #portraitartist #marketing #alkalinewater #excercise #nutrition #soundcloud #musicvideo #socialissues #comedian #poet #femalemusician #dj #singinggroup #socialcauses #education #eventspace