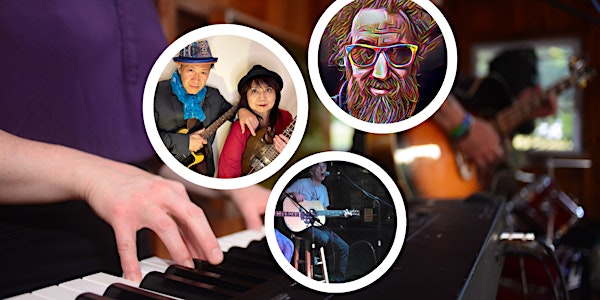 Multiple dates
Live! at Hale: Music in the Barn
Support local music at Hale! A rustic venue and artist Q&As set these live performances apart.
Date and time
March 9 · 7pm - May 11 · 9:30pm EST
Location
Hale Education, Inc. 80 Carby Street Westwood, MA 02090
Refund Policy
Contact the organizer to request a refund.
Eventbrite's fee is nonrefundable.
About this event
Join the dedicated fan base of these 21+ shows held in Hale's ACLC barn and orchard. Whether singing under the stars or jamming by a roaring fire, artists from throughout the area fill the woods with music. 80 Carby Street, Westwood. Doors open at 7 PM, and first sets begin at 7:30 PM.
Live! at Hale and other events coordinated by Hale's artist-in-residence are made possible by the generosity of The Margaret Stewart Lindsay Foundation.
Next Show
April 13
Pete Cassani of The Peasants
The Peasants started in 1987 when Pete Cassani moved to Boston from Long Island. He met his bandmate Bob Starker at a blues jam in Boston and they decided to make music together. Now with multiple albums and decades of performances under their belt, this rockabilly-blues-punk band performs in venues throughout Boston. Sample Cassani's work here.
Ken Carter of Cold Car
Ken Carter is a singer-songwriter from Westwood. His original music can be categorized as folk, indie, and Americana. Ken's "contagiously catchy melodies" provide easy listening and uplifting vibes to his audience members. Sample his music here.
Tokyo Tramps
The Tokyo Tramps is an original rock 'n' roll duo with New Orleans grooves and Hendrix-inspired riffs. Hailing from Japan, Satoru and Yukiko started creating music together more than two decades ago and have released nine original albums together. They've also competed in the International Blues Challenge three times. Sample their music here.
Future Shows
May 11
Zack Bolles Band
Zack Bolles Band is an acoustic, upbeat, folk-rock trio featuring Ed Cardenas, Abe Dewing, and Zack Bolles. The group performed at Hale's 2022 Steam Kettle Festival and they're thrilled to return to Hale. Sample their music here.
Jeremy Van Cleave
The Mail's Jeremy Van Cleave is a Boston-based instrumentalist and songwriter whose work has folk, rock, and Americana influences. He's performed all over the country with bands including Air Traffic Controller, The Bridgebuilders, and Peter Parchek. Sample Jeremy's music here.
Lara Herscovitch
Lara is a singer-songwriter with Americana, modern, and unique new-folk influences. The Boston Globe describes her as "a luminous voice and a buoyant stage presence … big-hearted lyrics embrace the sum of life … Herscovitch's music blows on the embers of a lagging spirit." Sample Lara's music here.
Previous Performances
Since 2017, Live! at Hale has featured artists including The Kemp Harris Group, Late Night Thoughts, Sympli Whitney Productionz, The Old North, The Remedies, Wild Sundays, Ariel Strasser, Cold Car, Three at Home, TIMKO & Co., the Zack Bolles Band, Tom Burris, Just Another Guru, Steve Robb, Erin Ash Sullivan, Tim Van Ness, John Hanson, Calvin Mausteller, Jenne Halstead, Conor Ryan Hennessy, Deb Todd Wheeler, Lisa Bastoni, Chris Trapper, Sophia Jane, Colin O'Dwyer, Emily Theis, Sara Colb, Josie Lowder, Lynn Bailey, Sean Witty, Andrew O'Keeffe, and Hayes Cummings.