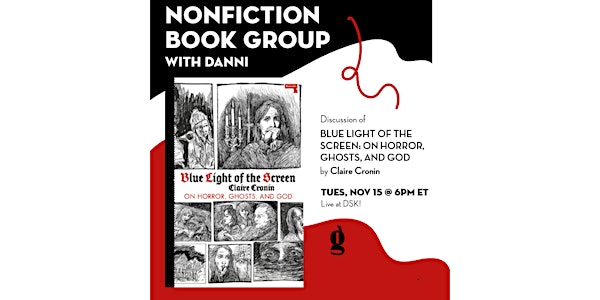 Live at DSK: Nonfiction Book Group with Danni
Featuring Blue Light of the Screen: On Horror, Ghosts, and God by Claire Cronin
When and where
Location
DSK Brooklyn 710 Fulton Street Brooklyn, NY 11217
About this event
Hosted by our neighbors at Die Stammkneipe Brooklyn (710 Fulton St.) and led by a Greenlight bookseller, our nonfiction book group meets monthly to read and discuss the most fascinating topics in nonfiction. This month, we welcome bookseller and buyer extroardinaire Danni as host! Danni writes: "I think the unique strength of nonfiction is a writer presenting in manner that is fresh to you something you have already viewed peripherally or directly. I'm always on the hunt for such titles! Some books will be essays, others will be history, and others still will be political or sociological. I hope you'll join me as we read from mostly lesser-known presses and authors who are thinking in interesting and cool ways."
This month, the group reads Blue Light of the Screen, writer and musician Claire Cronin's creative-critical memoir of her obsession with the horror genre. Part memoir, part ghost story, and part critical theory, Blue Light of the Screen embeds its criticism of horror within a larger personal story of growing up in a devoutly Catholic family, overcoming suicidal depression, uncovering intergenerational trauma, and encountering real and imagined ghosts.
---
Book group meetings will be held in DSK's private meeting space; enter through the bar. Drinks and food available for purchase; one item purchase minimum is encouraged!