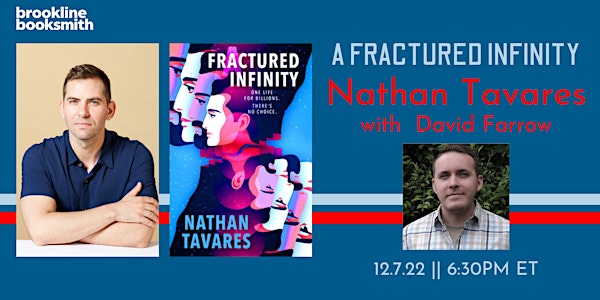 Live at Brookline Booksmith! Nathan Tavares: A Fractured Infinity
Read on for important details for this live, in-person Brookline Booksmith event.
When and where
Location
Brookline Booksmith 279 Harvard Street Brookline, MA 02446
Refund Policy
Contact the organizer to request a refund.
Eventbrite's fee is nonrefundable.
About this event
In person at Brookline Booksmith! Celebrate the release of A Fractured Infinity with author Nathan Tavares, in conversation with David Farrow.
Register for the event!
RSVP to let us know you're coming! Depending on the volume of responses, an RSVP may be required for entrance to the event. You will also be alerted to important details about the program, including safety requirements, cancellations, and book signing updates.
Livestream!
Barring technical difficulty, this event will be livestreamed to our store YouTube channel. No registration is required for the livestream.
Reserve a book!
Books will be available for purchase at the event, but you can ensure that you get a copy by preordering on this page. You can pick your book up after 6:00PM on the day of the event.
Can't make it to the event? Preorder the book here to have it signed, and choose to have it held or shipped from the store!
FOR INFORMATION ON ACCESSIBILITY AND COVID PRECAUTIONS, PLEASE SCROLL ALL THE WAY DOWN.
If you have trouble checking out, check the Eventbrite FAQ located here.
A Fractured Infinity
A thrilling race across the multiverse to save the infinite Earths – and the love of your life – from total destruction for fans of The First Fifteen Lives of Harry August, The Time Traveler's Wife and Rick and Morty.
Film-maker Hayes Figueiredo is struggling to finish the documentary of his heart when handsome physicist Yusuf Hassan shows up, claiming Hayes is the key to understanding the Envisioner – a mysterious device that can predict the future.
Hayes is taken to a top-secret research facility where he discovers his alternate self from an alternate universe created the Envisioner and sent it to his reality. Hayes studies footage of the other him, he discovers a self he doesn't recognize, angry and obsessive, and footage of Yusuf… as his husband.
As Hayes finds himself falling for Yusuf, he studies the parallel universe and imagines the perfect life they will live together. But their lives are inextricably linked to the other reality, and when that couple's story ends in tragedy Hayes realises he must do anything he can to save Yusuf's life. Because there are infinite realities, but only one Yusuf.
With the fate of countless realities and his heart in his hands, Hayes leads Yusuf on the run, tumbling through a kaleidoscope of universes trying to save it all. But even escaping into infinity, Hayes is running out of space - soon he will have to decide how much he's willing to pay to save the love of his life.
Nathan Tavares is a writer from Boston, Massachusetts. He grew up in the Portuguese-American community of southeastern Massachusetts and developed a love for fantastical stories at an early age, from superheroes to mythology.
Moderator David Farrow is the author of the Neverglades paranormal mystery series, which started as a cult success on Reddit, became a bestselling book series on Amazon, and is now being adapted as a video game. Like Nathan, he is a Fiction alum from Lesley University's MFA program and a writer of all things queer and speculative.
About Brookline Booksmith
We are one of New England's premier independent bookstores, family-owned and locally run since 1961. We offer an extensive selection of new, used, and bargain books; unique, beautiful gifts; award-winning events series; and specialty foods. Every day, we strive to foster community through the written word, represent a diverse range of voices and histories, and inspire conversations that enrich our lives. Find more at brooklinebooksmith.com!
EVENT ACCESSIBILITY
This event will take place in Brookline Booksmith's Used Book Cellar, which is only accessible by stair. If possible, the event will be livestreamed to YouTube. ASL interpretation may be provided (based on the availability of interpreters) but must be requested at least 2 weeks in advance of the event. Seats are limited. Please email us at tickets@brooklinebooksmith.com as soon as possible if you require ASL interpretation, guaranteed seating, or other accommodations. We will do our best to serve your needs!
IMPORTANT NOTICE REGARDING COVID & IN-PERSON EVENTS:
Please note that any Brookline Booksmith in-person event may be canceled by the bookstore, publisher, or author based on concerns about health and safety around the time of the event. Wherever possible, any in-person appearance canceled due to COVID will be moved to the Brookline Booksmith Zoom as a Webinar at the same date and time, and all tickets & registrations will be transferred to the online event. Book signing details may change. Refunds may be requested in the case of a virtual pivot or event cancellation.