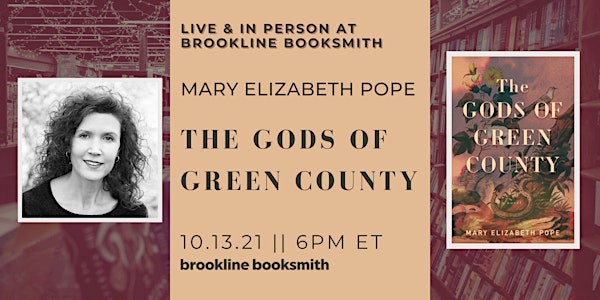 Live at Brookline Booksmith! Mary Elizabeth Pope: The Gods of Green County
Read on for important details for this live, in person Brookline Booksmith event.
Date and time
Starts on Wednesday, October 13, 2021 · 6pm EDT
Location
Brookline Booksmith 279 Harvard Street Brookline, MA 02446
Refund Policy
Contact the organizer to request a refund.
Eventbrite's fee is nonrefundable.
About this event
Live and in person at Brookline Booksmith! Celebrate the release of The Gods of Green County with author Mary Elizabeth Pope.
Register for the event!
RSVP to let us know you're coming! RSVPs don't guarantee a seat, but you'll be alerted to important details about the program, including safety requirements, cancellations, and book signing updates.
Reserve a book!
Books will be available for purchase at the event, but you can ensure that you get a copy by preordering on this page. You can pick your book up after 5:30PM on the day of the event.
Can't make it to the event? Preorder the book here to have it signed, and choose to have it held or shipped from the store!
FOR INFORMATION ON ACCESSIBILITY AND COVID PRECAUTIONS, PLEASE SCROLL ALL THE WAY DOWN.
If you have trouble checking out, check the Eventbrite FAQ located here.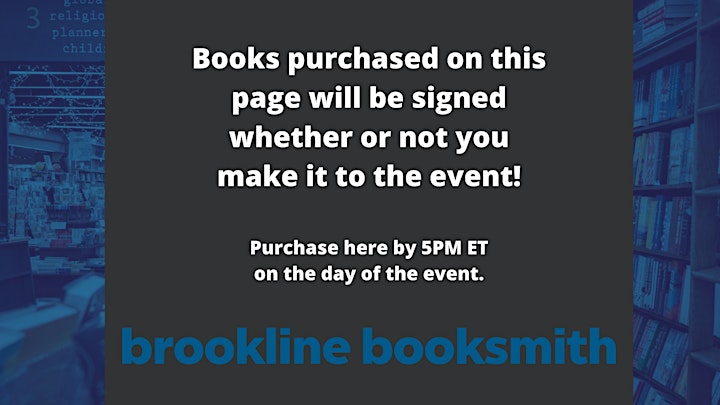 The Gods of Green County
In 1926 in rural Green County, Arkansas, where cotton and poverty reign, young Coralee Harper hopes for a family and a place in her community, but when her brother Buddy is killed by a powerful sheriff, she can't recover from his death or the injustice of his loss. When she begins to spot her dead brother around town, she wonders—is she clairvoyant, mistaken, or is she losing her mind?
What Coralee can't fathom is that there are forces at work that threaten her and the very fabric of the town: Leroy Harrison, a newly minted, ambitious lawyer who makes a horrible mistake, landing him a judgeship and a guilty conscience for life; an evangelical preacher and his flock of snake-handling parishioners; the women of the town who, along with Coralee's own mother, make up their own kind of jury for Coralee's behavior; Sheriff Wiley Slocum who rules the entire field, harboring dark secrets of his own; and finally, Coralee's husband Earl, who tries to balance his work at the cotton gin with his fight for family and Coralee's life.
When Coralee ends up in a sanity hearing before Judge Leroy Harrison, the judge must decide both Coralee's fate and his own. The chain of events following his decision draws him more deeply into the sheriff's far-reaching sphere of influence, and reveals the destructive nature of power, even—and especially—his own.
Mary Elizabeth Pope is Professor of English at Emmanuel College in Boston with roots in Michigan, the Missouri Bootheel, and Northeast Arkansas. Her collection of short fiction, Divining Venus: Stories, was published by The Waywiser Press, and her work has appeared in the literary magazines Arkansas Review, Florida Review, Bellingham Review, Fugue, PoemMemoirStory, Ascent, Passages North, and many others.
About Brookline Booksmith
We are one of New England's premier independent bookstores, family-owned and locally run since 1961. We offer an extensive selection of new, used, and bargain books; unique, beautiful gifts; award-winning events series; and specialty foods. Every day, we strive to foster community through the written word, represent a diverse range of voices and histories, and inspire conversations that enrich our lives. Find more at brooklinebooksmith.com!
EVENT ACCESSIBILITY
Brookline Booksmith in-store events take place on street level unless otherwise noted. ASL interpretation may be provided (based on the availability of interpreters) but must be requested at least 2 weeks in advance of the event. Seats are limited. Please email us at tickets@brooklinebooksmith.com as soon as possible if you require ASL interpretation, guaranteed seating, or other accommodations. We will do our best to serve your needs!
IMPORTANT NOTICE REGARDING COVID & IN-PERSON EVENTS:
Please note that any Brookline Booksmith in-person event may be canceled by the bookstore, publisher, or author based on concerns about health and safety around the time of the event. Wherever possible, any in-person appearance canceled due to COVID will be moved to the Brookline Booksmith Zoom as a Webinar at the same date and time, and all tickets & registrations will be transferred to the online event. Book signing details may change. Refunds may be requested in the case of a virtual pivot or event cancelation.
At this time masks are required at all times at Brookline Booksmith. See Brookline's COVID guidelines for further details.