Read on for important details for this live, in person Brookline Booksmith event.
About this event
Live and in person at Brookline Booksmith! Celebrate the release of Tripping Arcadia with author Kit Mayquist, in conversation with S.T. Gibson.
Preorder a book on this page to get a Booksmith-exclusive Tripping Arcadia art print and pin!
Register for the event!
RSVP to let us know you're coming! RSVPs don't guarantee a seat, but you'll be alerted to important details about the program, including safety requirements, cancellations, and book signing updates.
Reserve a book!
Books will be available for purchase at the event, but you can ensure that you get a copy by preordering on this page. You can pick your book up after 5:30PM on the day of the event.
Can't make it to the event? Preorder the book here to have it signed, and choose to have it held or shipped from the store!
FOR INFORMATION ON ACCESSIBILITY AND COVID PRECAUTIONS, PLEASE SCROLL ALL THE WAY DOWN.
If you have trouble checking out, check the Eventbrite FAQ located here.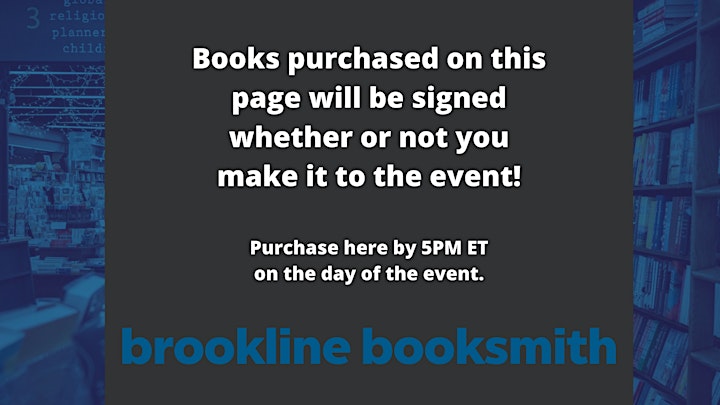 Tripping Arcadia: A Gothic Novel
Med school dropout Lena is desperate for a job, any job, to help her parents, who are approaching bankruptcy after her father was injured and laid off nearly simultaneously. So when she is offered a position, against all odds, working for one of Boston's most elite families, the illustrious and secretive Verdeaus, she knows she must accept it—no matter how bizarre the interview or how vague the job description.
By day, she is assistant to the family doctor and his charge, Jonathan, the sickly, poetic, drunken heir to the family empire, who is as difficult as his illness is mysterious. By night, Lena discovers the more sinister side of the family, as she works overtime at their lavish parties, helping to hide their self-destructive tendencies . . . and trying not to fall for Jonathan's alluring sister, Audrey. But when she stumbles upon the knowledge that the Verdeau patriarch is the one responsible for the ruin of her own family, Lena vows to get revenge—a poison-filled quest that leads her further into this hedonistic world than she ever bargained for, forcing her to decide how much—and who—she's willing to sacrifice for payback.
The perfect next read for fans of Mexican Gothic, Tripping Arcadia is a page-turning and shocking tale with an unforgettable protagonist that explores family legacy and inheritance, the sacrifices we must make to get by in today's world, and the intoxicating, dangerous power of wealth.
A fan of everything spooky and indulgent, Kit Mayquist is a bisexual, trans masculine writer who can be found in the historic shadows of Boston, MA, hunched over his desk with a sullen Persian cat in his lap and surrounded in antiques. He has a MA degree in Medieval History from the University of Iceland, and a BA from Portland State University (and if you ask him, yes, Stumptown will always have the best coffee).
Moderator S.T. Gibson is an author, literary agent, and village wise woman in training. She holds a Bachelor's degree in Creative Writing from UNC Asheville and a Master's degree in Theological Studies from Princeton Theological Seminary. She currently lives in Boston with her fiance, spoiled Persian cat, and vintage blazer collection.
About Brookline Booksmith
We are one of New England's premier independent bookstores, family-owned and locally run since 1961. We offer an extensive selection of new, used, and bargain books; unique, beautiful gifts; award-winning events series; and specialty foods. Every day, we strive to foster community through the written word, represent a diverse range of voices and histories, and inspire conversations that enrich our lives. Find more at brooklinebooksmith.com!
EVENT ACCESSIBILITY
This event will take place in Brookline Booksmith's Used Book Cellar, which is only accessible by stairs. ASL interpretation may be provided (based on the availability of interpreters) but must be requested at least 2 weeks in advance of the event. Seats are limited. Please email us at tickets@brooklinebooksmith.com as soon as possible if you require ASL interpretation, guaranteed seating, or other accommodations. We will do our best to serve your needs!
IMPORTANT NOTICE REGARDING COVID & IN-PERSON EVENTS:
Please note that any Brookline Booksmith in-person event may be canceled by the bookstore, publisher, or author based on concerns about health and safety around the time of the event. Wherever possible, any in-person appearance canceled due to COVID will be moved to the Brookline Booksmith Zoom as a Webinar at the same date and time, and all tickets & registrations will be transferred to the online event. Book signing details may change. Refunds may be requested in the case of a virtual pivot or event cancelation.
At this time masks are required at Brookline Booksmith.
Kit Mayquist photo (c) Dutton.
Organizer of Live at Brookline Booksmith! Kit Mayquist & S.T. Gibson: Tripping Arcadia