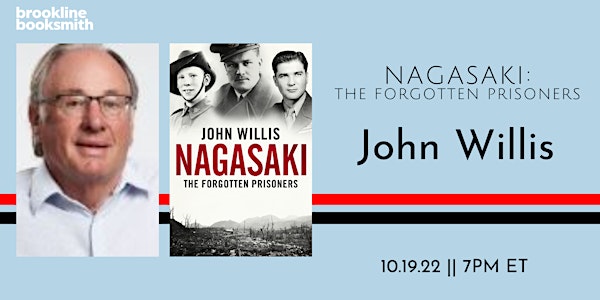 Live at Brookline Booksmith! John Willis: Nagasaki
Read on for important details for this live, in person Brookline Booksmith event.
When and where
Location
Brookline Booksmith 279 Harvard Street Brookline, MA 02446
Refund Policy
Contact the organizer to request a refund.
Eventbrite's fee is nonrefundable.
About this event
In person at Brookline Booksmith! Celebrate the release of Nagasaki: The Forgotten Prisoners with author John Willis.
Register for the event!
RSVP to let us know you're coming! Depending on the volume of responses, an RSVP may be required for entrance to the event. You will also be alerted to important details about the program, including safety requirements, cancellations, and book signing updates.
Livestream!
Barring technical difficulty, this event will be livestreamed to our store YouTube channel. No registration is needed for the livestream.
Reserve a book!
Books will be available for purchase at the event, but you can ensure that you get a copy by ordering on this page. You can pick your book up after 6:30PM on the day of the event.
Can't make it to the event? Order the book here to have it signed, and choose to have it held or shipped from the store!
FOR INFORMATION ON ACCESSIBILITY AND COVID PRECAUTIONS, PLEASE SCROLL ALL THE WAY DOWN.
If you have trouble checking out, check the Eventbrite FAQ located here.
Nagasaki: The Forgotten Prisoners
This is one of the most remarkable untold stories of the Second World war. At 11:02AM on an August morning in 1945, America dropped the world's most powerful atomic bomb on the Japanese port city of Nagasaki. The most European city in Japan was flattened to the ground "as if it had been swept aside by a broom." More than 70,000 Japanese were killed. At the time, hundreds of Allied prisoners of war were working close to the bomb's detonation point, as forced laborers in the shipyards and foundries of Nagasaki.
These men, from the Dales of Yorkshire and the dusty outback of Australia, from the fields of Holland and the remote towns of Texas, had already endured an extraordinary lottery of life and death that had changed their lives forever. They had lived through nearly four years of malnutrition, disease, and brutality. Now their prison home was the target of America's second atomic bomb.
The prisoners in Nagasaki were eyewitnesses to one of the most significant events in modern history but writing notes or diaries in a Japanese prison camp was dangerous. To avoid detection, one Allied prisoner buried his notes in the grave of a fellow POW to be reclaimed after the war, another wrote his diary in Irish. Now, using unpublished and rarely seen notes, interviews, and memoirs, this unique book weaves together a powerful chorus of voices to paint a vivid picture of defeat, endurance, and survival against astonishing odds.
John Willis is an Emmy and BAFTA-winning documentary maker and former senior executive at the BBC and WGBH Boston, as well as chair of the British Academy of Film and TV Arts (BAFTA). This is his third book about World War II.
About Brookline Booksmith
We are one of New England's premier independent bookstores, family-owned and locally run since 1961. We offer an extensive selection of new, used, and bargain books; unique, beautiful gifts; award-winning events series; and specialty foods. Every day, we strive to foster community through the written word, represent a diverse range of voices and histories, and inspire conversations that enrich our lives. Find more at brooklinebooksmith.com!
EVENT ACCESSIBILITY
This event will take place in Brookline Booksmith's Used Book Cellar, which is only accessible by stair. If possible, the event will be livestreamed to YouTube. ASL interpretation may be provided (based on the availability of interpreters) but must be requested at least 2 weeks in advance of the event. Seats are limited. Please email us at tickets@brooklinebooksmith.com as soon as possible if you require ASL interpretation, guaranteed seating, or other accommodations. We will do our best to serve your needs!
IMPORTANT NOTICE REGARDING COVID & IN-PERSON EVENTS
Please note that any Brookline Booksmith in-person event may be canceled by the bookstore, publisher, or author based on concerns about health and safety around the time of the event. Wherever possible, any in-person appearance canceled due to COVID will be moved to the Brookline Booksmith Zoom as a Webinar at the same date and time, and all tickets & registrations will be transferred to the online event. Book signing details may change. Refunds may be requested in the case of a virtual pivot or event cancellation.