Read on for important details for this live, in person Brookline Booksmith event.
About this event
Live and in person at Brookline Booksmith! Celebrate the release of White Hot Hate with author Dick Lehr.
Register for the event!
RSVP to let us know you're coming! RSVPs don't guarantee a seat, but you'll be alerted to important details about the program, including safety requirements, cancellations, and book signing updates.
Reserve a book!
Books will be available for purchase at the event, but you can ensure that you get a copy by preordering on this page. You can pick your book up after 5:30PM on the day of the event.
Can't make it to the event? Preorder the book here to have it signed, and choose to have it held or shipped from the store!
FOR INFORMATION ON ACCESSIBILITY AND COVID PRECAUTIONS, PLEASE SCROLL ALL THE WAY DOWN.
If you have trouble checking out, check the Eventbrite FAQ located here.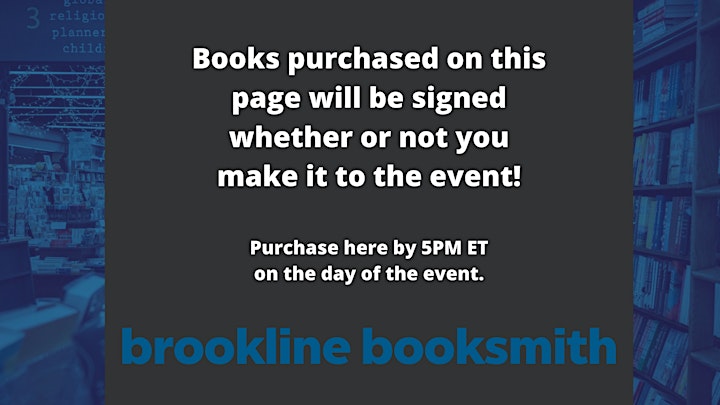 White Hot Hate: A True Story of Domestic Terrorism in America's Heartland
In the spring of 2016, as immigration debates rocked the United States, three men in a militia group known as the Crusaders grew aggravated over one Kansas town's growing Somali community. They decided that complaining about their new neighbors and threatening them directly wasn't enough. The men plotted to bomb a mosque, aiming to kill hundreds and inspire other attacks against Muslims in America. But they would wait until after the presidential election, so that their actions wouldn't hurt Donald Trump's chances of winning.
An FBI informant befriended the three men, acting as law enforcement's eyes and ears for eight months. His secretly taped conversations with the militia were pivotal in obstructing their plans and were a lynchpin in the resulting trial and convictions for conspiracy to use a weapon of mass destruction.
White Hot Hate will tell the riveting true story of an averted case of domestic terrorism in one of the most remote towns in the US, not far from the infamous town where Capote's In Cold Blood was set. In the gripping details of this foiled scheme, we see in intimate focus the chilling, immediate threat of domestic terrorism—and racist anxiety in America writ large.
Dick Lehr is a professor of journalism at Boston University and a former reporter at the Boston Globe, where he was a member of its Spotlight Team and a Pulitzer Prize finalist for investigative reporting. He is the author of seven award-winning works of nonfiction and a novel for young adults. Lehr lives near Boston. Learn more at www.dicklehr.com
About Brookline Booksmith
We are one of New England's premier independent bookstores, family-owned and locally run since 1961. We offer an extensive selection of new, used, and bargain books; unique, beautiful gifts; award-winning events series; and specialty foods. Every day, we strive to foster community through the written word, represent a diverse range of voices and histories, and inspire conversations that enrich our lives. Find more at brooklinebooksmith.com!
EVENT ACCESSIBILITY
This event takes place in Brookline Booksmith's Used Book Cellar, which is accessible only by stairs. ASL interpretation may be provided (based on the availability of interpreters) but must be requested at least 2 weeks in advance of the event. Seats are limited. Please email us at tickets@brooklinebooksmith.com as soon as possible if you require ASL interpretation, guaranteed seating, or other accommodations. We will do our best to serve your needs!
IMPORTANT NOTICE REGARDING COVID & IN-PERSON EVENTS:
Please note that any Brookline Booksmith in-person event may be canceled by the bookstore, publisher, or author based on concerns about health and safety around the time of the event. Wherever possible, any in-person appearance canceled due to COVID will be moved to the Brookline Booksmith Zoom as a Webinar at the same date and time, and all tickets & registrations will be transferred to the online event. Book signing details may change. Refunds may be requested in the case of a virtual pivot or event cancelation.
At this time masks are required at Brookline Booksmith.
Organizer of Live at Brookline Booksmith! Dick Lehr: White Hot Hate