Read on for important details for this live, in person Brookline Booksmith event.
About this event
Live and in person at Brookline Booksmith! Celebrate the release of Hail Mary with authors Britni de la Cretaz & Lyndsey D'Arcangelo.
Register for the event!
RSVP to let us know you're coming! RSVPs don't guarantee a seat, but you'll be alerted to important details about the program, including safety requirements, cancellations, and book signing updates.
Reserve a book!
Books will be available for purchase at the event, but you can ensure that you get a copy by preordering on this page. You can pick your book up after 6:00PM on the day of the event.
Can't make it to the event? Preorder the book here to have it signed, and choose to have it held or shipped from the store!
FOR INFORMATION ON ACCESSIBILITY AND COVID PRECAUTIONS, PLEASE SCROLL ALL THE WAY DOWN.
If you have trouble checking out, check the Eventbrite FAQ located here.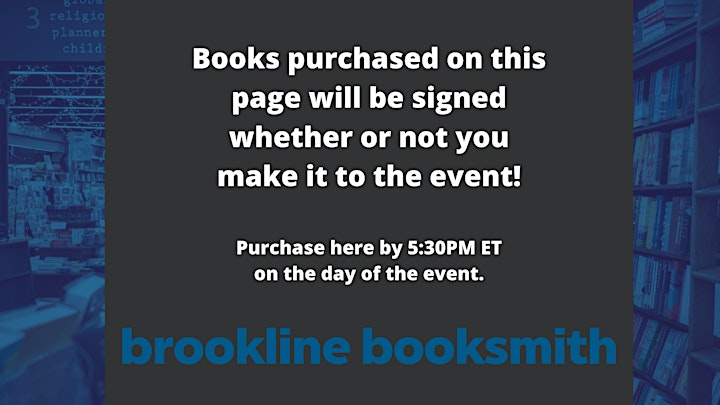 Hail Mary: The Rise and Fall of the National Women's Football League
The little-known, fascinating story of the rise and fall of the National Women's Football League, told through the players whose spirit, rivalries, and tenacity carried the league and furthered the legacy of women in sports.
In 1967, a Cleveland businessman had a brilliant idea: why not start a women's football team? It was conceived as a gimmick and a publicity stunt in the vein of the Harlem Globetrotters. He recruited women to compete as a traveling football troupe; much to his surprise, he learned that women really wanted to play, and play hard.
In nineteen cities around the country, against the backdrop of second-wave feminism and the passage of Title IX, these athletes broke new barriers and showed adoring crowds what women were capable of physically. Thousands of people came to watch-perhaps to gawk at first but then, in the end, to cheer.
Hail Mary is a celebration of women athletes and their fight on and off the field, and a powerful story of the league that changed their lives and the course of women's sports.
Britni de la Cretaz is a freelance writer whose work focuses on the intersection of sports, gender, and culture. Their work has been featured in Sports Illustrated, the New York Times, The Washington Post, The Atlantic, espnW, and more.
Lyndsey D'Arcangelo writes about women's college basketball and the WNBA for The Athletic and Just Women's Sports. Her articles, columns and profiles on female/LGBTQ+ athletes have previously appeared in The Ringer, Deadspin, espnW/ESPN, Teen Vogue, NBC OUT and more.
About Brookline Booksmith
We are one of New England's premier independent bookstores, family-owned and locally run since 1961. We offer an extensive selection of new, used, and bargain books; unique, beautiful gifts; award-winning events series; and specialty foods. Every day, we strive to foster community through the written word, represent a diverse range of voices and histories, and inspire conversations that enrich our lives. Find more at brooklinebooksmith.com!
EVENT ACCESSIBILITY
Brookline Booksmith in-store events take place on street level unless otherwise noted. ASL interpretation may be provided (based on the availability of interpreters) but must be requested at least 2 weeks in advance of the event. Seats are limited. Please email us at tickets@brooklinebooksmith.com as soon as possible if you require ASL interpretation, guaranteed seating, or other accommodations. We will do our best to serve your needs!
IMPORTANT NOTICE REGARDING COVID & IN-PERSON EVENTS:
Please note that any Brookline Booksmith in-person event may be canceled by the bookstore, publisher, or author based on concerns about health and safety around the time of the event. Wherever possible, any in-person appearance canceled due to COVID will be moved to the Brookline Booksmith Zoom as a Webinar at the same date and time, and all tickets & registrations will be transferred to the online event. Book signing details may change. Refunds may be requested in the case of a virtual pivot or event cancelation.
At this time masks are required for everyone 2 years and older at Brookline Booksmith.
Organizer of Live at Brookline Booksmith! Britni de la Cretaz & Lyndsey D'Arcangelo