Live Art Auction to benefit Rockville Bridge Fund
Description
You are invited to a very special live art auction
Including all new work of the Rockville Bridge and surrounding area by five local artists: Royden Card, Lisa Huber, David Pettit, Kate Starling and Lyman Whitaker
All proceeds from this fundraiser will benefit the Historic Rockville Bridge Restoration Fund. Come join us, and add to your collection!
With Live Music (Dave Tate/Victoria Lagerstrom) and Delicious Refreshments (Barbara's Catering)
Space is limited!
Ticket reservations and Donations are accepted by clicking the "Get Tickets" button.
______________ TAX DEDUCTIBLE CONTRIBUTIONS WELCOME ______________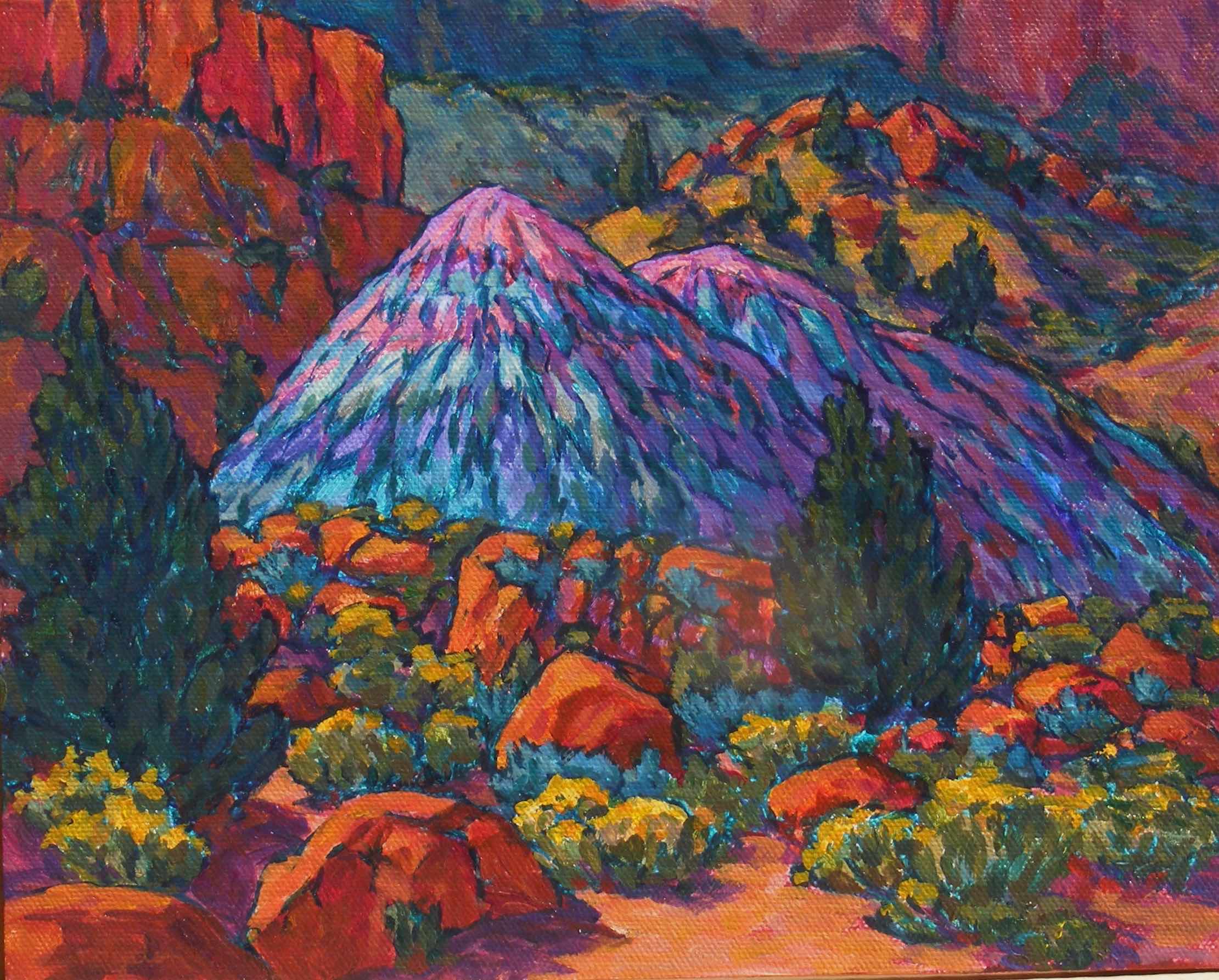 ROYDEN CARD
"Gifford End", 2016

11.5 x 13.5 framed
Acrylic on canvas on gator board
$500 minimum bid, valued at $1,000
Canadian born and raised in Utah, Royden has been painting since he was 14. He holds a BFA & MFA from Brigham Young University, where he also taught Printmaking for 16 years. His work has been collected by the Smithsonian Institution, Utah Museum of Fine Art, SLC Airport, ATK Thiokol, LDS Museum of Art & History, Springville Museum of Art, the St George Art Museum, plus several University collections.
Most recent awards include the 2015 First Place, "Utah Images" Equitable Casualty & Life Art Exhibit, Salt Lake City & County Building SLC Utah; 2015 Superintendent's Award, Zion Plein Air Invitational, Zion National Park Utah; and the 2014 Purchase Award Sear's Invitational, Dixie State University, St George Utah.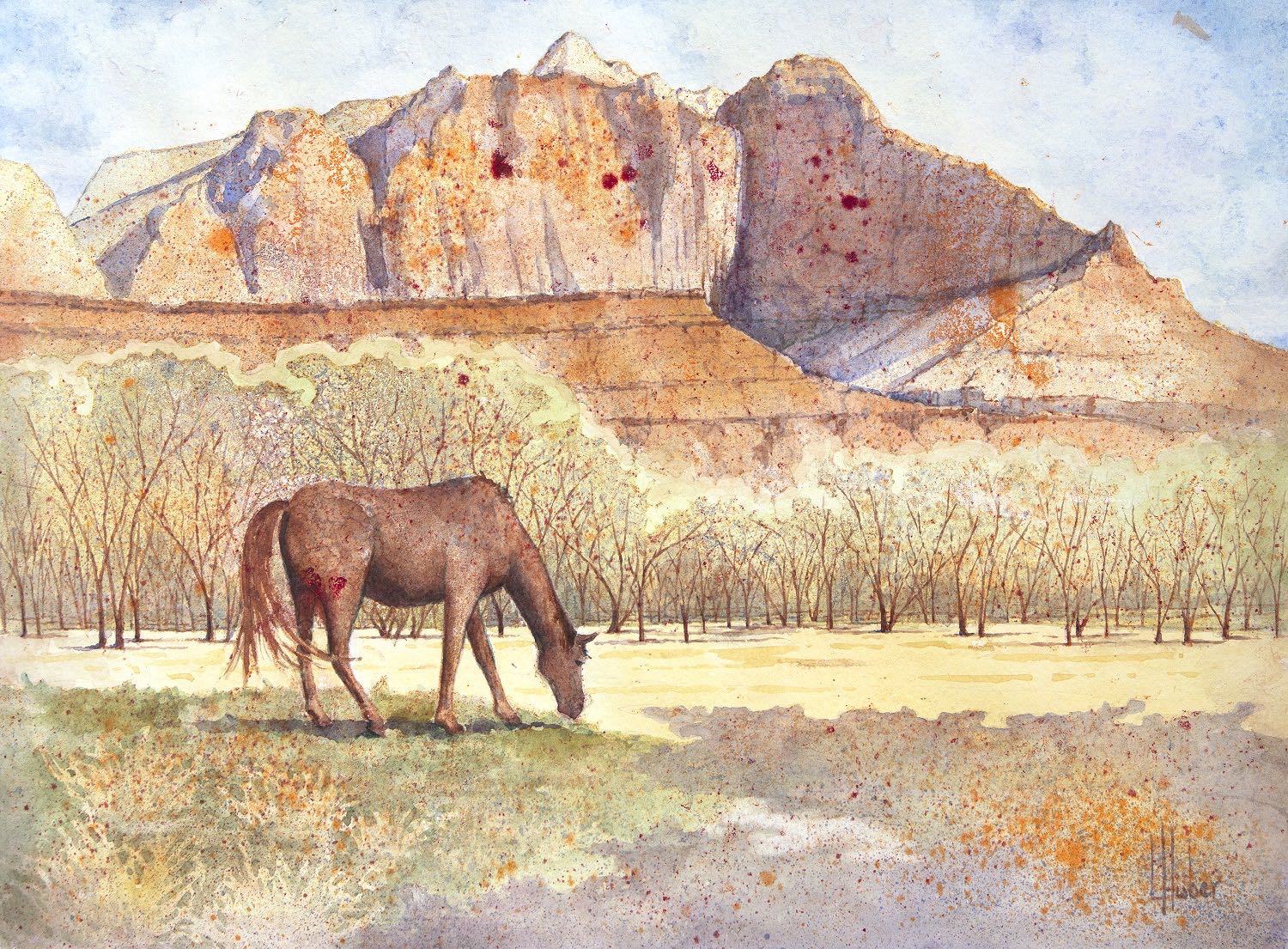 LISA HUBER
"Under Kinesava's Watch", 2016
Watercolor over oil wash
20 x 24 framed
$400 minimum bid, valued at $750
As children art was what we did to keep busy or made for others for birthdays and Christmas. However, it was not for making a living--that's what my Dad used to say. Today I am a full-time software engineer, but I love expressing myself with art, and still paint one hour each day. I am often asked why I don't quit working and spend all of my time painting. Dad was right; it simply doesn't pay the bills.
I grew up in the post Korean War era with farm land nearby but many of the farm implements and farm animals were neglected and left with nothing to do and nowhere to go. "Progress" and soldiers returning from war and needing homes for their new families quickly cleared the farmland, implements, and animals, and moved the city closer. The images of this time are haunting, because of what we lost, and they are important to remember. I express these feelings in many of my pieces, both watercolor and oils.
I have shown my art at festivals in Utah and Arizona. I sell my originals and prints to folks from all over the world, including as far away as India and China. My pieces have hung in the Clayton Williams Gallery as well as others in Salt Lake. I currently show my work out of my home gallery in Bloomington Ranches as well as Juniper Sky Fine Art Gallery in Kayenta.

DAVID PETTIT
"Rockville", 2016
Photograph
21 x 43 framed
$500 minimum bid, valued at $980
A native of Salt Lake City, David Pettit has lived in Springdale, Utah since 1980. David comes from a family of visual artists; his interest in photography was ignited when, as a small boy, his parents gave him a Brownie camera. He has worked as a professional photographer since 1977, starting out with portrait and commercial work, and eventually moving into landscape photography.
David devotes his time to scenic photography, and his award-winning scenic photographs hang in private and public collections around the world. His images of Utah's national parks, wilderness, and remote areas of the Colorado Plateau have appeared in major publications.
His work may be seen at the LaFave Gallery, Springdale, Utah and Sunset Framers & Gallery, St. George, Utah.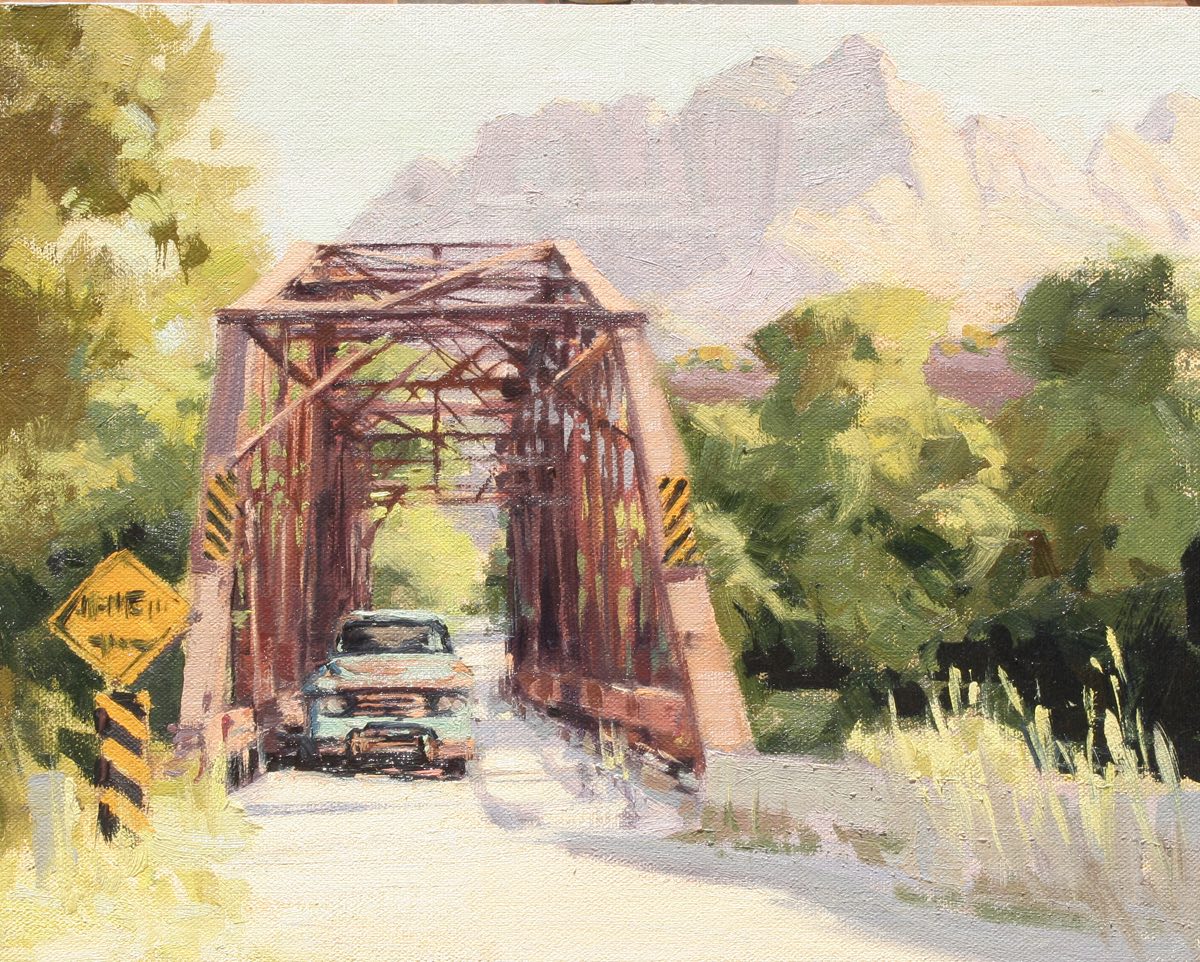 KATE STARLING
"Rockville Bridge", 2016
15 x 19 framed
Oil on linen panel
Minimum bid $500, valued at $1,695
Rockville resident Kate Starling is a landscape painter that lives and works in the canyons and fields of southern Utah. She spent her early years working outside as a geologist and National Park ranger but after formal art training she has devoted herself to painting the landscape.
Educated in painting directly from observation she has spent years painting outside and her paintings portray the natural world and focus on communicating a sense of place atmosphere and light while retaining the immediacy of the paintings experience.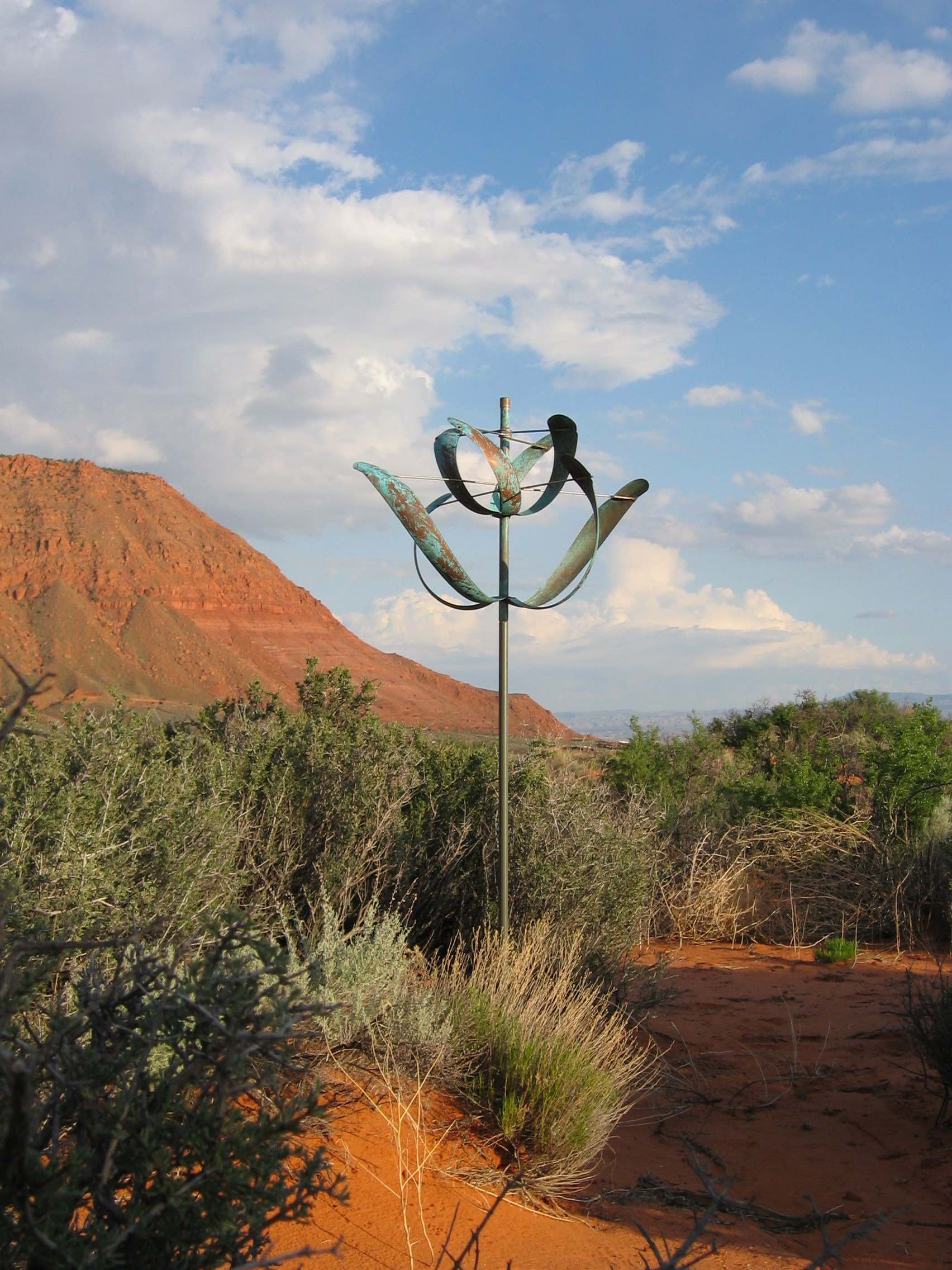 LYMAN WHITAKER
"Windflower" Wind Sculpture
66H x 30W
Copper
Minimum bid $500, valued at $850
Lyman has been a practicing sculptor for over 40 years, with a unique knowledge of materials and their application. The receptivity to his work has allowed Lyman to create an inspiring modern studio in Southern Utah with representation at fine art galleries around the country. In addition, public and private installations exist throughout the United States, Canada, Europe and Australia.
Lyman's early work was significantly more representational, with a wonderful mix from traditional bronzes to small mobiles, and also included several public fountains. Believing that there are a variety of ways to accomplish anything, his process has continued to evolve and maintain originality. Currently, Lyman is going back to what he loves best: combining a broad range of materials and techniques to freely create movement and form.
On behalf of the Town of Rockville, the Fundraising Committee
would like to offer our sincere gratitute to each of these talented
artists for contributing to the Rockville Bridge Fund!
**************************************************************************
Organizer of Live Art Auction to benefit Rockville Bridge Fund
The Town of Rockville has been awarded a grant to improve their historic 1924 Parker through truss bridge, which crosses the Virgin River.  It is the last surviving bridge of its type in the state of Utah.  The grant requires a 6.7% match, so the fundraising committee was organized to secure the matching funds and future maintenace funds for the bridge.