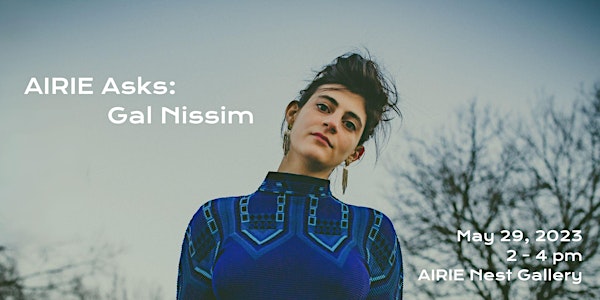 LIVE AIRIE Asks with 2023 May Fellow Gal Nissim at the AIRIE Nest Gallery
Gal Nissim shares an intimate look at their practice, process, and living in the Florida Everglades for a month. Hybrid in-person and zoom!
By Artists in Residence in Everglades
Date and time
Starts on Monday, May 29 · 11am PDT
About this event
Join us for a special AIRIE Asks with our May Fellow, Gal Nissim, hosted by our Residency Coordinator and 2022 AIRIE Fellow, Arsimmer McCoy.
The talk will be held at the AIRIE Nest Gallery in the Ernest F. Coe Visitors center in the Everglades National Park. Refreshments will be provided.
We will also be streaming at https://us02web.zoom.us/j/86573685113 for those that can't make it.
Gal Nissim is an Israel-born, New York-based, interdisciplinary artist and researcher who investigates human-animal interactions. Nissim's work has been exhibited at the New Museum, Tel Aviv Museum of Art, Time Square, Pioneer Works, Central Park, New York Hall of Science, Artport Tel Aviv in Public Space, Science Gallery Detroit, GStreamer Conference (Berlin), among others. More about Gal.
Arsimmer McCoy, AIRIE Residency Coordinator, is a Miami Gardens, Florida-based storyteller, collaborative artist, educator, and cultural worker, who has been dedicated to these disciplines for over a decade. She has performed worldwide alongside artists of multiple disciplines and considers it her obligation to bring back the knowledge and stories to her students in South Florida. More about Arsimmer.
Artists in Residence in Everglades (AIRIE) is a 501(c)(3) not-for-profit operating in Everglades National Park and the Greater Miami Area. AIRIE supports a paid month-long immersive residency for artists in the park to explore the intersection of arts and the environment. In addition, AIRIE provides its own gallery space, organizes local events, and fosters community with a diverse team engaged in the Miami art scene. More about AIRIE.
Photos courtesy of AIRIE and our artists.
Please be aware that food may contain or come into contact with common allergens, such as dairy, eggs, wheat, soybeans, tree nuts, peanuts, fish, shellfish or wheat.
About the organizer
Artists in Residence in Everglades (AIRIE) is a 501(c)(3) not-for-profit operating in Everglades National Park (ENP) and the Greater Miami Area. AIRIE supports a paid month-long immersive residency for artists in the park to explore the intersection of arts and the environment. In addition, AIRIE provides its own gallery space, organizes local events, and fosters community with a diverse team engaged in the Miami art scene. airie.org @airieverglades