Live a different life! Work on Superyachts; Find out how via online WEBINAR

Multiple Dates
Event Details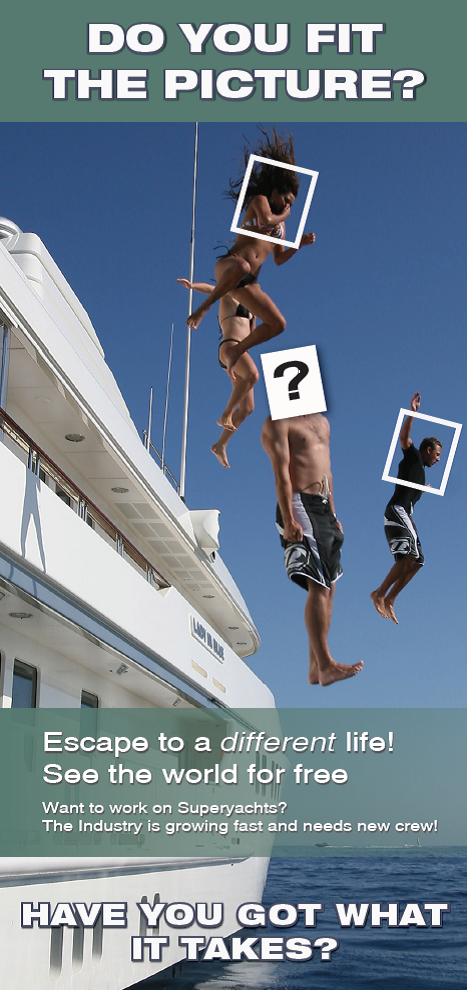 DON'T WAIT 'TIL IT'S TOO LATE.............
SEE THE WORLD FOR FREE ON BOARD A LUXURY SUPERYACHT!
YOU'RE INVITED to find out how you can say 'goodbye' to your desk job and say 'hello' to working under sunny skies and bathing in turquoise seas.
Now is the perfect time to explore a new career, with the potential to earn over $100k (plus all living expenses paid for), all whilst soaking up the Mediterranean or the Caribbean sun...... and did we mention you get to do this onboard a luxury Superyacht?
Want to know how?  Join our Superyacht information night consisting of a presentation covering everything you need to know about how you could be living the life that you and your friends have only dreamed of – working on a Superyacht!
What have you got to lose?  For only $20 you will find out how you can get an amazing job on a Superyacht!  You will be able to ask our "been there, done that" experts any of your burning questions whilst relaxing at home in front of your computer with one, or all of our friends that want to live a different life!  
We will also send you a package of information in the post, along with a training Voucher worth $40 that you can use for your training with us. 
Hurry! Places are limited.  To secure your place please book and pay NOW!
Date:   Wednesday 5th December, 2012
Time:   Join the Webinar from 6:30pm EST (login) to gain access to the presentation, then at 7:30pm the live Q&A will begin. 

Where:   We are in Sydney, but you could be anywhere - as long as you have a computer with internet access and Adobe Flash Player (11) enabled on your browser!  You can download the software for free from Adobe.

How:     Once you have bought your ticket please email us for your LOGIN instructions: Crew@SuperyachtCrew.com.au
Simply BOOK & PAY NOW by following the instructions on our trusted payment processing partner Eventbrite.
We understand that it can be scary providing your credit card details on the net, that is why we have carefully selected a trusted and established payment partner (Eventbrite) to process your ticket purchase.
Should you have any questions please feel free to check out Eventbrite's privacy page. 
Or, if you prefer, you can confirm your spot the old-fashioned way by calling and speaking to a human! on (02) 9818-2024 or drop us an email with your details to Crew@SuperyachtCrew.com.au
We are looking forward to hosting you and being a part of your exciting journey!
The Australian Superyacht Crew team
Organizer
Australian Superyacht Crew
Australian Superyacht Crew is the leading training provider in Australia for Superyacht crew, delivering relevant and industry-recognised training.
Australian Superyacht Crew Recruitment is synonymous with highly professional Superyacht Crew.