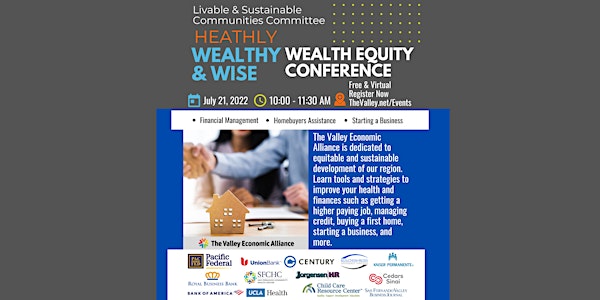 Livable & Sustainable Communities Committee – Healthy, Wealthy & Wise Wealt
The Valley Economic Alliance is dedicated to equitable and sustainable development of our region.
About this event
Valley residents who would like to learn about tools to improve their finances are invited to join us for this compelling conference. Learn strategies for getting a higher paying job, learning more about sound financial management, getting assistance purchasing a home, starting a business, and more.
Thursday, July 21, 2022
10:00 AM – 11:30 AM
Healthy Research findings linking health and economic outcomes, mental health resources, and COVID updates
Wealthy Occupational outlook, upskilling to increase earning power, financial literacy, first time home buyer assistance
Wise Affordable childcare, broadband internet & devices, and business startup advice
Registration is free - https://thevalley.net/events/healthy/