Liturgical Dance Teacher Certification Training

Tuesday, June 20, 2017 at 8:30 PM

-

Tuesday, July 25, 2017 at 8:30 PM (EDT)
Event Details
Get The Tools That You Need To Change
The World With Your Dance
Liturgical Dance Teacher
Certification Training
Summer Intensive


Part One Miriam's Master Teacher Training
Learn how to be a master teacher of the Miriam's Movement Choreography For Worship Curriculum.
This is a done for you proven composition and choreography method & course that teaches worship leaders how to create dynamic dances for the Lord.
This curriculum will give you the tools to impact the world through the art of dance for worship in a simple way.
I have taught this curriculum to thousands of people  all over the world.
I have seen people first hand learn how to be free and dance for Jesus with grace, power and confidence, using Miriam's Movement Choreography For Worship Curriculum.
Now is the time for me to train you to teach others.
You will learn how to teach this curriculum at dance schools, colleges, and ministry
events.
Part Two Business and Marketing For Dancers

Learn how to create income streams using your gift of dance.
Learn how to make $200 an hour facilitating workshops and seminars.
Learn how to establish your brand online as a qualified liturgical dance instructor.
Learn how to get paid speaking engagements using your certification.
Learn how to create your own dance ministry products.
The Summer Intensive Includes
Access to pre-recorded video and audio training on demand 24 hours a day/ 7 days a week.
Choreography for worship Manual  in an ebook format.


Register Now For The
 Liturgical Dance Teacher's Certification
Summer Intensive

 Read Testimonies Below From Some of Our Teacher Certification Training Participants The Liturgical Dance Teacher's Certification program will give you the tools that you need now to impact the world with your dance. Meet Minister Tamie Ruperto  Of England, and read her story about how God has changed her life and ministry through this unique program. "My name is Tamie Ruperto, wife, mother of two precious girls and a liturgical dance minister. I am the founder of "Extravagant Praise Dance Ministry."I have been in dance ministry for over 20 years.  I have been able to build, strengthen and edify dance ministries in Puerto Rico, Virginia and Maryland USA. I enrolled in the Level 1 "Liturgical Dance Teacher's Certification Program" in May 13, 2014. What I really like about the program is that it has helped me shape and focus the dance ministry that God has placed in my hands. I also enjoyed the choreography and biblical Study of Dance courses. She provided me with practical tools in how to develop my dance community, how to keep in contact with them through emails, blogs and other social media. I received guidance on creating educational products to enrich my dance ministry such DVDs, Books and eCourses. Although I have finished the certification classes she continues to send me messages frequently to review techniques, tips and devotionals. She is a real prayer partner and a wonderful coach. May God continue filling her with His presence and use her with power to fulfill His divine purposes.In 2012 my husband got a  job in England,  And it's that time in my life I realized that God was fulfilling one of the promises He made me when I was only 15 years old. The promise was "that He would lead me to other nations to share His abundant love and salvation through the dance ministry. Being here was the first time in which I felt I was alone, no others dancers around me with the same vision and passion for dance ministry. I was pushed by Holy Spirit to pray fervently and cry out to Him for dance partners. God answered my prayers and in the summer of 2013 he reconnected me with Jocelyn. I say reconnect with with Jocelyn Richard because I met her in 2007, at two days praise dance workshop in Maryland USA. Her name remained engraved in my heart and my mind because of her powerful ministration." Dance studio owner and ministry leader, April Page says that The Liturgical Dance Teacher's Certification program is "The Real Deal".      Read April's Testimony "I would like everyone to know that this course is THE REAL DEAL!!! If you have not taken this course, please jump on the band wagon. Even though I am not finished, what I have learned so far is simply amazing. This course will help you propel your dance ministry and yourself as a liturgical dance teacher to new heights in the kingdom of God. What Jocelyn has been allowed to share with us can only come from the Lord Almighty. Her expertise and willingness to share is more than what I can eve ask for. I have had the honor of having Jocelyn come and do one of our dance conferences and I have followed her ever since. God bless you Jocelyn!!! I can't wait to see what the Father has in store for you next. April D. Page Creative Director/Choreographer Across All Boundaries Christian Church and Outreach Ministries, Blythewood, SC. Zion's Warriors Liturgical Dancers Coyah Youth Dance Department- Liturgical, Mime, and Hip Hop"
"Hello my name is Danielle Schuster and I am a dance Specialist and founder of Power of The Living Word Ministries. I live in Laguna Woods, Ca.

I have been dancing for over 25 years trained in various types of dance. I took
Jocelyn Richards Liturgical Dance Teacher's Certification Program because I wanted to take my dance ministry to the next level. I had been praying for God to send such a program. He answered my prayers.
 This course had so many different things to explore but I was really impressed with the leadership skill classes. One of the leadership skills that I learned in this program was to fine tune my focus on a specific goal. I tend to put too many things on the table all at once. I needed assistance with that as well as how to have a clear path starting with one thing to achieve what God had put in my heart. Jocelyn's Liturgical Dance Certification program taught me how to fine tune my gift according to my own ability and how to package that to impact the world around me. The Proverbs 31 Marketing program was such a blessing. It was so solid in explaining creative ways to use marketing to promote and elevate ministry with professional tools and proven methods.
 I believe anyone who wants to take their God given ministry to the next level should consider investing in the Liturgical Dance Teacher's Certification Program. I have received so much material for choreography and teaching and I feel prepared. I would highly recommend this program to any one called to dance. It will be a blessing beyond what you can imagine." - Danielle Schuster, Power of The Living Word Ministries
When & Where
On Your Computer and Phone



Tuesday, June 20, 2017 at 8:30 PM

-

Tuesday, July 25, 2017 at 8:30 PM (EDT)
Add to my calendar
Organizer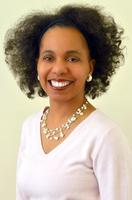 What are people saying about Jocelyn's Ministry?
"Jocelyn, thank you for your anointed and powerful ministry. We are going to have you back." – Keith Childress, Minister of Music, New Life Church, Clinton, MD
"Your anointed ministry was such a vital part of this conference. It made a positive impact upon the lives of all who were in attendance." – Rev. Jacqueline E. McCullough

Jocelyn has served as the chief dancer and choreographer for the Elim International Fellowship in Brooklyn, New York under the visionary leadership of Archbishop Wilbert S. McKinley for ten years. As an anointed dance minister and conference speaker, Jocelyn has ministered for churches and Christian organizations throughout the United States and the Caribbean. Jocelyn has also been involved in arts education in both public and private schools for over twenty years. She began her formal dance education as a child, studying at the Joffery Ballet School, and the Alvin Ailey American Dance Theatre School. Jocelyn has a BA degree in Dance from The City College of New York.
Ministry Assignments At-A-Glance
· Daniel Winans Concert
· Evangelist Jackie McCullough's Family Conferences
· Barbados International Gospelfest
· Bahamas Christian Dance Fellowship
· Caribbean Dance Network Bahamas 
· Christian Dance Fellowship USA
· Recording Artist, Keith Childress Concert & Worship Symposium
· Living Waters Worship Center Conference & Concert with Alvin Slaughter
· Elim International Fellowship, Brooklyn New York Archbishop Wilbert McKinley
· Kingsley Fletcher Ministries, Durham, North Carolina