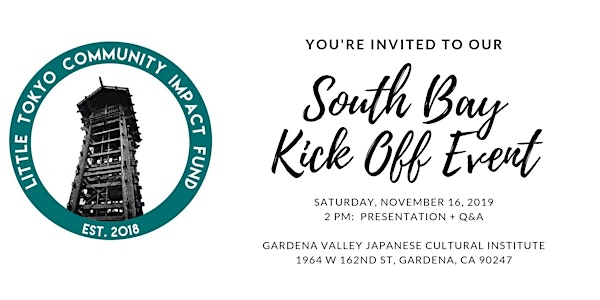 Little Tokyo Community Impact Fund - Kick Off Event in South Bay
Description
For more than a century, Little Tokyo has endured as a cultural center for Japanese Americans and continues to be a special place where many generations come together to eat, play, shop, and worship. As one of the few remaining historic Japantowns in the country, Los Angeles's Little Tokyo offers unique opportunities to celebrate the Japanese American experience and the community's long history in Southern California.
Yet as real estate prices in Downtown Los Angeles rise, and as development pressures in the area grow, many memorable and historic businesses and institutions that called Little Tokyo home have closed their doors. Many more face an uncertain future, with rising rents and real estate speculation.
The Little Tokyo Community Investment Fund (LTCIF) was created to directly address these challenges and try to preserve the legacy of Japanese American family-owned businesses, cultural institutions, and spiritual centers in Little Tokyo.
Join us for a special kick off event to learn more about the LTCIF and to see if investing is right for you.
Members of the LTCIF Organizing Committee will present on:
Fund Objectives, Plan, and Purpose

Investment Requirements and Options

How You Can Invest
Q&A and discussion will follow the presentation.

WHEN: Saturday, August 24th • 2 PM
WHERE: Gardena Valley JCI at 1964 W 162nd St, Gardena, CA 90247