Description
General Information
Little Systers is a free and public event for 8th through 12th grade girls to learn the basics about Electrical Engineering, Computer Engineering, and Computer Science; opportunities you could have with these degrees; and how to be successful as a woman in engineering. During this event participants will attend many different sessions which are described below, lunch will be provided for participants, no experience is required, and it is completely free. This event will inform and inspire high school girls about possibilities for their future! Below are some pictures from Little Systers 2015.
**Little Systers is now open to 8th grade girls**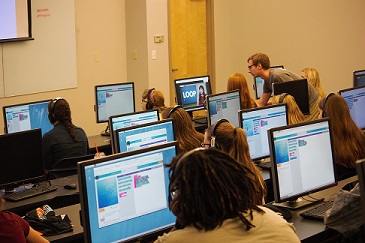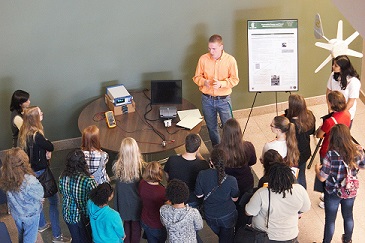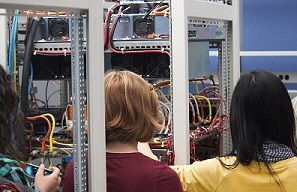 More about the sessions:
At this event participants will attend many unique sessions.
1. A presentation led by Stephanie Espy, the author of the book "STEM Gems," about promoting women in STEM (Science, Technology, Engineering, and Math) fields. During this session each participant will receive a free copy of her book and have the opportunity to get it signed.
2. A tour CURENT's facilities in the Min H. Kao building. CURENT is a National Science Foundation Engineering Research Center that is jointly supported by NSF (National Science Foundation) and the DoE (Department of Energy).
3. An Arduino Board workshop where students will learn about Arduino Boards and get hands-on experience creating a circuit using the Arduino Board.
4. A combination style presentation lead by the cyber security company Sword & Shield. Sword & Shield is a consulting firm that specializes in information security, compliance, and managed services. This presentation will include a slide deck covering the basics of cyber security and a demonstration of some of the typical hardware that they use for penetration testing. This presentation will be given by Donna Fracarossi and Stephannie Blackwell.
5. A demonstration of Anyland Programming. Anyland is a virtual reality environment that gives a different perspective on what is typically thought of as programming. This demonstration will be lead by the leader of the Virtual Reality club at The University of Tennessee, Brett Brownlee.
6. A panel of undergraduate students, graduate students, and people in industry for students to discuss and ask questions about anything having to do with engineering, what it is like in the industry as a woman in Engineering, what opportunities are available, tips about college, etc. Come with questions!
FAQs
1. Will lunch be provided?
Lunch will be provided for all students with a ticket.
2. Where in Min H. Kao do I drop off/pick up my student?
Please drop off and pick up your student in room 622.
3. Can parents attend?
Parents can wait in the Min H. Kao building during the event, but seats in the sessions are limited to students.
4. What are my parking options for getting to and from the event?
There is free parking on weekends in the 11th Street Parking Garage located at 1101 Cumberland Ave, Knoxville, TN 37916. The Min H. Kao building is across the street from this parking garage.
5. How can I contact the organizer with any questions?
Email any quesitons to systersutk@gmail.com. Please put "Little Systers" as the subject of the email.
6. What to wear/bring?
Dress is casual, and you do not need to bring anything; however, come with questions to ask the panel during the session described above. If you would like, you can bring a notebook and pencil to take notes.
Donors: