Description
This comprehensive 1/2 day seminar covers the increasingly related topics of IT security/compliance (including stopping ransomware), network and data center infrastructure, private/public/hybrid cloud, storage/backup and wireless/mobility. Scroll down to see the full agenda and click on links to see company information and speakers' biographies, who deliver concise, technical, educational and complementary talks. There is a VMware keynote, plus subject matter experts presenting from Kaspersky, Nutanix, Dell, Check Point and Brocade/Ruckus.

Content is pre-approved by Angelbeat and past attendees to maximize learning; click here to download presentation guidelines that are followed by all participants, which makes the program so worthwhile for IT Directors, Security Analysts, Enterprise Architects, Network & System Administrators, Data Center/Storage/Infrastructure Managers, CISO/CIO's, etc.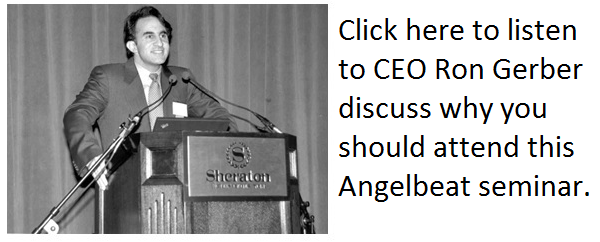 As one Walmart attendee states, "Of all the seminars I attend, your format is by far the best. Brief informative talks from vendors, followed by one-on-one time at their booth to find out more. I am out of the office for less than a day yet I have access to all the different solutions. This year I will follow up with two vendors." As another IT Director commented, "Thanks for hosting a very informative meeting with vendors that tied in well; it was an integrated picture of technologies that work together to create a complete infrastructure solution for the workplace."

Join your peers from Acxiom, Dillard's, Verizon, Entergy, FIS Global, Datapath, American Data Network, Harrison Energy, Stratton Seed, Blue Cross, Arkansas Children's Hospital, Howard Memorial Hospital, VA, Baptist Health, UAMS, University of Arkansas, Arkansas State University, Pulaski Schools, City of Little Rock, State of Arkansas and many more organizations who are confirmed attendees.

Every attendee receives meals including breakfast and lunch, free parking, complimentary Wi-Fi, plus 4 CPE credit hours towards your CISSP or other certification. There are drawings for gift cards and other prizes at the end.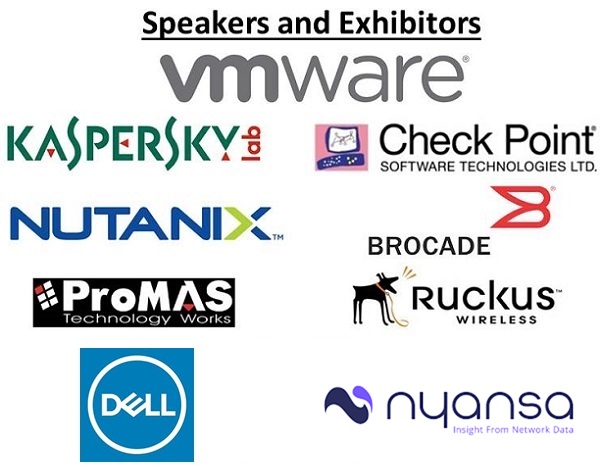 Agenda

8:00 - 9:00: Registration Begins, Breakfast Served, Exhibit Area Open with Product Demonstrations, Time
For Peer Networking/Interaction

9:00 - 9:20: Unlock the Key to Repel Ransomware with Kaspersky
Your screen freezes and a dialogue box pops up to tell you that your computer is locked and your files will all be gone forever if you don't pay up. Since many victims are willing to pay the ransom, this type of cryptomalware is on the rise, netting millions of dollars for cybercriminals looking for a substantial return on their minimal investment.

During this session you will hear from Mark Villinski of Kaspersky Lab, on what they as a major security vendor are seeing in this growing area of focus for both security vendors and cybercriminals. Areas of focus will include:
- Common ransomware scenarios and delivery mechanisms
- Trends in this growing form of cybercrime
- Recommendations to help your organization avoid being a victim

Kaspersky is the world's largest privately held, and among the top four security vendors, operating in 200 countries and protecting 400 million users.

9:20 - 9:40: Zero-Day and Advanced Persistent Threat Protection with Sandblast from Check Point
Zero-day and advanced persistent threats use the element of surprise to bypass traditional security, making these threats difficult to protect against—and very popular with hackers. Traditional sandboxing was designed to help with these types of threats, but cybercriminals have evolved their techniques, creating evasive malware that can avoid detection by many sandbox solutions. As a result, many organizations find themselves taking reactive steps to counteract infection, rather than preventing it in the first place.

To get ahead, enterprises need a multi-faceted prevention strategy that combines proactive protection that eliminates threats before they reach users, and state-of-the-art CPU-level exploit detection to expose even the most highly camouflaged threats.

During this informative session Check Point will illustrate how its SandBlast solutions provides industry-leading network protection from even the most sophisticated malware and zero-day threats. Using Threat Emulation sandboxing and Threat Extraction technologies, SandBlast Network prevents unknown malware, ransomware and zero-day attacks from reaching users. Unlike traditional solutions that are subject to evasion techniques, introduce unacceptable delays, or let potential threats through while evaluating files, Check Point SandBlast stops more malware from entering your network, while maintaining the rapid pace of modern business.

9:40 - 10:00: From Traditional to Next-Generation: Demystifying Hyperconvergence and Enterprise Clouds with Nutanix
As enterprises look beyond traditional IT workloads including cloud-native applications and DevOps, they should consider how technologies such as software-defined infrastructure and cloud can drive real-world benefits.

During this informative session featuring Kyle King of Nutanix, learn how IT can move away from traditional environments to hyperconverged infrastructure and onward to Enterprise Clouds. These new platforms can handle all your challenging applications and business needs, with clear agility, productivity and availability/security benefits. At the end of this session, you'll:

- Aquire proven strategies for delivering frictionless IT services while retaining the precise control your business needs
- Understand new capabilities that tear down IT silos and unify the technology stack
- Learn best practices in virtualization, application design and cloud technologies

10:00 - 10:20: How the Dell EMC Merger Affects/Benefits End Users, Plus Strategies for Backup/Disaster Recovery/Business Continuity with Dell
Troupe Bryant will discuss the recently completed Dell EMC merger - one of the biggest deals in the history of technology - and how this will impact and benefit organizations of all sizes. Mr. Bryant will then provide practical insights and strategies for optimal Backup/Disaster Recovery/Business Continuity planning.

10:20 - 10:40: Wi-Fi Network Architecture, End User Performance Requirements, Wireless/Mobile Security with Ruckus Wireless, now part of Brocade
By the end of 2013 there were more mobile devices than people on earth, and by 2020 it is predicted that 30 Billion devices will be connected to the internet. This is not surprising, given that every tablet, laptop and smartphone can only connect to the Internet via wireless, and the rapid adoption of Bring-Your-Own-Device (BYOD) programs by organizations of all sizes.

This massive influx of devices has introduced a new era in the world of Wi-Fi. IT professionals are facing enormous challenges, balancing capacity, flexibility, financial and QoS requirements, while simultaneously evaluating new technologies like 802.11ac. Plus there is increased demand for machine-to-machine mobile communications, seamless management of wired & wireless network connections, and enhanced security to prevent Internet-of-Things (IoT) attacks (wifi-enabled thermostats and cameras were the source of the mid-October DDoS attack).

Fortunately experts from Brocade and Ruckus will help you understand these issues and offer practical solutions. They will demonstrate cloud-based management sytems that control remote access points, help you understand how different antennae designs can improve coverage, and why access points from different vendors, even if they operate under the same 802.11 standard, nonetheless have vastly different performance.

Coffee/Snack Break, Exhibit Area Open, Peer Networking, Product Demonstrations

11:20 - 11:40: Big Data IT Network Analytics Meets the Enterprise with Nyansa
The flood of users, devices and applications is driving IT staff crazy. So much network data is now being generated that identifying problems, trends and understanding the user experience has become an untenable. Solutions that require deployment of more equipment, sensors and/or software on clients just doesn¹t make sense. This is where the cloud services can really help.

New technology innovations are bringing big data network analytics to wired and wireless enterprise IT operations - automating what has historically been a costly and cumbersome process to better understand and control the end user experience from access to application and everything in between.

GT Hill, Director of Technical Services at Nyansa, will describe the technology behind these innovations, how it works and is being being applied to transform the efficiency of network operations. Some specific topics covered during this informative session include:
- Automatic service baselining
- Full stack data analysis of every client network transaction
- Quantifying the impact of infrastructure changes on the end user experience
- Identifying real-time and systemic incident and trends
- Comparing network infrastructure performance across virtually any dimension between sites and even different companies.

11:40 - 12:30: VMware's Networking and Security NSX Platform, for the Software-Defined Data Center (SDDC)
VMware NSX is the Network Virtualization and Security Platform for the Software-Defined Data Center (SDDC). By bringing the operational model of a virtual machine to your data center network, you can transform the economics of network and security operations. NSX lets you treat your physical network as a pool of transport capacity, with network and security services attached to VMs with a policy-driven approach.

As organizations go down this path towards a completely Software Defined Enterprise (SDE), Eric Wippo of VMware will discuss these main components/features/benefits of NSX:

Agility and Streamlined Operations, plus DevOps:
As with server virtualization, NSX network virtualization treats your physical network as a pool of transport capacity, with services attached to workloads using a policy-driven approach. Some specific benefits are:
- Reduce the time to provision multi-tier networking and security services to minutes, by creating virtual networks, with each network customized for supported workloads and isolated from other virtual networks.
- Leverage a new operational approach to networking as you programmatically create, provision, snapshot, delete and restore complex software-based networks.
- Develop, test and deploy new applications faster - DevOps functionality - by aligning network, security, compute and storage provisioning.

Security and Micro-Segmentation:
NSX micro-segmentation provides these security benefits/functionality:
- Isolation, with no communication across unrelated networks
- Segmentation, offering controlled communication within a network
- Fine-grained policies, enabling firewall controls at the level of the virtual NIC.
- Automation, as policies are automatically applied when a virtual machine spins up, moved during migration and then removed after deprovisioning, eliminating the problem of stale firewall rules.
- Integration with leading third party products through security tags.

Platform for Advanced Networking
Change in traditional networks can be slow and error-prone, making them poorly suited to fluctuating data center demands. By contrast, virtual NSX networks can be configured dynamically and automatically, with new services - virtual or physical - added as needed. Manual reconfiguration of physical network devices is eliminated, plus you can build advanced workflows to automate provisioning of networking and security, including switching, routing, firewalling, and load balancing.

End of Event, Lunch is Served, Raffle Prize Drawings for gift cards and other great items!

FAQs

What are Angelbeat's privacy and optin/optout policies
Each attendee acknowledges/understands that financial support from Angelbeat sponsors allows him/her to attend this event at no cost, and that the sponsors will be given your contact information 2 days after the event for follow-up email and telephone communications. All sponsors are required to provide you with an opt-out option, allowing you to be removed from their database.

However each attendee can opt-out of sponsor follow-up by informing Angelbeat staff at the event, or by emailing Angelbeat immediately after the event, but before Angelbeat releases the attendee list to the event sponsors.

If you have any questions regarding Angelbeat's privacy policies and how your contact information is used, please contact CEO Ron Gerber directly at 516-277-2057 or at rgerber@angelbeat.com.

Who is eligible to receive a free pass
There is no charge to attend for an end user IT professional who works in the telecom/network/storage/security/data center/desktop/purchasing departments of corporations (private and publicly-held, large and small), universities, school districts, government agencies, hospitals/healthcare providers, pharmaceuticals, insurers, manufacturers, retailers, financial services/banks, real estate, legal/accounting/services, transportation/logistic firms, etc. and use, support, approve and/or are involved in or influence the decision to buy the products and services offered by our sponsors.

All free attendees must be pre-approved in advance by Angelbeat. Angelbeat reserves the right to accept or reject a free pass request at its sole discretion. As a general policy Angelbeat does not offer free passes to individuals at companies that are looking to sell their products/services to the end user personnel described above, who attend our events at no charge. If you fall in this category and would still like to attend then the fee is $150/person. To sign up please click here, complete the pdf document that appears and fax it back to Angelbeat at 703-783-8015. If you are a non-sponsoring vendor/integrator/consultant and would like to attend but avoid paying this $150 fee, then you must be accompanied by one of your clients who has not previously registered, and is a CIO, CISO or IT Director that meets the end user criteria above. Full-time reporters from major newspapers, websites, television and radio stations can attend as our guest, but again must be approved in advance.

If you do not meet the above criteria and still try to register, then you will receive an automatic reply/confirmation from Eventbrite. However you will shortly receive another email from Angelbeat, rejecting and cancelling your registration.

What are my transport/parking options getting to the event
Detailed driving directions will be sent out to all attendees one week before the event. There is complimentary self parking.

What is the dress code
Suggested dress is business casual.

What if you have special dietary needs/restrictions
If you have special dietary needs/restrictions, then please email Angelbeat below. We will do our best to accommodate any and all requests.

What if I am a government employee and cannot accept free meals and/or win raffle prizes
If you are a government employee and cannot accept free meals, then you can pay Angelbeat $35/person, to cover the cost of breakfast. Please contact the event organizer at registration@angelbeat.com to arrange payment.

Each sponsoring company/exhibitor handles its own raffle prize drawing; Angelbeat itself has nothing to do with these prizes and attendees are not automatically entered for any raffle prize drawing. Since each attendee must individually signup to win a raffle prize, then government employees (who are not eligible to win these prizes) can simply not signup for the drawing.