Little River Band comes to Norwalk with special guest Kerri Powers!
About this event
RESCHEDULED FROM MAY 2020 AND OCTOBER 7, 2021 ALL TICKETS FROM POSTPONED SHOW WILL BE HONORED
ABOUT LITTLE RIVER BAND
The Eagles founding member, the late Glenn Frey, knew what he was saying when he dubbed Little River Band "the best singing band in the world."
Through the '70's and '80's, LRB enjoyed huge chart success with multi-platinum albums and chart topping hits like:
"Reminiscing," "Cool Change," "Lonesome Loser," "The Night Owls," "Take It Easy On Me," "Help Is on Its Way," "Happy Anniversary," "We Two," "Man On Your Mind," "The Other Guy," and "It's A Long Way There."
Worldwide album and CD sales now top 30 million. And in 1982 LRB set a record for having had Top 10 hits for 6 consecutive years – In fact, they were the very first band to achieve that remarkable plateau! According to BMI, "Reminiscing" has garnered rare status with over 5 million air plays on American radio, and "Lady" is close behind with over 4 million air plays.
Bassist/vocalist Wayne Nelson joined the band in 1980, and worked alongside founding members with some of the most distinctive harmonies and vocal abilities, creating the unique LRB sound. In 1981, Nelson was recognized by world renowned Beatles producer Sir George Martin whom, while producing 'Time Exposure', chose Nelson to record lead vocals on two of the band's biggest hits, "The Night Owls" and "Take It Easy On Me." Later that same year, guitarist extraordinaire Stephen Housden joined LRB bringing a rock element into the band's sound and helped contribute to their string of Top 10 hits. As band members departed one by one, Housden and Nelson worked together to bring LRB into the new millennium.
To date, Nelson's vocal and bass guitar talents are included on 23 Little River Band Albums/CD's. Although Housden has retired from touring, LRB continues to perform to sold out audiences, and Stephen continues to write and participate in all things Little River Band.
In 2004 LRB was inducted into the Australian Recording Industry Association Hall of Fame at the 18th Annual ARIA Music Awards. And in September 2015, the band was awarded Casino Entertainer of the Year at the G2E Gaming Expo in Las Vegas Nevada.
Turning the page brings us to the current lineup of Little River Band…
Keyboardist Chris Marion is a Dove Award winning producer. Chris is the creator of all the orchestral arrangements and charts on The Big Box. It is amazing to watch him play, sing, and conduct from his riser!
Lead Guitarist Rich Herring is a highly skilled player, singer, and producer of many Nashville artists…not to mention a great songwriter. He and Wayne have co-produced every LRB project since he joined the band.
Drummer Ryan Ricks has locked down the rhythm section, and rounds out the vocals with his incredible range. Great singing drummers are rare…and LRB is lucky to have Ryan as part of that all-important vocal blend.
Nashville Guitarist Colin Whinnery plays rhythm and lead guitar, and shares lead vocal duties with Wayne. He brings a brand new voice and a fresh outlook to the rhythm section.
Early 2014 saw the release of Little River Band's, 'Cuts Like a Diamond,' on Frontiers Records. "What If You're Wrong," went to #1 and stayed there for 3 weeks says Jim Shoe of CLASSX Radio. "Forever You, Forever Me," and "You Dream, I'll Drive," both climbed into the station's TOP 3.
In November of 2016, LRB released, 'The Hits…Revisited,' on Wurld Records – a CD consisting of 9 re-recorded hits along with 2 new songs, written by Wayne, Chris, and Rich. Kris Kristofferson attended one of their concerts in California. He came backstage after the concert and he told LRB that their harmonies are "better than the Beatles."
May of 2017 brought the release of 'The Big Box' – a box set consisting of 6 disc's and featuring a DVD with live footage from their 40th Anniversary Tour.
In 2020, lead singer and bass player Wayne Nelson will be celebrating a personal milestone of being a member of Little River Band for 40 years.
Bringing their vocal and musical energy along with great arrangements to their timeless classic hits, each show creates new memories for the audience. The band enjoys watching their fans fall in love with the songs all over again as they are swept up by the show's powerful performance and the volume of hits from LRB's history.
With over 80 dates scheduled for their 2020 tour, Little River Band is hotter than ever – selling out shows and making music from coast to coast – continuing their legacy of being "the best singing band in the world."
Little River Band is:
Wayne Nelson: Lead Vocals/Bass
Chris Marion: Keyboards/Vocals
Rich Herring: Lead Guitar/Vocals
Ryan Ricks: Drums/Percussion/Vocals
Colin Whinnery: Guitar/Lead Vocals
ABOUT KERRI POWERS
In her teens Kerri Powers began performing in local coffeehouses throughout New England. Standing ovations, encores and significant press promptly became the norm and led to invitational performances at the Boston Folk Festival, the Philadelphia Folk Festival and the Telluride Bluegrass Festival. All indications pointed to her firmly being on her way to establishing a legitimate career. However, amidst her ascent, cupid's arrow struck, she fell in love, got married and the couple promptly had a child. Unfortunately her partner was less than supportive when it came to her continuing to pursue her music and, as tensions mounted, Kerri was pretty much forced to put her career aside.
"This restrictive situation ultimately caused me to lose confidence and question everything about my ability as an Artist. I wasn't sure I would ever get back to performing, but I did continue to write. I wasn't exactly sure what the driving force behind writing those songs was, but it kept me going. Music and art have always been a healing force in my life. I think most of us could say it has an incredible impact on us both personally and on a universal level."
Fast forward: after raising her son and overcoming the hardship of a difficult divorce, Kerri embraced her passion and returned to making music. As a result, she released a self-titled EP in 2014 and started playing out again. Fact of the matter, the EP was produced simply for merch sales. Even so, she was encouraged to mail the disc to a host of radio stations that report to The Roots Radio Chart. Unbelievable as it seems, and with zero promotion or publicity assistance, radio re-acted and the little merch CD landed the #1 spot on the Roots Radio Chart….and many critics' list of "Top 50 Folk Albums of 2014."
This success enabled Kerri to tour throughout the United States as well as overseas. Once again, encores and standing ovations became the norm. As an added plus, individual tracks from her enhanced catalog ended up in the motion picture Chuck and both television series' Rescue Me and Justified. Uplifted by the national and international response she then released a second "merch CD" titled Starseeds, although the Covid 19 pandemic cramped the world wide release, international promotion and the relative touring schedule that was planned. Like the rest of her comrades, she retreated to her home and the studio to regroup, write new material and look to the future. So get ready folks, there is more to come.
Gold Mine Magazine's Lee Zimmerman writes : "Powers has come a long way since the days when she was admittedly hesitant about returning to music, but energy and persistence conquer all things. It's fitting that the Boston Globe proclaimed, "There's an authenticity at work here, A heart-tugging gravity and a lively intelligence to go along with the sass."
The Hartford Courant called her a "Mark Twain-like trickster whose wry words, dramatic sense of dynamics and supple phrasing can celebrate joy and hope."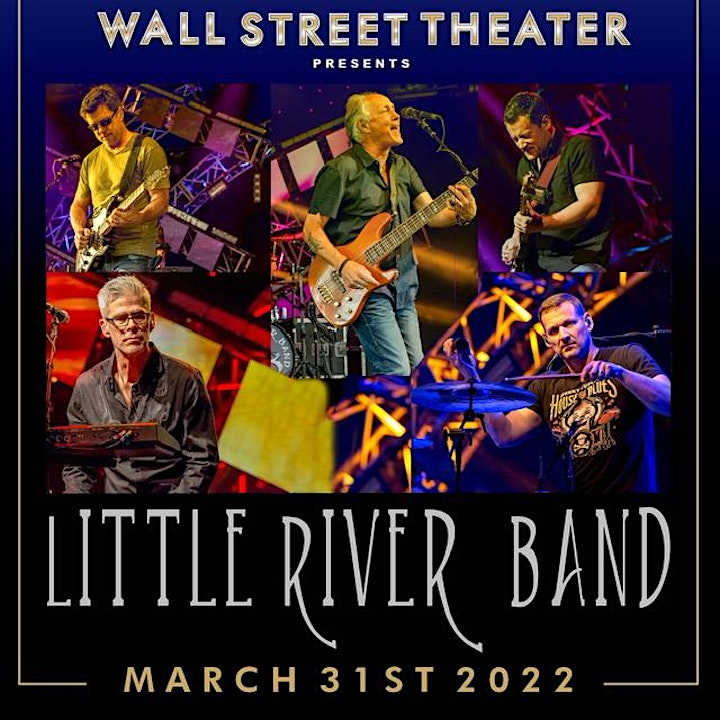 Organizer of Little River Band with special guest Kerri Powers