Description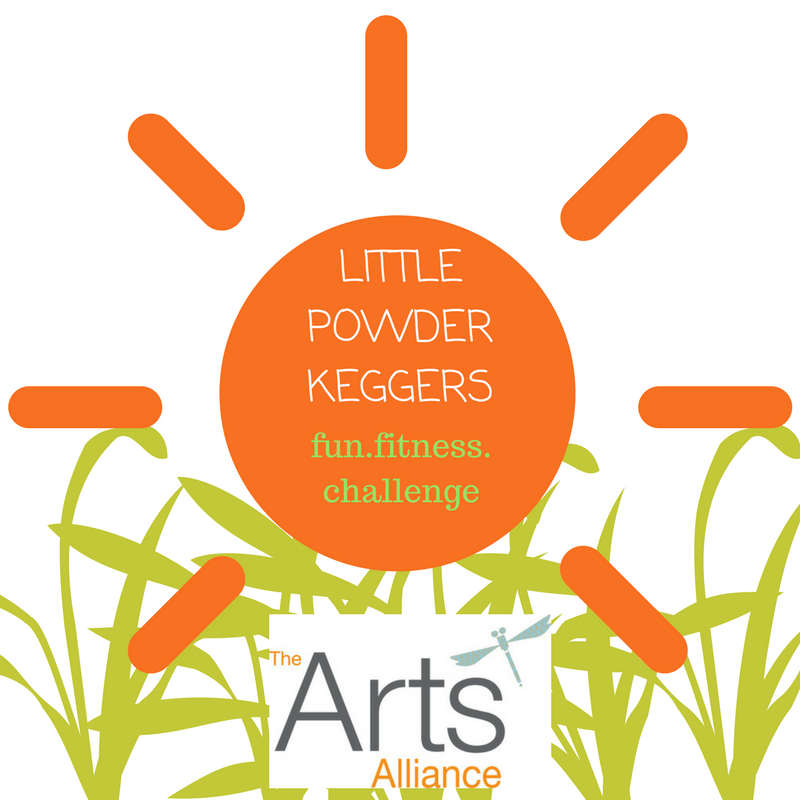 Join The Arts Alliance for our first annual LITTLE POWDER KEGGERS Family Fun Fitness Challenge. Designed by local fitness trainer, Lee Hutson of Health Designs, this event combines fun fitness and art making for kids ages 4 - 12.
Kids will challenge themselves to fun fitness activities at these timed stations on the course:
JENGA CHALLENGE - Pull a block from the giant Jenga puzzle and race the piece to the other side to rebuild the tower.
HIDDEN BALL RELAY - race down, turn over a cup, and find the hidden ball.
CAT DOG RACE - Partner up back-to-back and get from point A to B while holding up a beach ball.
PUZZLE CHALLENGE - Put together a giant puzzle before time runs out.
SPOON RACE - Balance items on a spoon while racing from point A to B.
SOCCER KICK - Score as many goals as you can.
WHEEL OF FITNESS FUN - Spin the wheel to find out what activity to do or to win a prize.
After enjoying the fitness activities, kids can reward themselves by making a medal or ribbon boasting their accomplishments and have fun dressing up for pictures in our photo station.
Here's the lowdown!
WHEN: Saturday, August 26th
WHEN: 9:30am - 11:00am
WHERE: Carter Park, 1720 King Avenue, Kings Mills, OH
AGES: Ages 4 - 12 (all kids much be accompanied by an adult)
HOW MUCH: $5.00 per person
CAN I PAY AT THE DOOR: You sure can! Cash only, please.
OTHER GOOD STUFF: Free grab bags, hot dogs, water, and chips!
About Health Designs:
Health Designs has the answers. Established in 1989, Health Designs is a health management company that combines quality programming, effective management and sound business practices for one reason: to assist individuals, owners of clubs, corporations and facilities to maximize profits and client satisfaction.
Health Designs provides fitness programming, health management and corporate wellness services. We design, develop and implement programs tailored specifically for the needs of private gyms, health and sports clubs, luxury hotels, country clubs, office complexes and corporations facilities. Our years of experience, together with our close and collaborative relationship with the fitness and medical communities, means that Health Designs is uniquely positioned to the supply the management necessary to insure your business success.