Little Miss & Pre-Teen United States - East Coast National Qualifying Pageant

Sunday, May 5, 2013 from 1:30 PM to 3:30 PM (EDT)
Who's Going

Loading your connections...
3 of your friends are going.
Share it to get more people on board!
Share

Sara Haughty
San Francisco, California

Luke Picard
London, United Kingdom

Rick Vespucio
Florence, Italy
Event Details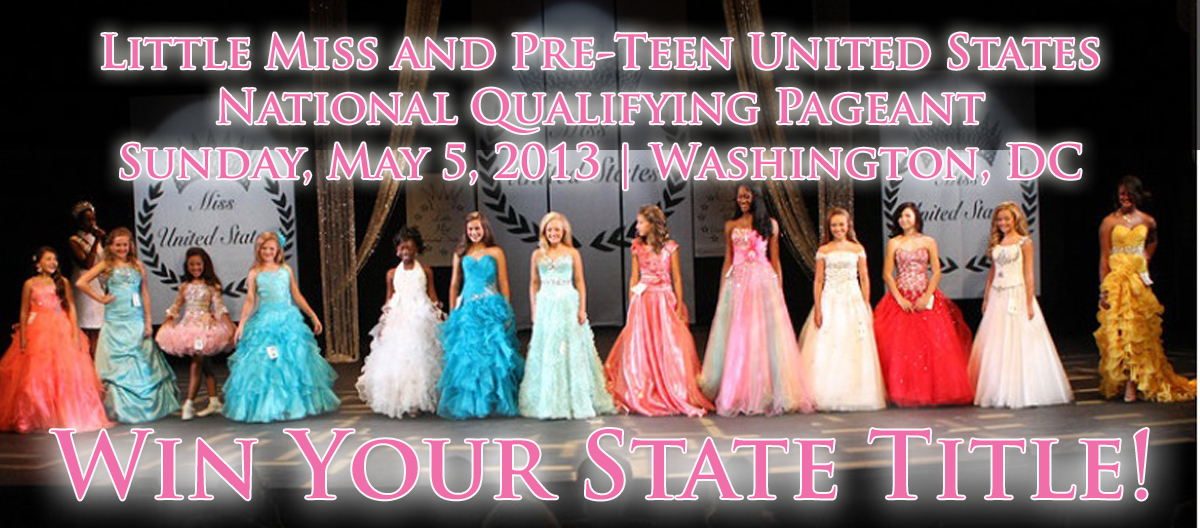 2013 PAGEANT SCHEDULE
Location: The Sphinx Club at the Almas Shriner's Temple, 1315 K Street NW, Washington, DC 20002

Divisions:

Pre-Teen (age 10-12) and Little Miss (age 8-9) United States

Awards Given: State Qualifier for Over 20 States

Application Deadline:

Friday, April 26, 2013, 6:00pm. Application, $50 Entry Fees Due

Optional Check In:

Saturday, May 4, 2013, 4:00-5:00pm.

View Venue,

Receive T-shirt

Required Check In / Rehearsal: Sunday, May 5, 2013, 11:00am.

$250 Entry Fees Due

Pageant Date/Time: Sunday, May 5, 2013, 1:30pm
WELCOME
Welcome to the Miss United States family - the fastest growing pageant in the nation. We are proud to offer opportunities for girls and women to gain leadership, fine tune modeling and public speaking skills, get involved in the community, and broaden their network. The Miss United States Organization offers divisions of Little Miss (age 8-9), Pre-Teen (age 10-12), Junior Teen (age 13-15), Teen (age 16-19), Miss (age 20-29) and Ms. (age 25-55).

We invite you to submit an application to enter the national qualifying Little Miss and Pre-Teen pageant in Washington, DC on May 5, 2013. We are seeking exceptional young ladies with personality and poise to receive a state title and advance to nationals this summer! Is your daughter ready for a life-changing experience? Pageant experience is NOT required. We will answer your questions and make sure your "newbie" pageant goer is ready to take the stage! If you are entering as a seasoned pageant participant, your daughter will receive that well-earned crown, sash and state title.

Please do not hesitate to contact me as you consider joining the Miss United States Organization. It is a journey you and your family will always remember. Laura Eilers Clark, Director - Miss District of Columbia United States, 2011 Ms. United States

GET READY FOR FUN!
The Little Miss United States pageant looks for girls with sparkling personalities. No pageant experience is necessary! Makeup is allowed but should be age appropriate and enhance the child's beauty. Tanning, fake hair, and fake teeth are unnecessary. 

 

Age should be valid as of July 5, 2013. Pre-Teen entries are age 10-12. Little Miss entries are age 8-9.

At the state contest, ONE PARENT OR GUARDIAN is permitted to arrive early and help the contestant prepare for the contest. This adult's show ticket is included in the entry fee. 

A candidate t-shirt is included in the entry fee and will be received during check-in. 

Applications should include a $50.00 refundable application fee. Approved applications will immediately be scheduled for a 15-minute phone interview to take place before April 26. We encourage you to apply earlier rather than later. Refunds may be permitted if your child is not selected, or if you choose before April 26 not to participate. 

All qualifying participants will be announced by Sunday, April 28, 2013. Remaining entry fees will be due at the pageant on Sunday, May 5, 2013. 

Pageant hair and makeup are the responsibility of each candidate. A dressing room will be provided with limited mirrors and outlets. Candidates are encouraged to arrive on pageant day ready to "touch up" before the pageant. 

 
ENTERING THE PAGEANT
APPLICATION:

Due by Friday, April 26, 6:00pm EST with a $50.00 refundable application fee and photograph. Submit above or request an application via missdcus@gmail.com.

APPLICATION PHOTO:

Email missdcus@gmail.com with at least one headshot photo. These do not have to be professional.

CHECK:

Must be received by April 27, 2013. Mail checks payable to Going Pro Entertainment, LLC, 1601 Spring Gate Drive #1106, McLean, VA 22102. Returned checks will incur a $35.00 fee.

INTERVIEW:

Applicants will schedule a phone interview before April 26. Topics will be your charitable platform, hobbies, family, education. This is just our chance to get to know you!

REMAINING ENTRY FEES:

$250.00 regional entry fee is due by credit or cash at the pageant check in or online before the event.
PRIZES
 The 2013 Little Miss and Miss Pre-Teen in each state division will receive:
Official state crown and sash!

Official titleholder photography shoot following the pageant

Gift bag from Mary Kay Cosmetics

National pageant training opportunities in select regions

Appearance opportunities throughout the year with Relay for Life and other local events and causes.

Appearance that evening at the Miss District of Columbia and Miss Delaware United States pageant at the same venue beginning at 5:30pm. The winners will receive front row tickets as well as one chaperone ticket to the evening show and will appear on stage with the Miss and Teen contestants!

Advance to the national 2013 Pre-Teen and Little Miss United States contest from July 2-7, 2013 in Washington, DC. Activities include 4th of July celebration and the 2013 Miss United States pageant!
REQUEST AN APPLICATION BY EMAIL
COMPETITION scoring
National Qualifying Pageant Scoring.

Regional scoring follows the exact model implemented at the national pageant. All contestants at the 2013 East Coast National Qualifying Pageant will receive their score and feedback following the pageant to allow them to prepare for the upcoming summer national pageant. Regional scores will determine preference for state titles. For example, if three candidates preference Maryland as their state title, the highest scoring contestant will receive Maryland. We will follow the candidate's list of preferences for next available state title
Introduction & Personality (33% of total score).

Each contestant will introduce herself as follows: "Hello, my name is.... I am... years old and am from...."

Each contestant will wear the following attire during this segment: 

1)

White sneakers ("white" must be the dominant color, but the sneaker can have a stripe or splash of another color) 2)

White socks NOT ABOVE THE KNEE 3)

White shorts NOT BELOW THE KNEE with a black belt 4)

White t-shirt provided by the Little Miss United States Program

.

After each contestant introduces herself, the emcee will chat with her on stage for a minute or two. We are looking for a great personality and a beautiful inner glow!!! Pageant questions will include one of the following: 1)

What do you like to do for fun? 2)

What is your favorite subject at school? 3)

Who is your best friend, and what makes that person special? 4)

What has been your favorite part of preparing for this pageant?
Sports Wear (33% of total score).

Each contestant will wear the same outfit she wore during the Introduction & Personality phase of competition. SHE IS NOT ALLOWED TO CHANGE ANY PART OF HER ATTIRE FOR THIS SEGMENT!!!

Here, the judges will be looking at each contestant's modeling abilities on stage.
Formal Wear (33% of total score).

Each contestant will wear a formal dress of her choice. This is not a "glitz" pageant; we are going back to the basics! The contestant should appear comfortable on stage, just as the audience should feel comfortable watching her on stage.

Dresses should be full-length, touching the floor while the contestant walks on stage.

Remember: when in doubt, it is better that the gown is a little too long than a little too short. However, please make certain that the contestant is able to walk in the gown without stepping on it. The contestant's shoes SHOULD NOT be visible when she is standing still on stage.

Make sure that the dress of choice is appropriate for the age division of the contestant. When selecting attire, a helpful question to ask yourself is, "Does she look older than the maximum age for her division in this dress?" It is much safer to be conservative than for the judges to view the dress as too mature.

Remember: Wear the dress-- don't let it wear you! Pick your favorite one so you appear comfortable on stage. During this phase, the judges will be assessing the natural beauty of each contestant in formal attire that she loves!
WINNERS REQUIREMENTS
Immediately stay after the pageant for on-stage photos and official national photos.

Attend that evening's Miss DC and Miss Delaware United States pageant as our special guests.

Submit to the Little Miss United States Organization by June 3, 2013:

$150.00 national entry fee

Application

Photograph

$300.00 ad fee

Advertisement files

Appear at the national contest July 4-7, 2013 in Washington, DC. Hotel, travel, attire expenses are the responsibility of the contestant and her family.

Return to the state pageant next year to crown your successor.

Winners have the challenge of forming a non-profit project together with your director and sister queens and completing that project in June 2013.

The state and national titles for Little Miss United States are NOT contract-binding. We ask that you discuss other pageants with your director and refrain from competing in another pageant prior to the national contest in July 2013.
REQUEST AN APPLICATION BY EMAIL
When & Where

Sphinx Club
at the Almas Shriner's Temple
1315 K Street NW
Washington, DC 20002


Sunday, May 5, 2013 from 1:30 PM to 3:30 PM (EDT)
Add to my calendar
Organizer
Miss United States Organization
The Miss United States Organization is now an official partner of Miss World. MUSO provides an avenue of achievement for each young woman interested in sisterhood, service and style. Local and state contests take place in fall and spring, leading to Miss United States 2015 in Washington, DC.
The Little Miss United States Organization looks for girls with sparkling personalities who want to be involved in their community, gain leadership skills, make new friends and be a role model to others. No pageant experience is necessary! Little Miss and Pre Teen delegates ages 8-12 will convene in Washington, DC in summer 2015. 
Little Miss & Pre-Teen United States - East Coast National Qualifying Pageant