Description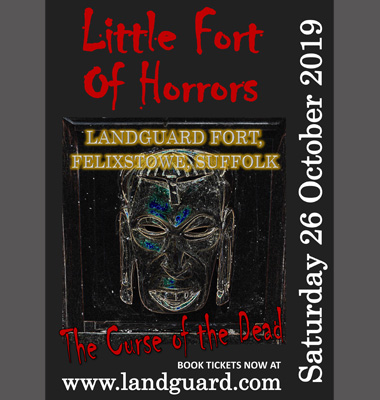 Dare you enter Landguard Fort after dark?
-------------------------------------------------
- You are invited to a special viewing at Landguard Fort -

A strange artefact known as the Mask of the Dead that was unearthed at the G'harne excavation site in Africa - and then mysteriously stolen - has been found in a container at the Port during a customs check. As a security measure the artefact has temporarily been moved to Landguard Fort for safe keeping before been taken to the British Museum in London.
The mask was reputed to have legendary powers. The wearer could raise an army of the dead, and his enemies would grow weak and die just looking at it. The mask disappeared centuries ago until its recent discovery.
-------------------------------------------------
Due to the interest it has generated, for one night only, you are invited to attend a special Open Evening at Landguard Fort on Saturday 26 October - where the mask will be revealed and an expert archaeologist will be present to answer questions.
- No admittance to anyone under 14 years of age.
- Limited tickets, pre-booking in advance is recommended.
** THIS TICKET IS FOR THE 1910 ARRIVAL TIME SLOT **
-------------------------------------------------
Disclaimer - please read this information carefully
- Attendance is at your own risk.
- The event is not suitable for those persons that are pregnant, with heart conditions or of a nervous disposition.
- Fancy dress and masks are NOT allowed.
- Although we have done everything to ensure your safety whilst attending this event, historic properties (the Fort being Grade I listed) can be hazardous so please take care. Some special effects may be used including smoke machines, loud noises and strobe lighting. Areas of the Fort involve walking on uneven surfaces (with some trip hazards), going up/down stairs and being in restricted and dark spaces.
- Please dress appropriately for the weather, warm clothing and sensible footwear should be worn.
- Those who come under the influence of alcohol or drugs will not be admitted to the Fort. We also reserve the right to remove persons displaying an aggressive or abusive nature. No smoking is permitted anywhere on site at any time.
- Mobile phones should be switched off in the Fort tunnels and torches are not allowed. If you shine a light then this is a sign for the scarers not to scare.
- There are no refunds for persons wishing to cancel or leave the event early.