Description
***FINAL TICKETS RELEASED | Very limited tickets available at the door day of***
---
Little Cinema X Meow Wolf: Origin Story (Immersive Premiere)
What happens when three immersive DIY art collectives collide for the wildest premiere event ever?
Little Cinema and House of Yes proudly host the one-and-only immersive screening of Meow Wolf's first feature-length documentary, Meow Wolf: Origin Story -- Little Cinema style. Complete with live performances, video art, interactive crowd engagement and live special effects. Documentary cast members and Meow Wolf founders will be in attendance.
Meow Wolf was founded on shared principles of radical inclusivity, maximalism, and narrative interactive art. We found a true family in this blossoming Santa Fe art collective.
We at Little Cinema and House of Yes share a similar story, we come from a similar place, we live in a similar home, and our communities love the same things -- we walk that line between artistic chaos and organized structure.
Watch: 'Meow Wolf: Origin Story' Trailer
The Night Includes:
Immersive Screening of, Meow Wolf: Origin Story (Ahead of official release on Nov 29)
Live action + performances directed and produced by House Of Yes Co Founders (Anya Sapanzikova and Kae Burke)
Cast members and Meow Wolf Co-Founders in attendance
Live audiovisual dj'ing and video remixes by Little Cinema founder CHNNLS (Jay Rinsky)
Aerial + Circus performances by House of Yes
Immersive art installations
... more talent announcements coming soon!
Thursday | Premiere + Official After Party
Doors 7:00pm / Show: 8:00pm / After Party: 10:00pm
Friday | Immersive Premiere
Doors 6:30pm / Show: 7:30pm / End: 9:30pm
You are welcome to stay after the show to keep dancing with us!
21+
About the Documentary:
This feature-length documentary chronicals a group of rebellious artists in Santa Fe who become a DIY collective named MeowWolf. Their immersive, large-scale exhibitions happen to crack open a profitable niche in the arts and entertainment industry. With the wild success of the House of Eternal Return, the collective is now facing its own internal turmoil – even as it begins to change the lives of creatives everywhere.
Meow Wolf creates immersive, interactive experiences to transport audiences of all ages into fantastic realms of story and exploration. The group's first permanent installation, launched in March 2016 with support from Game of Thrones creator, George R.R. Martin, showcases the THEA Award-winning, House of Eternal Return, where guests discover a multidimensional mystery house with secret passages, portals to magic worlds, and surreal, maximalist + mesmerizong art. (www.meowwolf.com)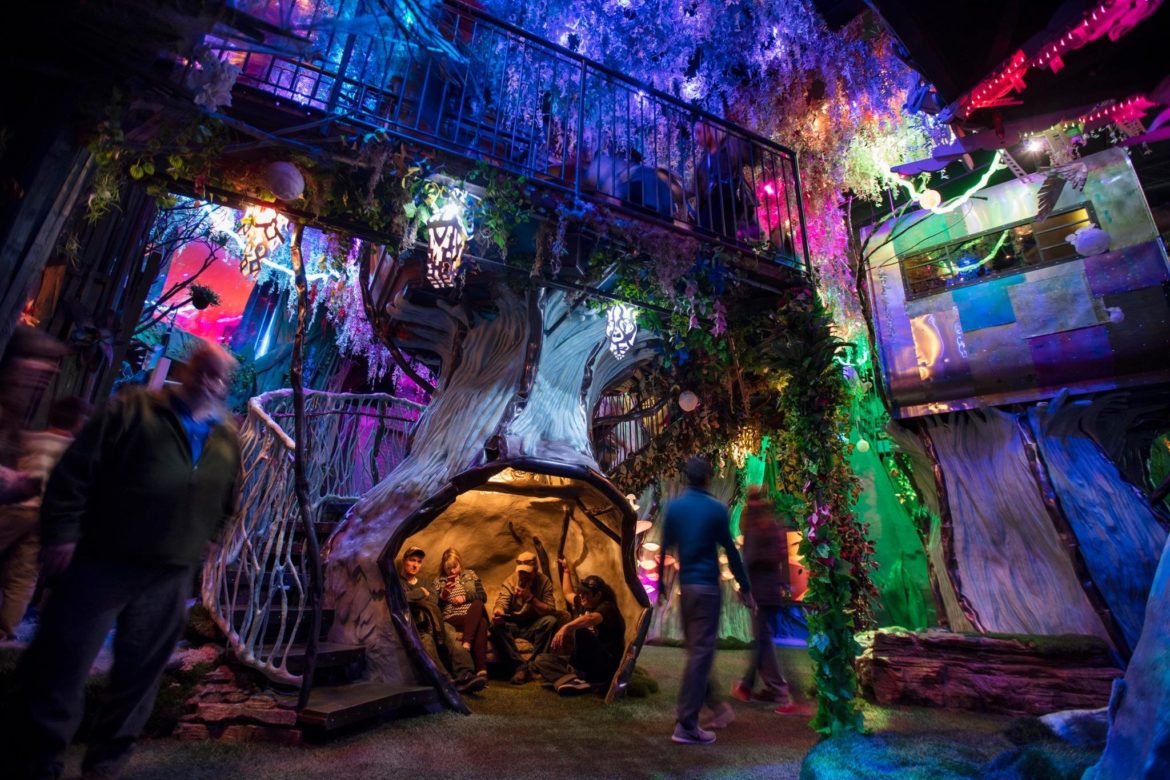 About Little Cinema:
Little Cinema is a visually stunning, cross-disciplinary immersive art collective dedicated to reimagining films and presenting them in ever new and creative ways. Performances are integrated into the films making cinema feel alive. Recently it made New York Magazine's 'Best of New York – 2017' and USA Today's Best Of Bonnaroo 2018
Think of Little Cinema as 'The Rocky Horror Picture Show' meets 'Cirque Du Soleil'.
More at: www.littlecinema.net
Get on the list! (priority tickets, discounts, news): www.littlecinema.net/join
Watch: https://vimeo.com/209268449/776a535068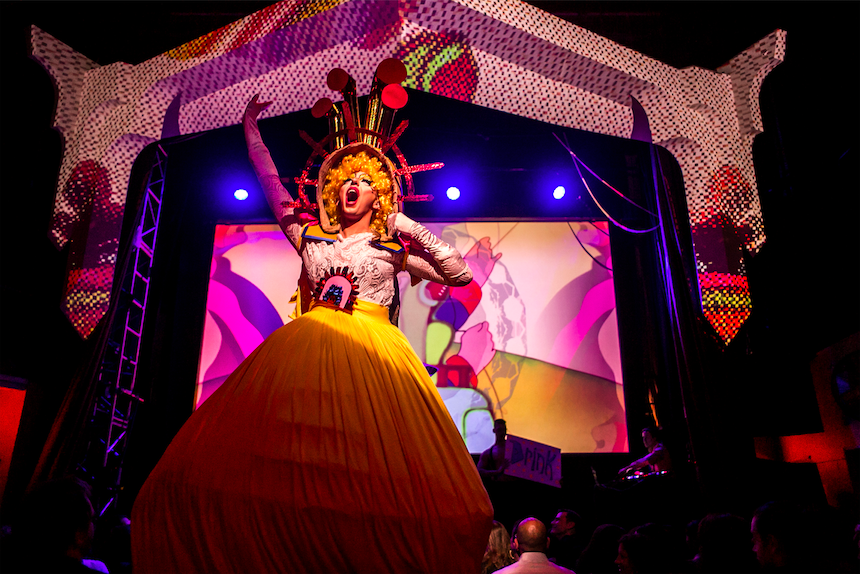 About House Of Yes:
House of Yes is a creative collective and nightlife performance space located in Bushwick, Brooklyn, that fuses dance culture, theatre, music, food, technology and community. Now in its third incarnation, the current space is open to the public during events and shows and focuses on programming that offers audience interaction and innovation in circus entertainment. House of Yes uses a variety of mediums to create nightlife-friendly interactive experiences for its patrons and is known for its glitter station, hot tub, open dance platforms and activity stations that are based on the theme of the particular party. The far-reaching goal is "to create art that's accessible and meaningful and a really good time, too".
More at: www.houseofyes.org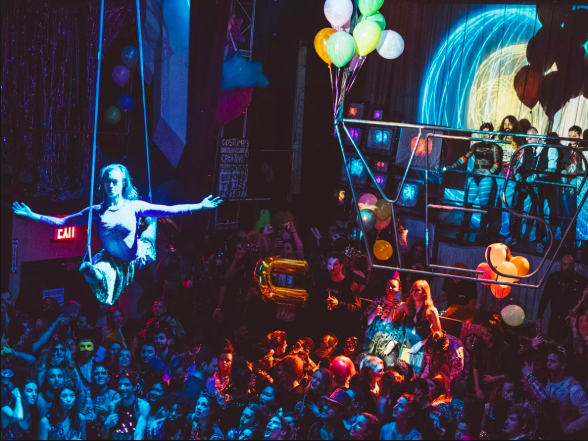 ---
::::::: About Your Reservation & This Event :::::::
- You must arrive 15 minutes before the show begins to guarantee entry. Unredeemed tickets will be released to Waitlist ticket holders when the show begins. Due to the high demand of these shows, and limited capacity, we cannot hold space.
- RSVP'ing by purchasing a ticket on this link reserves you a space in the performance area where live musicians, dancers & aerialists will perform. Your contribution will be classed as a donation to the arts and split between all performing artists and contributors. A typical show has up to 30 artists involved, if you wish to contribute further at the door we will kindly accept. We do this for love and invest countless hours in preparation for each event.
- If you are someone with severe anxiety, please note that most of our shows involve surprise occurrences such as, but not limited to: loud noises, flashing lights, performer interaction, and inflatable objects being tossed on the audience. If you would like to be guided to a 'safe zone', please email littlecinemanyc@gmail.com after you've purchased your ticket(s).
- Some of our performances may contain nudity.
::::::: Community and Accessibility :::::::
This is a space for everyone to feel welcome and loved. Racism, sexism, ableism, ageism, homophobia, transphobia, or any other form of discrimination will not be tolerated at our House. All restrooms in our venue are gender neutral. Everyone is free to use the restroom that best fits their gender identity or expression. All entrances and spaces within the venue are single-level. There are stairs leading to the upper portions of the stage, for those who wish to dance in the spotlight. Strobe lights are used during performances and parties.
#BESTSHOWSEVER