Description
ALL DATES
NOTE:
Almost all Little Cinema shows tend to sell out several days to a week before each show. We are an indepedent art collective run on community support. Help us by becoming a
member
and unlock the last seats after the sell out.
---
New York, The 80's, The Art, The Grime, that creative new wave spirit. Bowie. Basquiat. Andy Warhol and an endless array of Little Cinema surprises in one of our favorite films of all time.
Basquiat, starring David Bowie as Andy Warhol showcases an incredible New York art scene in what feels at times more like a moving art piece than an actual film..
In this special intimate evening, we'll host musician and actor Brian Kelly -- an acquaintance of both Jean-Michele Basquiat and David Bowie, and who also worked alongside Julian Schnabel during the making of this film --to play songs from the original soundtrack as well as perform a special spoken word piece about his last encounter with Jean-Michele Basquiat only 6 month before he passed away.
This multi disciplinary film will get the full Little Cinema treatment with added video art, live music, dance, arieal and circus. Expect the full 360 degrees of immersive live action of which Little Cinema is becoming famous for.
The night includes:
Live music: Brian Kelly (Featured in the original soundtrack)
Dance & Chroeography by The Love Show & Doron Perk
Ariel & Circus by Hybrid Movement Company & House Of Yes
Live Jazz Trumpet by: Linda Briceno
Immersive crowd activations by Fritz The Interactivator
Live Video Dj'ing & Hosting by CHNNLS (Jay Rinsky)
Video Art & 3D projection by Josh Slaby
Graphic Design and Video Art by Shira Inbar
80's new wave pre party and intermission music by DJ Dropkat
Special cocktails all night
Film Trailer:
Please note - seating is not guaranteed after the show begins at 7:30pm!
Add custom necklace made by Brooklyn artist Max Steiner (Only available at the show) to your order (In the tickets link)
About Little Cinema:
Little Cinema is a visually stunning, cross-disciplinary immersive theather company dedicated to re-imagining films and presenting them in ever new and creative ways. Performances are integrated into the films making cinema feel alive. Recently it made New York Magazine's 'Best of New York – 2017'.
Think of Little Cinema as 'The Rocky Horror Picture Show' meets 'Cirque Du Soleil'.
More at:
Get on the list! (Priority tickets, discounts, news)
Watch:
More to be announced!
Produced & Created by:
Video Art & Live film remixing:
Jay Rinsky (CHNNLS)
3D Video Mapping & Graphics:
Josh Slaby
Lighting:
Dan Alaimo
Sound:
Jason Randall
Stage Manager:
Becky Niel
More talent announcements to come.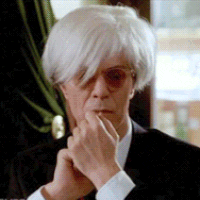 ---
::::::: About Your Reservation & This Event :::::::
- You must arrive by 7.15 pm to guarantee your GA/Preferred/VIP seat. Empty seats will be released to Waitlist and Standing Room ticket holders when the show begins. Due to the high demand of these shows, and limited capacity, we cannot hold seats.
- The film will be screened for free in the restaurant of House Of Yes.
- RSVP'ing by purchasing a ticket on this link reserves you a seat in the performance area where live musicians, dancers & aerialists will perform. Your contribution will be classed as a donation to the arts and split between all performing artists and contributors. A typical show has up to 30 artists involved, if you wish to contribute further at the door we will kindly accept. We do this for love and invest countless hours in preparation for each event.
- If you are someone with severe anxiety, please note that most of our shows involve surprise occurrences such as, but not limited to: loud noises, flashing lights, performer interaction, and inflatable objects being tossed on the audience. If you would like to be seated in a 'safe zone', please email littlecinemanyc@gmail.com after you've purchased your tickets.
- Some of our performances contain nudity.
::::::: Community & Accessibility :::::::
This is a space for everyone to feel welcome and loved. Racism, sexism, ableism, ageism, homophobia, transphobia, xenophobia will not be tolerated at our House. All entrances and spaces within the venue are single-level and handicap accessible. Gender neutral bathrooms are easily located throughout the venue.