| | |
| --- | --- |
| Little Box Sauna at Craft Bash 2018 | |
Event Details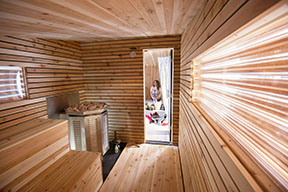 Sauna at Craft Bash 2018!
Little Box Sauna will set up shop and be open for sauna reservations outside Hennepin Made & Parallel on Friday, Nov. 30, and Saturday, Dec 1, as part of Craft Bash 2018.

Find out more about the project at littleboxsauna.com and info on Craft Bash at craftcouncil.org/shows/acc/acc-special-event.



Reserve a Sauna
---
Book a sauna reservation on this Eventbrite page or sign up at the door! 
Friday, November 30, 7pm–10:30 pm & Saturday, December 1, 11am-6:30pm
Cost is $10 a person for a 30-minute sauna session, max 9 people.
Can't get a spot you want? We'll be opening up more reservations throughout the winter. Sign up for updates on littleboxsauna.com and follow us on Instagram @littleboxsauna



Private Group Rentals
---
Available for $350 for two-hour sessions before or after listed public times or by special request. Request to reserve the sauna for your group of up to 12 people at littleboxsauna.com.


Event Rentals
---
To book Little Box for your event, reach out at littleboxsauna.com. We travel! And are available for rental from a day to a month or more. 
Winter 2018-19, Little Box will also be available for events in conjunction with Hennepin Made & Parallel, with a winter patio set up to bring your event fun indoors and out. See parallelmn.com/events. 


Special Requests
---
Do you have special needs?
See littleboxsauna.com for additional info or contact Andrea at Little Box. 
SAUNA INFO & TIPS!
---
Reservations are for 90 minutes, please arrive on time to fit in as much sauna time as you can!
There's a waiver for all sauna-goers. Please sign it before you arrive HERE. 
What to bring:

Bathing suit

Towel
Water (non-metal container)

There are separate changing areas for men and women inside the sauna.
Everyone finds their own sauna rhythm, but commonly people warm up in the sauna for up to 20 minutes, cool off outside, and then repeat for several cycles. 
The sauna host can help answer other questions during your experience!
See FAQ's at littleboxsauna.com
When & Where

Hennepin Made & Parallel
145 Holden Street North
Minneapolis, MN 55405