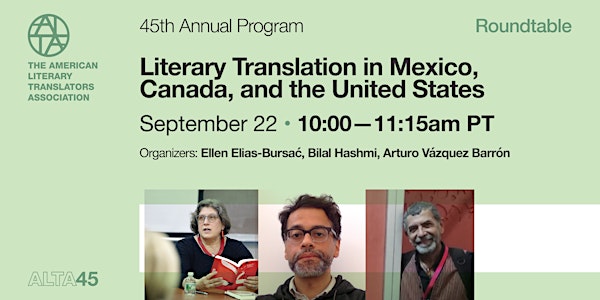 Literary Translation in Mexico, Canada, and the United States
Use this page to purchase tickets for the ALTA45 roundtable "Literary Translation in Mexico, Canada, and US" on September 22, 10-11:15am PT!
About this event
Literary Translation in Mexico, Canada, and the United States (Roundtable)
The presidents of the Canadian, Mexican, and US literary translation associations (LTAC, Ametli, and ALTA) will be joined by three members of each association. The roundtable will first provide a profile of each association and then discuss ways we can improve communication among ourselves, developing training and mentorship programs, advocacy, and we will explore each association's wish list for collaboration: the possibility of translation residencies, in-person meetings in Canada and Mexico, approaches to translation of indigenous languages, and other ideas for ways we can collaborate. Our goal is to come up with a consistent structure for working together which can carry these ideas forward.
ATTLC, Association des traducteurs et traductrices littéraires du Canada / LTAC, Literary Translators' Association of Canada
Ametli, Asociación Mexicana de Traductores Literarios
ALTA, The American Literary Translators Association
Format: Each organizer will describe an aspect of what their association does. In advance of the roundtable, participants will receive copies in French, Spanish, and English of the memorandum signed by the three organizations in May 2021.
Attending the Roundtable
Remember that if you have already paid for an ALTA45 All-Access Registration, you can use the promo code sent to your email to sign up to attend this event at no additional charge. If you are interested in purchasing an ALTA45 Registration to access all our events this year, you can do so at this link.
ALTA members receive 20% off of all tickets and registration using the member promo code. If you need your code, please search your email for "ALTA member promo code" or write to info@literarytranslators.org.
To use your 20% off ALTA member promo code or the 100% off promo code you received when you registered for an all-access pass, click "Tickets" in the event you want to sign up for, then input the code at the top of the list of tickets where it says "Enter promo code" in blue (for reference, see the screenshot at the very bottom of this page). Be sure to click "Apply," and you'll see the price change.
Joining the Roundtable as a Participant
Those who are registered for an all-access registration have the option to sign up for free as a participant in as many ALTA45 roundtables as you would like. We've created a special promo code to enable you to sign up as a participant--you should have received information about this code in a dedicated email or in your all-access confirmation email. Deadline to sign up as a participant for this roundtable: September 15, 2022
This event will be captioned using Zoom's automatic transcription feature.
All participants in ALTA's 2022 programming agree to abide by and uphold ALTA's Terms and Conditions and Code of Conduct. Email info@literarytranslators.org with questions.
Organizers
Ellen Elias-Bursac translates fiction and nonfiction from the Bosnian, Croatian, and Serbian. She is currently serving as interim president on the ALTA Board.
Bilal Hashmi is President of the Literary Translators' Association of Canada/Association des traducteurs et traductrices littéraires du Canada and the Executive Director and Publisher of Quattro Books. He teaches Urdu at the University of Toronto. In 2020 he served on the faculty of the Banff International Literary Translation Centre.
Arturo Vázquez Barrón is President of the Asociación Mexicana de Traductores Literarios, and translates from French and English into Spanish. As a freelance literary translator, he translates for various publishing houses and periodicals. He has translated and published, among others, Albert Camus, Jean Cocteau, Pierre Michon, Bernard Noël, Antoine de Saint-Exupéry, Annie Saumont, Michel Tournier and Marguerite Yourcenar.
Participants
Alex Olvera is a visual communicator, translator, and promoter of Scandinavian languages and literatures. She discovered translation through a happy accident almost 15 years ago and has not parted with it ever since. From 2014 to 2016 she specialized in audiovisual translation (METAV; Universitat Autònoma de Barcelona), without taking her eyes off traditional literary texts and, later, she took some courses within the framework of the Diploma in Literary and Humanistic Translation at Ametli. She has participated in conferences and book fairs in Mexico and Scandinavia and hopes to continue building bridges between readers and authors on both sides of the Atlantic... and the Pacific. She has combined her translation activity with teaching, teaching dubbing translation classes at the university level, and she is an expert translator authorized by the Federal Judiciary for Swedish and Danish in Mexico.
Amaia Gabantxo is a writer, a flamenco singer, and literary translator specialized in Basque literature. She is the most prolific translator of Basque literature to date, as well as a pioneer in the field, and has received multiple awards for her work; among them, a Wingate Scholarship, the OMI Writers Translation Lab award, a Mellon Fellowship for Arts and Scholarship, and an artist-in-residence award at the Cervantes Institute in Chicago.
D.P. Snyder is a bilingual writer, translator, critic, and contributor to Reading in Translation. Her first book-length translation is Meaty Pleasures (Katakana Editores 2021), stories by Mónica Lavín (Mexico). Her translation of Arrhythmias by the decorated Mexican writer Angelina Muñiz-Huberman will be released by Literal Publishing in fall-winter 2022.
Daniel Casado is a literary translator and essayist. He has a degree in Language and Modern Literatures (English Literature) from the UNAM and an MA in Translation from El Colegio de México. He completed the Diploma in Literary and Humanistic Translation at Ametli and the Language-Culture Teacher Training Course at the National School of Languages, Linguistics and Translation at UNAM. He was a fellow at the Papime Project "Critical studies on popular genres" from 2014 to 2015. He has collaborated in various publications with creative literary texts. He is currently deputy coordinator of Mentoring in the Board of Directors of Ametli.
Emilie Lafleur is a Montreal-based writer, currently studying English and Creative Writing at Concordia. She enjoys connecting with people by checking their horoscopes instead of actually interacting with them.
Leticia Garcia has been a literary translator for more than 30 years. Her area of specialty is the humanistic essay and topics of politics and history. She has more than 15 published books. She has published for various publishers, including Alfaguara, the Publications Department and the Literature Department of the UNAM and the Fund for Economic Culture where she published, among other titles, Politics and Perspective, Continuity and Innovation in Western Political Thought by Sheldon S. Wolin and The Faces of Erick Fromm: A Biography by Lawrence J. Freeman. She has been a trainer of translators at the Intercontinental University, the Ibero-American University, and currently teaches the subject of Literary Translation in the Diploma in Humanistic and Literary Translation of Ametli. She is coordinator of the Editorial Management and Co-edition portfolio of Ametli.
Samantha Schnee is the founding editor of Words Without Borders. Her translation of Jeannette Clariond's Goddesses of Water was published by World Poetry Editions in September and featured in the Summer 2021 issue of Modern Poetry in Translation. Her translation of Carmen Boullosa's Texas: The Great Theft was shortlisted for the PEN America Translation Prize in 2015 and her translation of Boullosa's El libro de Eva, which was shortlisted for the Mario Vargas Llosa Biennial Novel Prize, will be published by Deep Vellum in 2023.
Sean Gasper Bye is a translator of Polish literature. He has been a winner of the EBRD Literature Prize and Translator-in-Residence at Princeton University. He lives in Philadelphia.
Reader, translator, and incubator of ideas, Sonya Malaborza takes pleasure in supporting authors and translators in the exercise of their profession, in particular for the magazine Ancrages, where she has contributed since 2017 to the edition of contents.
Susan Ouriou is an award-winning literary translator and fiction writer who has translated over 60 works of fiction and nonfiction from French and Spanish. She has won Canada's Governor General's Literary Award for Translation and has been shortlisted on four other occasions for that same award, most recently in 2021 for The Lover, the Lake by Virginia Pesemapeo-Bordeleau. Many of her translations have appeared on annual IBBY (International Board of Books for Youth) honor lists. She has worked as director of the Banff International Literary Translation Centre and as faculty for the Banff Centre's Indigenous Emerging Writers residency. She was also editor of the trilingual anthology Beyond Words - Translating the World and the bilingual anthology Languages of Our Land - Indigenous Poems and Stories from Quebec. Currently, she is working on numerous translations, a novel and a play co-written with a collective of women artists.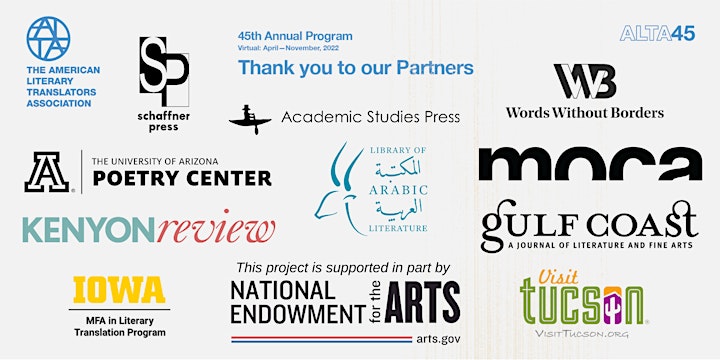 Put in your member promo code, all-access registration code, or roundtable participant code after clicking "Tickets," as shown in this screenshot: