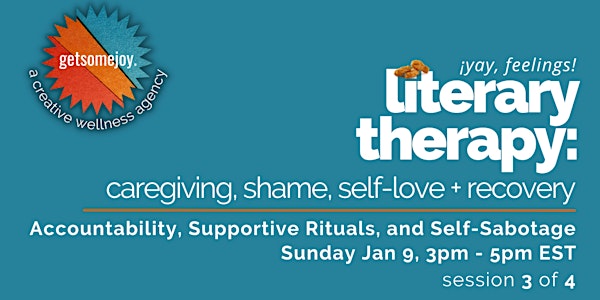 Literary Therapy: Accountability, Supportive Rituals + Self-Sabotage (3/4)
A 4-part series using introspective creative writing, personal exploration + mindfulness in a supportive community to explore mental health.
Refund Policy
Contact the organizer to request a refund.
Eventbrite's fee is nonrefundable.
About this event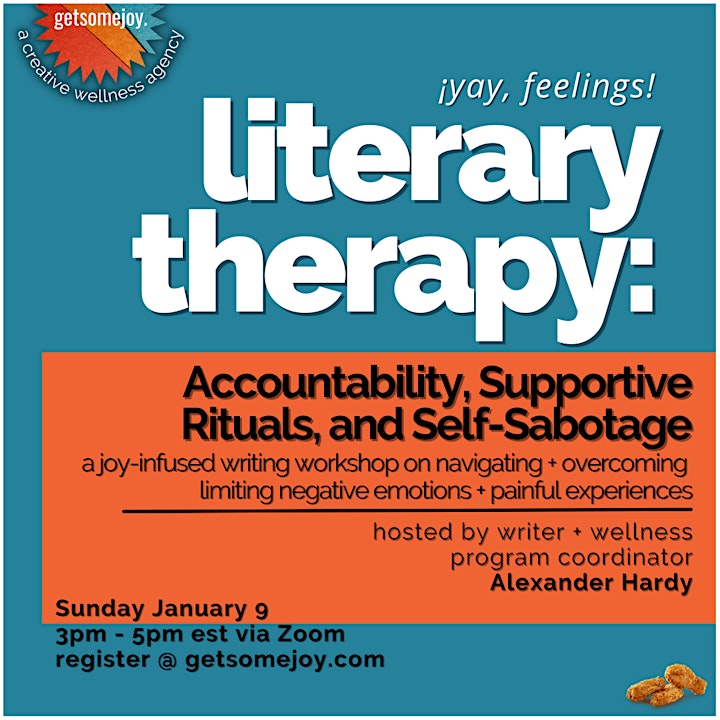 How have our actions or inactions impacted our life's trajectory? What routines or traditions invite joy, consistency, or relief? What patterns or attitudes invite disappointment, poor outcomes, or chaos into your life?
In our third Literary Therapy session, we'll unpack our roles in our circumstances, extract and share valuable lessons from our past decisions, and embrace practices that promote peace.
Literary Therapy: Caregiving, Shame, Self-Love, and Recovery is an interactive four-part experience harnessing the cathartic power of creative writing, community, and vulnerability to explore mental health during this raggedy moment in history.
We'll use mindfulness, creative writing, personal exploration activities, and group discussion in a safe + supportive community to center joy, foster connection, and inspire introspection.
Developed + facilitated by Mental Health First Aid instructor, writer, and wellness program coordinator Alexander Hardy for GetSomeJoy.
During this open Literary Therapy writing session, participants will:
engage in introspective writing exercises that explore topics such as joy, safety, isolation, loss, growth, love, giving ourselves grace, etc.
practice mindfulness and gratitude,
cultivate restorative wellness practices and creative outlets,
receive tools for self-affirmation, articulating feelings and experiences, and prioritizing joy.
What to expect in each session:
A compassionate, trauma-informed facilitator
Mindfulness practices + strategies
A workbook for additional exploration
Welcoming community, accountability + support
Introspective writing activities to challenge + inspire
Space to gain clarity + be authentic, vulnerable + audacious
Space to be unclear, nervous, or "figuring it out"
Wellness tools + stories for additional exploration
And after each session, you'll receive a resource newsletter packed with more reading selections, ideas for creative inspiration, wellness resources, and maybe even a recipe or three. Taddow.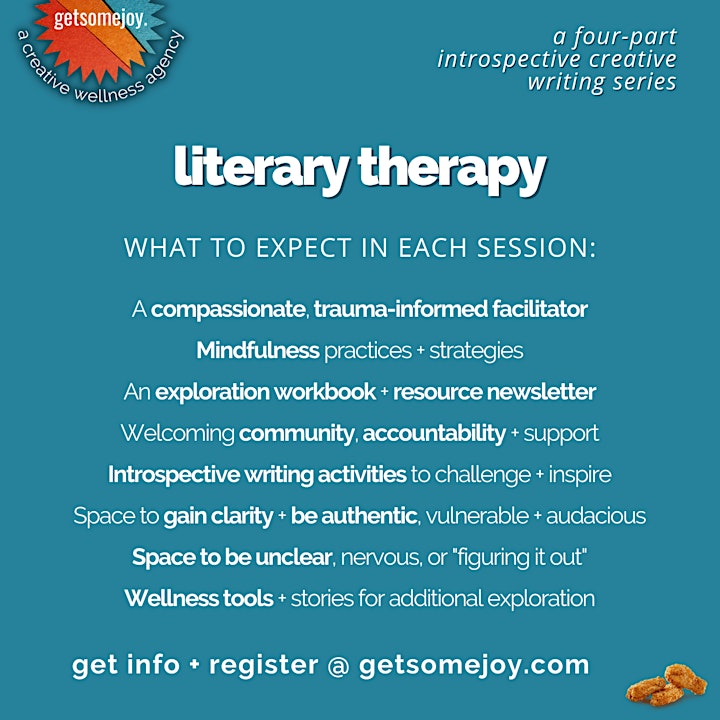 OUTCOMES
The Literary Therapy writing session underscores writing's effectiveness as a vehicle for healing and catharsis, and allows participants to take an inventory of and gain clarity on their wellness journeys. The sessions also:
help normalize discussions around self-care, stress, joy, and wellness.
enhance individual and collective authenticity, accountability, vulnerability, and clarity.
foster mindfulness, creativity, self-affirmation, self-love, decisiveness, and a greater sense of power and freedom.
remind participants to choose joy more often.
LOGISTICS:
The virtual Literary Therapy writing session will not be recorded.
Closed captions will be provided during all sessions.
Due to the nature of this workshop's content, for maximum comfort and privacy, we recommend attending in a space where you can be present and speak freely about intimate experiences and vulnerable perspectives.
You will need something to write on as we work through various mindfulness practices, writing activities, and discussion questions. Use a blank Word or Google doc or bring a notebook or journal with space for exploration.
Consider what you need in your space during the session to feel comfortable and creative. Do you need incense or a collard green-scented candle to set the mood? Fresh tea, coffee, or a smoothie Your lucky skort set or favorite slippers? Think about it.
Looking forward to connecting and writing with you.
-------
Want to schedule a joy-flavored workshop or experience for your community or organization? Get more info here: GetSomeJoy's Wellness Situation or at getsomejoy.com/programs.