Pulitzer Prize-winner Anthony Doerr in conversation with author Jess Walter to celebrate the publication of Doerr's Cloud Cuckoo Land!
About this event
Join Anthony Doerr—Pulitzer Prize winning author of All the Light We Cannot See—in a live, virtual conversation with #1 bestselling author Jess Walter to celebrate the publication of Doerr's extraordinary new novel, Cloud Cuckoo Land (released by Scribner on September 28th).
Gramercy Books joins Quail Ridge Books in Raleigh and Bookends & Beginnings in Evanston for this exclusive conversation and book launch. Admission, which includes Doerr's novel (a signed book for the first 40 registrants and a signed bookplate for the next 50 registrants) and an access link to the program, is $33 including tax. Registration closes at 7:00 pm ET on the day of this event. Registrants will receive the login to access this virtual event 24 hours prior to the program, with later registrants receiving this information on the day of the event.
Publishers Weekly calls Cloud Cuckoo Land "a marvel" in its starred review. The novel is a triumph of imagination and compassion, a soaring narrative about children on the cusp of adulthood in a broken world, who find resilience, hope, and story. Hauntingly beautiful and redemptive, Cloud Cuckoo Land is about stewardship—of the book, of the Earth, and of the human heart.
The heroes of Cloud Cuckoo Land are trying to figure out the world around them: Anna and Omeir, on opposite sides of the formidable city walls during the 1453 siege of Constantinople; teenage idealist Seymour in an attack on a public library in present day Idaho; and Konstance, on an interstellar ship bound for an exoplanet, decades from now. Like Marie-Laure and Werner in All the Light We Cannot See, Anna, Omeir, Seymour, and Konstance are dreamers and outsiders who find resourcefulness and hope in the midst of peril.
An ancient text—the story of Aethon, who longs to be turned into a bird so that he can fly to a utopian paradise in the sky—provides solace and mystery to these unforgettable characters. Doerr has created a tapestry of times and places that reflects our vast interconnectedness—with other species, with each other, with those who lived before us and those who will be here after we're gone.
Anthony Doerr is the author of All the Light We Cannot See, winner of the Pulitzer Prize, the Carnegie Medal, the Alex Award, and a #1 New York Times bestseller. He is also the author of the story collections Memory Wall and The Shell Collector, the novel About Grace, and the memoir Four Seasons in Rome. He has won five O. Henry Prizes, the Rome Prize, the New York Public Library's Young Lions Award, the National Magazine Award for fiction, a Guggenheim Fellowship, and the Story Prize. Born and raised in Cleveland, Ohio, Doerr lives in Boise, Idaho, with his wife and two sons.
Jess Walter is the author of nine books, most recently the national bestseller The Cold Millions and #1 New York Times bestseller, Beautiful Ruins; The Zero, finalist for the National Book Award; and Citizen Vince, winner of the Edgar Award. His work has been published in 32 languages and his short fiction has appeared three times in Best American Short Stories. He lives in Spokane, Washington, with his family.
Organizer of LITERARY LEGEND ANTHONY DOERR IN CONVERSATION WITH AUTHOR JESS WALTER!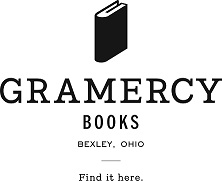 Gramercy Books is a locally-owned, independently-minded neighborhood bookstore located in the heart of Bexley, Ohio (just outside of downtown Columbus) that opened in December of 2016. Inspiration and discovery through books is cultivated in a variety of events throughout the year that include author visits and festivals, book signings, poetry readings, a monthly book club, and songwriter performances. Gramercy Books shares space with Kittie's bakery café.