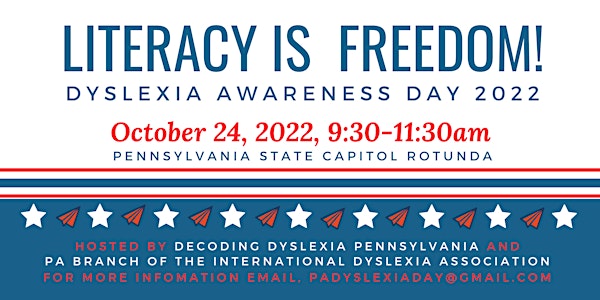 Literacy Is Freedom! Dyslexia Awareness Day at the PA State Capitol
October 24, 9:30AM, Literacy Is Freedom! Dyslexia Awareness Day at the Pennsylvania State Capitol
When and where
Location
Pennsylvania State Capitol Complex 501 North 3rd Street Harrisburg, PA 17120
About this event
Join the Pennsylvania Branch of the International Dyslexia Association and Decoding Dyslexia PA at the Pennsylvania State Capitol on October 24 from 9:30-11:30am to proclaim, Literacy is Freedom!
Dyslexia is a hereditary, neurobiological specific learning disability that results from deficits in the brain's ability to recognize the sounds of spoken language and apply them to reading and spelling. Dyslexia affects nearly 15 - 20% of the population and represents nearly 80% of students diagnosed with a specific learning disability in reading. Dyslexia affects folks of all ages, genders, races and ethnicities. Dyslexia is not correlated to a lack of intelligence, in fact many dyslexics are highly intelligent.
Unfortunately, many of our most vulnerable students and families are not able to access these evaluations and therefore are not receiving appropriate academic interventions. This failure is catastrophic.
Failure to identify AND remediate dyslexia leads to poor self-esteem, anxiety, depression, trauma and even suicidality. Students with dyslexia often experience school/learning related trauma, and disengage with the educational system. Through research, we know that students of color are more likely to be disciplined or expelled before being identified with dyslexia or a learning disability. This simple avoidable trend sets students on the school to prison pipeline. Depressed, defeated, and hopeless students will turn to activities outside the educational system for approval and the consequences and the loss of potential is devastating.
We need your support to create change! Please join us in Harrisburg on October 24!