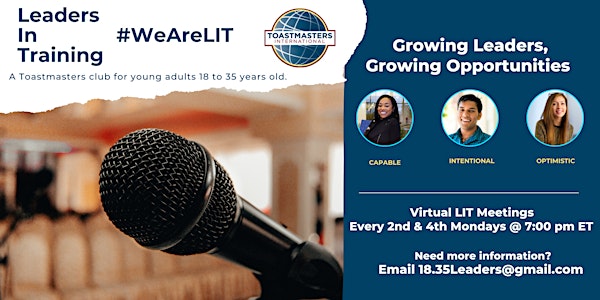 L.I.T. (Leaders In Training), Toastmasters Information Session
Calling all professionals and college students ages 18-35..... Are you ready to be lit (Leaders In Training)?
About this event
Join us to be a part of this new innovative and virtual Toastmasters club for ages 18-35. You are invited if you are a young, middle level professional, college student, graduate of the Toatmasters Youth Leadership Program, entrepreneur, and more. The vision of this club is to help young people from all walks of life, develop and hone communication and leadership skills to propel their career and lives. This club is sponsored by St. Margaret's Achievers Toastmasters Club in District 27.
Future meetings will be held twice a month via zoom. This event is a demonstration/information meeting. Please join us to experience how a Toastmasters meeting is structured, and see how this club will benefit you. You will be able to ask more questions about the charter of this new club.
Toastmasters International is a nonprofit educational organization that teaches public speaking and leadership skills through a worldwide network of clubs.
Would you like to:
• Improve your public speaking skills?
• Build leadership skills?
• Maximize your potential?
• Enjoy unlimited personal growth?
• Work on networking in a small and supportive environment?
• Practice writing speeches and presenting in a group setting?
• Gain a competitive advantage in the workplace?
• Build self-confidence and self-awareness?
• Meet new people?
• Have fun?
If you are a young professional ready to take your career to the next level through effective communication and leadership skills, register to attend this meeting and invite your friends. Space is limited, register NOW!